Holiday Volunteering With Kids Near Boston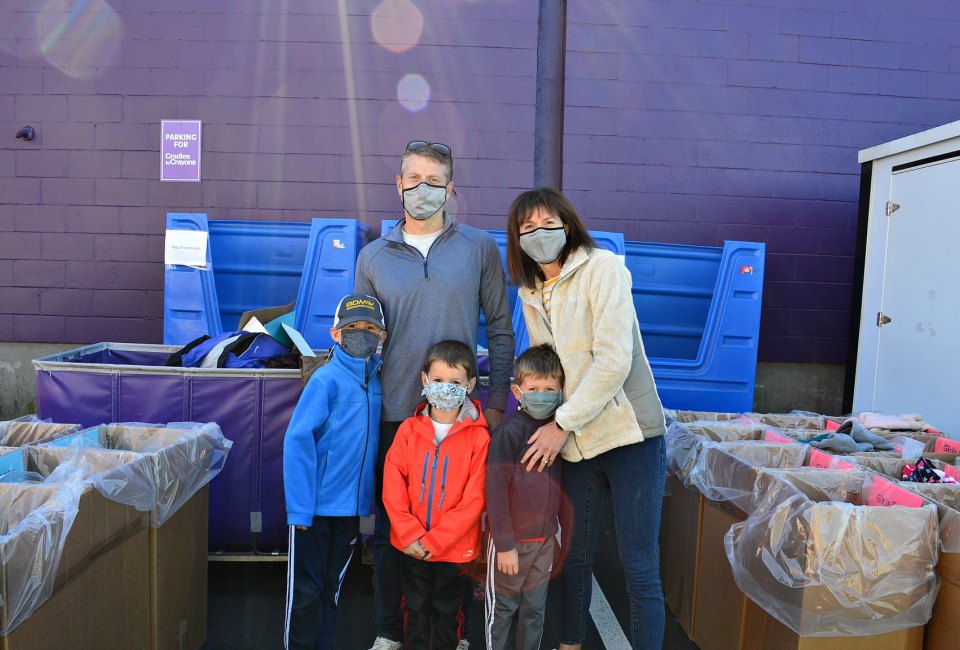 11/12/20
- By
Tara D
We all have our hands full with family and work obligations, and the holidays certainly don't lighten the load. And yet, it's a time of year when we're extra-inspired to count our blessings—and teach our children to do the same. Volunteering with kids helps them learn to give back to their schools, churches, and communities. These charitable organizations invite families to help individuals in need over the holiday season while keeping social distance, from collecting warm clothing to packaging up wholesome meals to creating stockings for veterans.
Around turkey day, kids can crafty with these Fun Projects That Help Kids Give Thanks, too. And as we head deeper into winter, consider these 20 ways kids and teens can help others during coronavirus. Never has there been a better time to teach our youth the importance of spreading love and hope, near and far.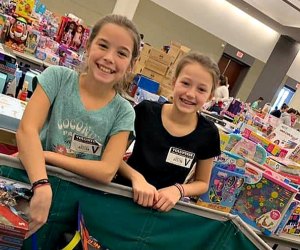 Kids can help sort holiday gifts at Christmas in the City; this year, they can collect toys at home to deliver to the organization. Photo courtesy of Christmas in the City
While its annual December holiday party that benefits area families in need is canceled this year, families are encouraged to donate toys and other items that will go straight to kids celebrating the holidays in local shelters. Become a "backpack stuffer" by signing up here, and be sure to check Christmas in the City's Facebook page for posts and information regarding more volunteer and giving opportunities, as the organization will continue adding information throughout November and December.
Cradles to Crayons provides children through age 12 basic items to go through school and daily life with dignity, such as clothing, shoes, and most important this winter, warm jackets and snow gear. Children ages 10 and up can help volunteer in-person at the Giving Factory, located in Newtonville. Younger kids can volunteer with you from home by signing up for Giving Factory at Home activities, including sorting clothing, making kids' masks, or creating "girls outfit" and "boys outfit" packs (parents just need to pick up materials and drop them back off after the project is completed.)
This organization supports children in need in Framingham, Natick, Needham, Newton, Wayland, Wellesley, or Weston. Young children can sign up to help stuff backpacks with clothing, toiletries, and other welcome items, or be matched with a family to help provide holiday gifts in 2020.
While teens can help prepare and pack up meals to be delivered to food insecure families, younger kids can help out by making cards that are delivered along with meals. (Note that in 2020, families are not being asked to help with Pie in the Sky deliveries; check back in 2021 to get involved with that holiday effort).
Kids ages 12 and older are welcome to help prepare and serve meals at this soup kitchen (the largest on the North Shore). Children under age 12 are encouraged to bake homemade desserts at home to drop off; collect and donate items from a wish list, like toiletries; write encouraging notes or make cards to put in the meal bags for guests; and help collect sweaters, hats and gloves for guests in December.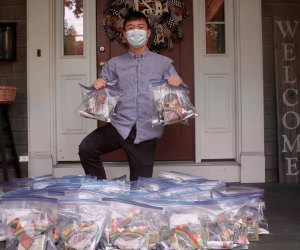 Catching Joy connects with many organizations to sponsor drives. Photo courtesy of Catching Joy
Throughout the year, Catching Joy provides opportunities for volunteerism and giving for families with young children. Check the Facebook page for posts and information regarding events, such as donation opportunities and story times open to everyone. They often work with The Blue Bunny as well for events.
Volunteer opportunities are limited this year, but families are encouraged to either participate in a fundraising 5K Turkey Trot or receive a free "Be the Ripple" toolkit of at-home activities. Register up until November 26.
This organization that helps individuals and families find comfort during the colder months and find shelter encourage grown-ups to get together with kids and organize a sock drive, glove and mittens drive, or a gift basket drive this winter. It has pre-made flyers on its website to print out and distribute to make the drive easy to start.
The first women's shelter in the United States continues to provide housing and earning opportunities for women around Boston. When accompanied by a grown-up, kids 12 and older can volunteer to help make, serve, or cater a meal, which is especially needed over the holidays.
Originally published November 2013