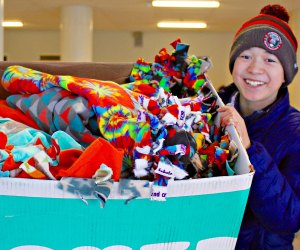 Holiday Volunteering With Kids in the Boston Area
We all have our hands full with family and work obligations, and the pending holidays certainly don't lighten the load. And yet, it's the time of year when we're also inspired to count our blessings—and teach our children to do the same. To inspire my children to think about what they are grateful for this Thanksgiving and throughout the holiday season, we're going to try one of the Fun Projects That Help Kids Give Thanks. But I also want my kids to think about other people and do something to make a difference in our community, and we've found some great opportunities for volunteering as a family during the holiday season. For year-round opportunities to lend a helping hand, see our post on Volunteering with Boston Kids.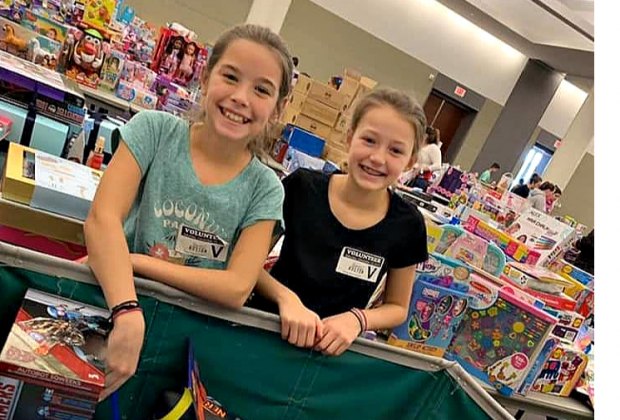 Kids can help sort holiday gifts at Christmas in the City. Photo courtesy of the organization
Christmas in the City—Boston
In addition to events throughout the year, this organization throws a December holiday party that benefits area families in need. Volunteer spots fill up quickly and well in advance. If you have older kids, they can also help with things like party setup and administrative tasks. Check the Facebook page for posts and information regarding events, and their main website for sign-up information including age requirements for young volunteers.
Cradles to Crayons—Brighton
Children above age 5 can help volunteer at the Giving Factory, located in Brighton currently (and Newtonville starting in the spring). Cradles to Crayons provides children through age 12 basic items to go through school and daily life with dignity, such as clothing and shoes. Your family can check upcoming events listed on their Facebook page, including the November 16th Collect & Sort at Saint Eulalia Parish in Winchester, MA.
Buy Nothing Project—various locations
Find or start a local Buy Nothing group—it's an uplifting and eco-friendly organization, and can be a tremendous resource as a method to start the conversation with small children about sharing and gratitude. Facebook hosts many hyperlocal groups, and often there are holiday drives among the members for families who may need assistance, for instance, with a holiday meal. Even if your children are really young, they can help you pack up items and drop them off for a family in need. Local Plainville and North Attleboro Volunteer Administrator Rebecca Kilnapp says of the project and the outpouring of local families, "It has been incredible watching members of the community give to those in need during this time of year. Whether a donation of goods or their time and energy, their generosity is wonderful!"
Pie in the Sky/Community Servings—Jamaica Plain
Younger kids can help out by making cards that are delivered along with meals. You can make deliveries as a family (all ages can participate in delivering pies with adult drivers) and provide meals and nutrition to critically ill and homebound people in Massachusetts. See The Blue Bunny Facebook page for an event with Pie in the Sky on November 15th.
Catching Joy—Multiple Locations
Throughout the year, Catching Joy provides opportunities for volunteerism and giving for families with young children. Check the Facebook page for posts and information regarding events, such as donation opportunities and story times open to everyone. They often work with The Blue Bunny as well for events.
Originally published November 2013