Ogunquit with Kids: 17 Great Things to do in Ogunquit, Maine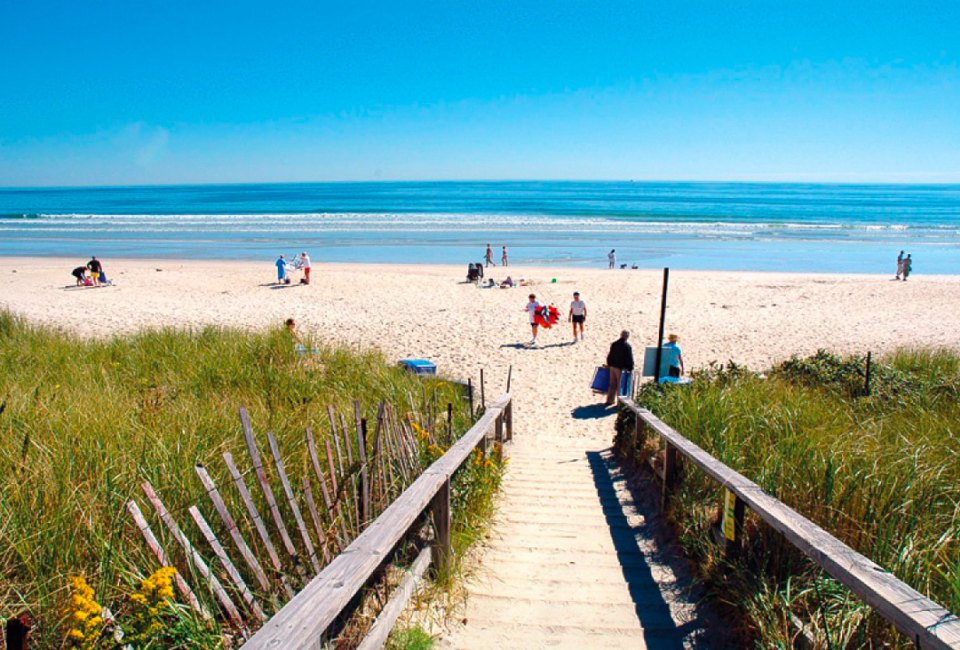 6/11/23
- By
Michael Del Llano
Visiting Ogunquit, Maine with kids is great. Really, really great. Only 75 miles north of Boston and arond 150 miles from Hartford, Ogunquit has been drawing artists and sunbathers to its shore for Blibbidy-three decades. Things to do in Ogunquit run the gammut from fun in the sun to cool museums and nearby amusement parks. And Ogunquits open-minded, open-hearted spirit makes all travelers feel welcome, including families with kids.
For more tips on getting away with the family, see our picks for Gorgeous New England Islands for Family Getaways. And check out our U.S. Travel Guides for expert tips on where (and even how) to travel as a family!
Ogunquit with Kids: Great Things to do in Ogunquit, Maine
1. Visiting Ogunquit Beaches
Families have come to this gorgeous coastal town for decades, drawn by almost four miles of pristine beach. Footbridge Beach at the north end of town is typically quieter. Parking is a little scarce, but most lodging is a short walk from the shore, and the trolleys run frequently.
2. Splashing in the Ogunquit River
This tidal estuary is ideal for the very little ones. The water is typically shallow and warmer than the open ocean. It's the right spot for the kids who might be intimidated by colder temps or bigger waves. And there's plenty of space to park your umbrella!
3. Strolling the Marginal Way
This path extands along the shoreline from the center of town to Perkins Cove. Slightly more than a mile long, Ogunquit's Marginal Way is a lesiurely stroll with exreaordinary views of some rugged portions of the Maine coast.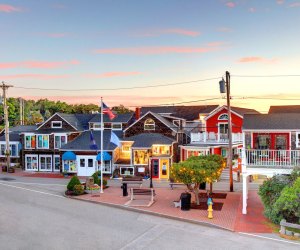 Ogunquit is full of adorable shops and restaurants. Photo courtesy of the Ogunquit Chamber of Commerce
4. Shopping on Main Street, Ogunquit
Main Street (Route 1) can see plenty of automobile and foot traffic in the summer. And there's good reason! The center of town features shops with works of art, souveneirs, sweets, and toys!
5. Riding the Ogunquit Trolleys
The Ogunquit Trolley Company has a fleet of trolley busses, all with fun names like Molly and Jolly. The trolleys are fun just for a ride. they also make it easy to get around town without walking or driving.
6. Exploring Perkins Cove
Little ones will love watching the boats coming in and out of Perkins Cove. The world's most adorable drawbridge is a wonderful spot foor a family photo. Perkins Cove has boutiques and eateries for every taste.

Head to Perkins cove for tasty treats and stunning sights. Barnacle Billys photo courtesy of Ogunquit Maine Beautiful Place by the Sea
7. Eating at Ogunquit Restaurants
From the world-class seafood at Perkins Cove to the bistros and pubs from the town center, there is something to fit every taste. Of course, there are the usual New England favorites, like fried clams, lobster rolls, chowder, and plenty of ice cream. But Italian, Mexican, and loads of other cuisines are prominently represented.
8. Taking in a Show
The Ogunquit Playhouse hosts lively theater productions all summer long. From musicals to dramas to family-friendly shows, the Playhouse provides broadway-caliber productions and kids' theater camps in the heart of coastal maine.

The Ogunquit Museum of American Art has stunning masterpieces—and views! Photo courtesy of the Museum
9. Getting Artsy at the Museum
The Ogunquit Museum of American Art is one of coastal Maine's hidden gems. Generations of artists have flocked to the Maine coast for its stunning beauty. Many of the works at the OMAA are inspired by—or were created in—this very community. The museum features permanent collections, rotating exhibits, and a full calendar of events.
10. Hitting the Water
From sea kayaking to whale watching, your family can explore the ocean's beauty and bounty. Enjoy a leisurely cruise or get your bait and tackle ready for a fishing excursion!
11. Stopping in for Story Hour
The Ogunquit Library looks like a miniature castle, straight out of a fairy tale. The library regularly holds children's story hour on the lawn in the summer months.
12. Visiting York's Wild Animal Kingdom
Located just one town over, York's Wild Animal Kingdom is part zoo, part amusement park, and all fun! It's one of our top picks for Best New England Theme Parks for Kids and Families.
13. Checking Out the Seashore Trolley Museum
Nearby Kennebunkport has the Seashore Trolley Museum, where families can see trains, trolleys, and more from all over the world. The Mueum boasts the largest collections of public transit in the world.
14. Visit Portland
Ogunquit is a short drive from Maine's largest city. Things to do in Portland include a fun afternoon at the Children's Museum & Theatre of Maine.
15. Pop over to Old Orchard Beach
If your idea of a beach excursion involves skee-ball and fried dough stands, it's worth an excursion to nearby Old Orchard Beach. It's also home to a waterfront amusement park!
16. Take a Walking Tour
Twice a week, the Ogunquit Heritage Museum offers a walking tour. It's a great way to get your steps in, see the town, and learn the history of this lovely community. The museum is located in a picteresque 18th century farmhouse.
17. Take in the Fireworks
Ogunquit celebrates the Fourth of July with a fireworks spectacular. This wonderful seaside town is a fabulous place to stay for Independence Day!