Could We BE More Excited for The Friends Experience in Atlanta?!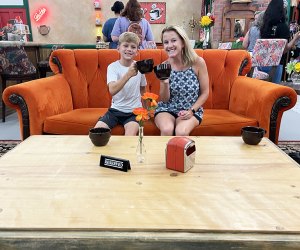 Fans of Friends—both fanatic and fair-weathered—flock to Perimeter Pointe to see sets, costumes and memorabilia from the 90s sitcom that launched "The Rachel." Since viewers can now watch Monica, Chandler, Ross, Joey, Rachel and Phoebe nightly in reruns or through streaming services, the show has found a younger fan base. For both original fans and new, The Friends Experience: The One in Atlanta does not disappoint. We checked it out to see if it was more of an adults-only activity or a family-friendly event.

Find your inner Joey or Chandler at The Friends Experience in Atlanta.
How Does The Friends Experience: The One in Atlanta Work?
Ticket holders arrive at their designated time slot and see pictures, quotes, and scenes on mounted TVs featuring their six favorite friends. After a photo opp on Central Perk's famous orange couch, fans walk through sections of the experience in an orderly fashion, IKEA-style. They see costumes, set designs and hairstyles as well as comical plot devices, like the letter (18 pages, front and back!). Visitors especially enjoy walking through rooms where the "friends" spent their time— both apartments and the coffee shop. Fans can sit on recliners, peruse Monica's kitchen and even play foosball in Chandler and Joey's apartment.
Along the way, Friends Experience staff members are on hand to make sure the areas stay crowd-free and to help guests snap pictures with their phones. To add to the entertainment value, fans can watch famous Friends scenes playing on a loop on TVs mounted on the walls.
Once visitors have walked through the exhibit and posed on the couch in the coffee shop, they end their tour in a gift shop. Guests can purchase Central Perk mugs, a variety of T-shirts, and even onesies for the littlest Friends fans.

As Ross once said, "PIVOT! PIVOT!"
Is The Friends Experience in Atlanta Fun for Kids?
Yes, but it depends on a few things. Obviously, the show itself is not exactly appropriate for kids under age 12; but if your tweens and teens have seen it, appreciate the humor, and are familiar with the characters, they will get a kick out of it. A staff member told us that some visitors bring babies in strollers, while others bring young children, ages 3-5, who have been in the room when the show is on because they say things like, "I like Chandler the best!" Most kids may want to scoot past the costumes and set design, but they will enjoy the TVs playing the series and also posing with a headless Joey wearing all of Chandler's clothes.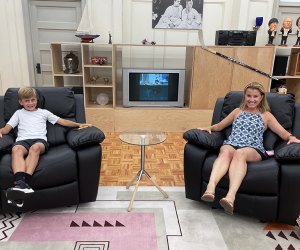 The Friends Experience: The One in Atlanta is a trip down memory lane.
Tickets for The Friends Experience and More Info
Make reservations and purchase tickets online. Ticket holders attending with kids can save money and avoid busier times by choosing off-peak hours—weekdays before 5pm and Sundays after 5pm. For peak days and times, tickets cost $39.50 plus taxes and fees; off-peak tickets cost $32.50 plus taxes and fees; children 3 and under are free. It takes about 30-45 minutes to walk through the pop culture exhibit. The experience prides itself on not just being clean, but "Monica clean." Masks are required. The Friends Experience: The One in Atlanta is open through September 26.
Photos by the author