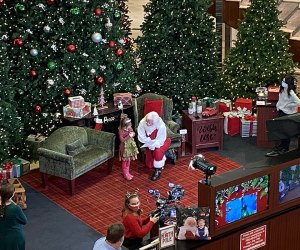 Best Places to Take Pictures with Santa in Atlanta for Christmas
It's almost time to get out the Christmas sweaters, trim the tree, and put up the stockings. And don't forget – take pictures with Santa Claus! After making limited appearances last year, Santa is back in action and ready to see all your little ones—and in some cases, your dogs—this holiday season.
Whether at festivals, tree lightings, or indoor malls, here's a helpful list of places to take your children to see and take pictures with Santa. For locations requiring reservations, don't delay as slots are expected to book quickly. Many of the malls encourage, but don't require, reservations. However, it's still a good idea to book anyway so you can avoid long lines...and bored, cranky kids.
For more fun events this season, check out our Best Christmas and Holiday Events in Atlanta for Kids, The Nutcracker Ballet and More Holiday Shows, and the rest of our Holiday Guide. If you're wanting to stay away from crowds, try these fun crafts at home and drive around various neighborhoods to see Christmas lights.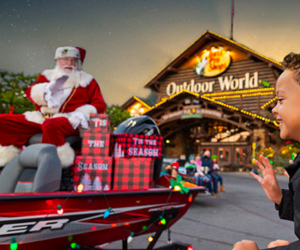 Give Santa a wave at Bass Pro Shops. Photo courtesy of the shop
Pictures with Santa at Atlanta Events
Through December 24
OUR LATEST VIDEOS
Visit the Winter Wonderland at Bass Pro Shops where you'll get a 4x6 photo and a digital greeting card with Santa. The cost is free, but you must reserve advance tickets for this contact-free event. While there, purchase additional photo packages printed in the store.
Through December 24
Book your free reservation and let your children visit and take pictures with Santa while you shop for hunting and fishing supplies at Cabela's. You'll receive a free 4x6 photo and digital greeting card you can share via social media.
Through January 2, 2022
Want to see where Santa builds his toys? Then head to the North Pole office window at Stone Mountain Christmas. Take photos of your little ones while they chat with Santa in his workshop. Watch Santa fly in on his sleigh at the nightly Enchanted Christmas Tree Lighting Ceremony. Other highlights include the Christmas parade and the new 20-minute World's Largest Christmas Light Show. One-day passes begin at $29.99 for kids 2-12 and $34.99 for ages 12 and up.
Weekends November 20 – December 12
Enjoy the historic 1904 mansion decorated for the holidays and let your children give their wish list to Father Christmas. The cost is $50 for a 5x7 photo; for an additional $20 payable at the door, you can bring your own camera or electronic device to capture extra memories. Proceeds benefit the Georgia Trust for Historic Preservation. Reservations required. Pet night is Wednesday, December 8.
Through January 2, 2022
If you're looking for a full day of family-fun activities, come to Holiday in the Park at Six Flags. Not only can you get photos with Kris Kringle, but your children can write letters to Santa, play reindeer games, and make crafts at the North Pole Playground. With the price of admission, ticket holders enjoy holiday shows, the new light show extravaganza, and the train ride featuring traditions from around the world. Admission begins at $29.95 for a one-day pass.
November 22 – December 24
Santa visits with youngsters at his North Pole cottage located in the Palmer Court. Although reservations are completely booked, walk-ups are available as time permits. For $40, get a digital copy of all images taken. And don't forget Fido —on Tuesday evenings, Santa will pose with your dogs. For more Santa encounters, Avalon is also offering a Story Time with Santa and several Breakfasts with Santa.
November 26 – December 19 (excluding Mondays)
Snap free pictures with Santa at this fifth generation farm in Henry County. For an additional fee, kids can partake in hayrides, pedal karts, rubber duck races, and other activities while parents enjoy perusing fresh produce and bakery items.
Saturday, November 27
St. Nick rides in on a large fire truck to the delight of little ones at Santa on the Square. Register for free tickets and bring your own camera. You'll also enjoy cocoa, milk and cookies, as well as free gift wrapping of items bought from City of Decatur merchants.
Saturdays November 27–December 18
Bring your camera to the Atlanta Botanical Gardens where Botanical St. Nick, donning a green robe and wreath, takes photos with children. The contact-free experience is included in the cost of daytime admission to the gardens. Train fans will love seeing the holiday model trains on display and the Botanical Express that rides around the Great Lawn.
November 27-29, December 4-6, December 11-13, and December 18-24
Let your kids deliver their wish list to the big man himself at Santa's Post Office. Conveniently located in the Truist Community Center at The Battery, snap pictures while Santa stays behind the counter for a contact-free, free experience. Masks required.
December 1-4
Santa will provide photo opportunities at the Georgia Festival of Trees at various times during the five-day event. While walking through the array of numerous holiday trees, enjoy listening to live entertainment and shopping. Tickets for the festival are $15 for ages 2 and up and this year's proceeds go to Wellspring Living.
December 1, 15, and 22
Your child can visit with both Santa and Mrs. Claus. Bring your camera and don't miss the larger-than-life snowglobe and live music. FREE
Thursday, December 2
Attend the annual tree lighting! In addition to taking selfies with Santa, your family can take train rides, sing carols, and decorate ornaments. FREE.
December 2-24
Get a picture with Seaside Santa when you visit the Georgia Aquarium. Package prices vary.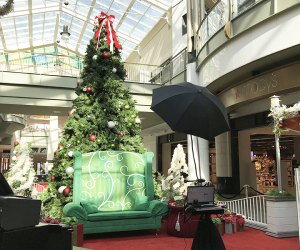 Get ready for "Lights! Camera! Santa!" at Lenox Square Mall. Photo courtesy of author
December 3, 10, and 17
What's not to love about caroling, marshmallows, and falling snow? Plus, Santa will be available for selfies in addition to storytime and a singalong. The cost is free and reservations are not required.
Weekends December 3-24
Meet and take pictures with Santa at the Marietta Museum of History every weekend in December. Parents can purchase digital images for $32, a Christmas ornament with one image for $15, or a combination package for $45. Reservations required.
Fridays and Saturdays, December 3 - 18
The $15 ticket allows a family of four to have a one-on-one visit with Santa, ride on his sleigh for 10 minutes, and enjoy hot chocolate. Reservations required.
Saturday, December 4
After the kickoff parade, photos with Santa will be on a first-come, first-serve basis at Depot Park. A professional photographer will offer free digital downloads the week after the event with an option to purchase additional photos. Watch various live performers before the event culminates with the tree lighting.
December 4 and 19
For a unique twist, take a picture using your own camera with Santa, Mrs. Claus, and alpacas. The $15 fee (for anyone over age 3) includes a cup of carrots for the alpacas and a hayride.
Saturday, December 4
Stroll around downtown Duluth. Not only will you have plenty of photo opportunities with Santa using your own camera, but the entire family will also get in the holiday spirit with music, crafts, a snow playground, and tree lighting. FREE
December 4 and 5
Purchase tickets for Cookies with Santa at Zoo Atlanta. The price is $15 for members and $34 for non-members, which includes admission, a 4x7 photo taken with Santa, and a take-home box of cocoa, a cookie, and a craft. Santa cannot have children sit in his lap this year, so parents can hold children who can't stand unassisted in the photo.
December 4 and 11
Bring your camera to take pictures with Santa from 1–5pm. FREE
December 4-5 and 11-12
While picking out your Christmas tree, snap photos of your kiddos with Santa from 11am– 3pm. Parents can also shop for plants and shrubs in the garden center or home decor items in the gift barn. FREE
Saturday, December 4 – Roswell
Saturday, December 11– Brookhaven
Bring the entire family, including your dogs, for a picture with Santa at lunchtime. The suggested $20 donation benefits Golden Retriever Rescue Atlanta.
Sundays, November 28-December 19
Join Santa for brunch at the Swan Coach House. The cost is $38 for children ages 3-12 and $68 for adults. Reservations are required, and a professional photographer will be on hand for orders.
December 4-5, 8, 11
The Winter House features items for sale by Callanwolde artists, as well as live performances, s'mores by the outdoor firepit, and board games inside the 27,000-square-foot mansion. Children receive a craft bag that includes a scavenger hunt and coloring pages. Although free to attend, tickets are required. For an additional $20, the staff will take a picture with your camera of your family with Santa on the front steps of the 100-year old house. Pets can also visit Santa on November 26, 27, and 28.
Pictures with Santa at Atlanta Malls
Through December 23, excluding most Tuesdays
By reservation only, meet Santa Claus in front of Tiffany's. Children can sit in the jolly man's lap or on a nearby bench for social distancing. Prices vary for different photography/video packages and include options to order Christmas cards, ornaments, plates, mugs, and gift tags.
Through December 24
Visit Santa at Atlanta's oldest indoor mall, where he'll sit with children in front of Macy's on the first level. Reservations encouraged. Photo packages range between $39.99 - $49.99. Pets can come on December 5 and children with special needs can visit for a lower sensory experience on December 12.
Through December 24
With over 200 stores at Georgia's largest mall, it's still easy to find the man in red at the JCPenny's Court on the lower level. Reservations encouraged. Photo packages range between $39-99 - $49.99.
Through December 24
Say "cheese" with Santa at Town Center at Cobb. Reservations encouraged. Photo packages range from $30 - $40 and include a personalized phone call from Santa. Bring your dog for photos on November 28 and December 5. On Wednesdays, Santa will don his workshop attire instead of the traditional red suit. Sweet Moments with Santa, for families with special needs, happen November 21 and December 19.
Through December 24
Little ones can pose with Santa on the lower level of the Nordstrom wing at Perimeter Mall. Reservations encouraged. Prices range from $39.99-$49.99. Bring your pet for photos on Monday nights through December 20. Children with special needs are encouraged to visit on the mornings of December 5 and 12 for a sensory-friendly experience.
Through December 24
Find Santa's Workshop in front of Macy's lower level at Arbor Place Mall. Reservations encouraged. Photo packages range between $39.99 - $49.99. Furry friends can attend Santa Paws Photo Night every Monday through December 13.
Through December 24
Santa greets children at Greenbriar Mall, near the children's play area. Reservations encouraged through December 21. Walk-ups only on December 22-24. Photography packages range from $39.99 - $49.99.
November 26 – December 24
Catch Santa at his North Point Mall outpost. Reservations are encouraged through December 21. Walk-ups only on December 22-24. Photography packages range from $39.99 - $49.99.
November 26 – December 24
Book your time slot for a photo with Santa. Reservations are encouraged through December 21. Walk-ups only on December 22-24. Photo packages range between $39.99 - $49.99.
December 2 – 24
Head over to Cumberland Mall to see St. Nicholas. Reservations encouraged. Photo packages range from $39.99 to $49.99. Let your pet join in on the fun on Mondays through December 20. Children can enjoy a sensory-free, Santa Cares session on December 5 and 12.