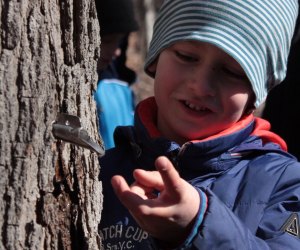 Greenburgh Nature Center's Maple Sugaring Party for Westchester Kids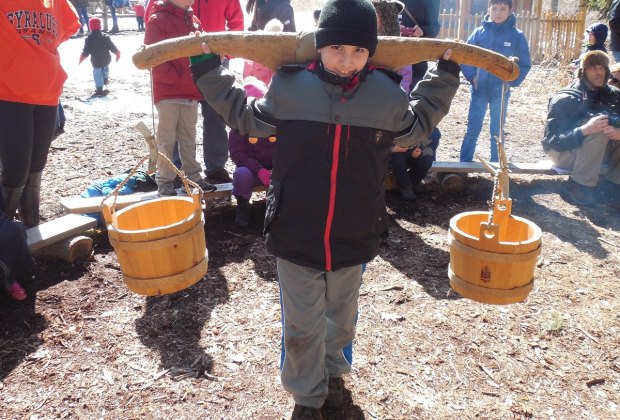 There's plenty of hands-on fun at Greenburgh Nature Center. Photo courtesy of the venue.
This annual tree-hugging event allows families with kids of all ages to learn about the origins of maple treats and to enjoy interactive demonstrations of tapping a maple tree to extract its sap and convert it into tasty pancake toppers. Whereas several other maple-sugaring events end there, the Maple Sugaring Party goes on to include additional activities to round out the event—and turn it into a party!
Allow a couple hours to take in some half-dozen stations at your own pace. Since the primary purpose is to demonstrate maple sugaring, start with the tapping demonstration area, where kids can collect "liquid gold" (which, in its raw form, actually resembles water more than syrup) as it descends the spigot embedded in the tree. From there, head to the sugar shack to see the evaporator in action and learn how sap is cooked. Next, watch an open fire boil the syrup in pots, as earlier harvesters would have done, and view a presentation about Native American techniques and rituals. Be sure to sample some of the maple candy in the Manor House--that's the best part!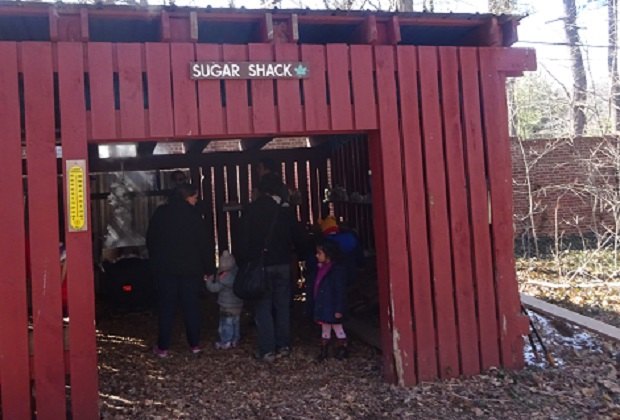 Visit the sugar shack to see the evaporator in action and learn more about the conversion from sap to syrup. Photo by the author.
The making of maple syrup isn't the only food item in focus. Check out the barnyard to watch the making of porridge and help yourself to a complimentary taste. Still hungry? Food is available for purchase from the nearby California Pizza Kitchen and from Blue Pig, purveyor of locally made ice cream (with flavors to suit the theme of the day).
In addition to housing maple-treat samples, the Manor House is also where to go for assorted maple-themed crafts and storytelling. Still looking for more? The Greenburgh Nature Center offers a host of attractions regardless of the occasion, including flat hiking trails, animal exhibits (outdoor ones are FREE) and a fun playground.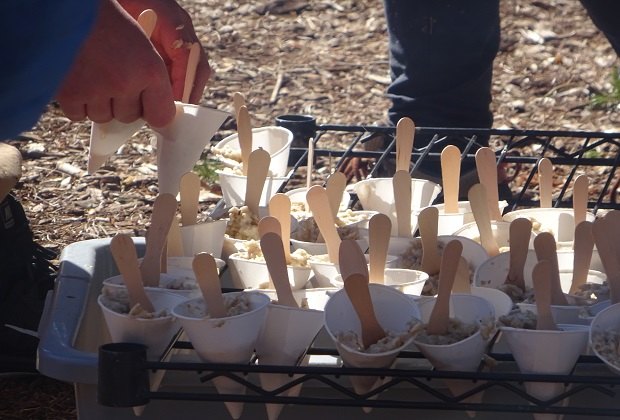 Sample some porridge after watching how it's made. Photo by the author.
For further details, view the Maple Sugaring Party on our Event Calendar.
What to Know
Purchase tickets in advance to save on admission. Members enjoy an added savings.
Take note of the agenda as you arrive, as some activities are timed.
Free on-site parking is available, but unless you arrive early, don't expect a spot. Supplemental free parking is available on the other side of Central Avenue (a busy thoroughfare), with police officers directing traffic to accommodate the atypical abundance of pedestrians. Hearty walkers should have no problem managing the walk and uphill climb, but anyone with mobility impairment should arrive when the event opens to avoid the added distance.
Craft activities are tailored to the younger set, whereas other activities are targeted to all ages.
Bathrooms are located in the Manor House.
Top photo courtesy of Greenburgh Nature Center.