Kid-Friendly Spas and Kid Spa Parties Near DC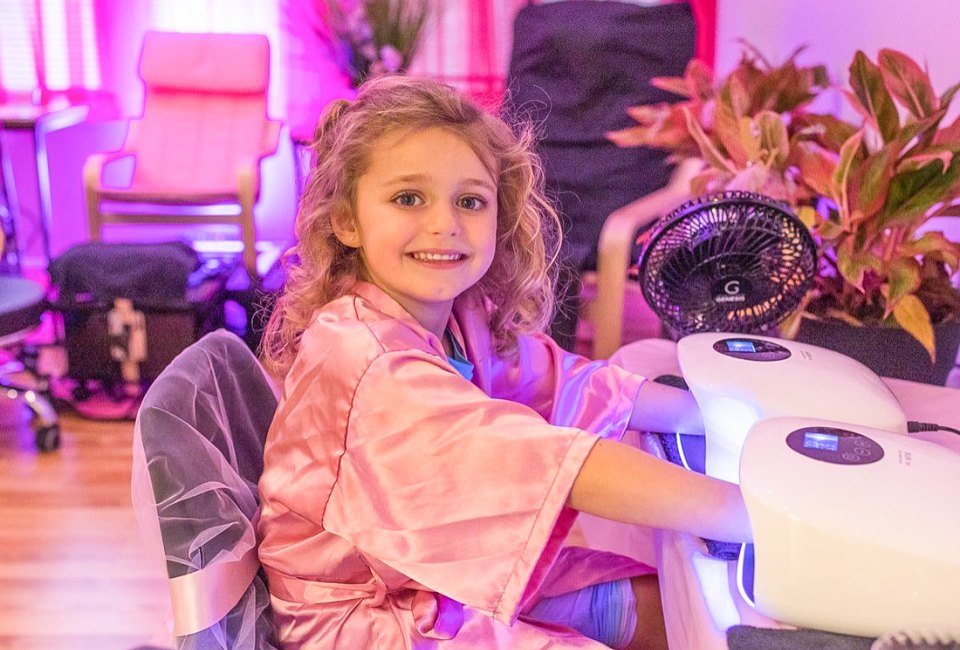 4/7/23
- By
Katie Sivinski
Everyone needs a little pampering sometimes—even kids! But at-home spa days often lead to polish-splattered carpets and makeup-smeared faces. If that thought terrifies you, head to one of several kid-friendly spas near DC. These spas in DC, Maryland, and Northern Virginia make a great setting for a relaxing parent-child outing, a fun gathering of your child's besties, or even a glam birthday party.
Prefer the comfort of your own home (minus the mess)? There are also companies that bring kid spa parties to you, all with the aim of making your child and their friends feel special and beautiful.
Read on for 10 kid-friendly spas and companies that host kid spa parties near Washington, DC. Check out our DC Kids' Birthday Party Guide for more kids' party ideas, from fun indoor birthday party places for preschoolers to cool teen birthday party spots.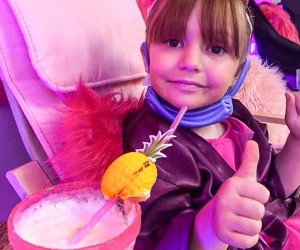 Give the birthday child the royal treatment at Unique & Special Kids Spa. Photo courtesy of the spa
Kid-Friendly Spas Near DC
If you're looking for a kid-focused spa experience, Unique & Special Kids Spa is the place to go. It offers a full range of spa and salon services especially for kids, and adults are welcome to join the fun. Your child can get the full royal treatment with facials, manicures and pedicures, heat-free hairstyles, makeup, and foot soaks. Birthday parties are popular, with a variety of themes including a Royal Spa Party (complete with a princess visit), a Rock Star Party with karaoke, and a Pajama Spa Party. Birthday party packages include spa services like a fancy up-do and makeup, activities such as modeling on a runway, refreshments and desserts, and many more choices to make your child's birthday memorable.
At Nail Saloon, you can enjoy delicious drinks like coffee beverages, tea, wine, soda, and juice while you and your mini-me get your nails done. Nail Saloon keeps it simple and classy for kiddos with a manicure or pedicure that includes nail shaping, a sugar scrub, a hot cream and oil treatment, and nail polish. The glam interiors at Nail Saloon's two DC spas in Logan Circle and Capitol Hill will keep you coming back.
This Dupont Circle spa offers beautiful nail art and a welcoming atmosphere. Kids 10 and under can choose from a classic manicure or pedicure or a simple polish application for hands or feet. For adults, Deep Blue offers extras like tropical fruit scrubs, a champagne and rose scrub, and unique designs.
4. Kosmo Nail Bar — McLean, VA and Rockville, MD
With two locations in McLean, one in Rockville, and two more opening soon in DC and Virginia, Kosmo Nail Bar is a great choice of spas for its chic interiors and friendly staff. For kids under 12, Kosmo offers special services like manicures and pedicures, gel nail polish, and a spa mani/pedi. Add on some kids' nail art for a little flair. You and your little one will be relaxed and stylish in no time.
RELATED: Top Kids' Birthday Party Places Near Washington, DC

Sweet & Sassy offers a variety of birthday party themes and packages. Photo courtesy of Sweet & Sassy
Come to Sweet & Sassy for the salon, the spa, or for a birthday celebration, all aimed with kids' enjoyment in mind. Whether it's getting a manicure or pedicure, feeling extra fancy with add-ons like rings and nail art, or getting a facial or haircut, Sweet & Sassy has all the relaxing options you can think of. Sweet & Sassy even offers ear piercing and activities like create-your-own bath salt or sugar scrub. For birthday parties, choose from activities and packages like modeling on the runway with Fashion Runway, becoming a princess with Perfect Princess, singing and dancing like a star with Girls Rock, or feeling totally pampered with Spa-tacular.
At the St. James wellness and fitness center's Springfield location, your child can enjoy a relaxing salon experience by getting a kids' manicure or pedicure. Each manicure or pedicure session lasts 30 minutes and includes nail shaping, hand and foot massages, and a nail polish color of choice. You and your kiddo can follow up your nail services with lunch at the St. James' on-site restaurant, Vim & Victor, or a visit to Super, Awesome & Amazing, the on-site water park and entertainment area.
7. SparTea — Baltimore, MD
SparTea combines kid spa parties with tea parties for the ultimate full-service day-spa experience for girls. Choose from fun activities like jewelry making, slime experiments, yoga, Zumba, canvas painting, and—of course—manicures, pedicures, massages, and facials. SparTea also provides cupcakes and snacks such as fruit and veggie trays. At SparTea, you can book a birthday party where your child can enjoy being pampered with her friends, or plan a special day out with a Mommy and Me Playdate.
RELATED: 10 Great Birthday Party Entertainers Near Washington, DC

Glitz & Glam will bring the spa to you! Photo courtesy of Glitz & Glam
At-Home Kid Spa Parties Near DC
Glitz & Glam promotes the importance of self-care and fun with its at-home kid spa parties throughout the DC area. Choose from packages like Purely Pampered and Sweet and Simple and Sassy, with options including manicures, pedicures, foot soaks, cider toasts, robes to wear, and more. Glitz & Glam also offers facial kits and spa party boxes to help you set up your own spa party.
Throw your kiddo a spa birthday party at your own home with Sassy & Fancy Girls Spa. The company has a variety of packages to choose from that include activities like manicures, pedicures, art projects, create-your-own lip gloss, and more. Party packages also include sleepover props and robes. Sassy & Fancy Girls Spa provides setup and cleanup for birthday parties, ensuring a relaxing experience for both the grown-ups and the kids.
Let the party come to you with the Magic Spa Bus! Your child will be so excited to receive a high-quality manicure and pedicure right inside this glammed-out bus. This unique experience includes a red-carpet entrance to the bus, your child's choice of music, their name in lights, and beautiful nails. Magic Spa Bus also rents out slumber-party supplies and can add on special extras like robes, glow-in-the-dark nail polish, and apple-cider toasts.
Sign up for the Mommy Poppins Newsletter today!
i