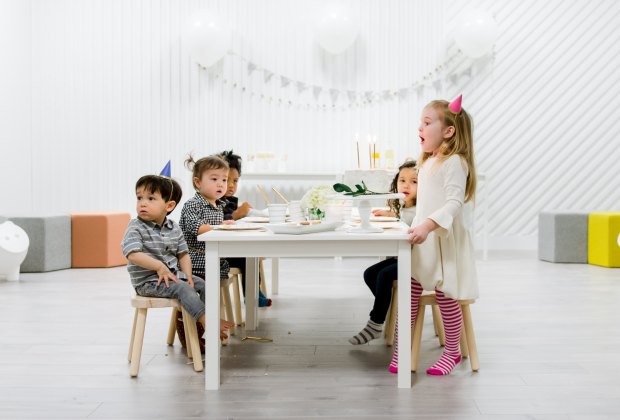 10 Places to Host a First Birthday Party in the Washington, DC Area
Your baby is turning one! It's a memorable, exciting, and bittersweet milestone, and a celebration is certainly in order. But with all the great birthday spots in the Washington, DC area, it can be hard to decide where to host. That's where Mommy Poppins DC comes in. We've rounded up our favorite places to host a first birthday party for your growing little one.
1. Playseum - Bethesda, MD
A children's bookstore and toy store hybrid, Playseum is set up to look like different city blocks...and loads of birthday fun. Packages start at $280 for a two hour party with up to 7 children plus the birthday boy or girl and accompanying adults.
2. Nook - Various locations
Geared towards kids aged 0-5, the indoor play space at Nook is one cool spot. The neutral decor make it a perfect backdrop for any decorations you might want to bring in. Parties include three hours of play time, plus an hour for setup. Outside food and drink, including alcoholic beverages for the grownups, can be brought in. Semi-private parties and private parties are available, starting at $240 plus $20/child aged five and younger.
3. Milburn Orchards - Elkton, MD
With play time in the BIG BackYard, including a giant sand dig and playground, access to the pavilion, a tent, or picnic area, and loads of extras and add-on options, Milburn Orchards is a great outdoor spot for warm weather birthday parties. To reserve some party space, packages start at $110 (plus admission fees) for a two-hour party.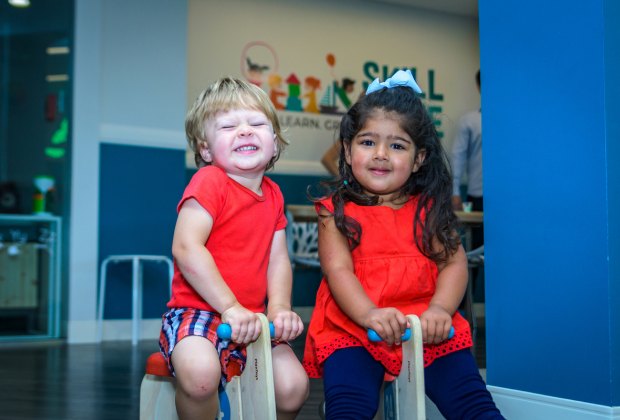 Photo courtesy of Elemeno
4. Elemeno Club - Washington, DC
Birthday parties at this indoor play space include an hour and a half of exclusive play time in the SkillZone for up to 20 kids aged six and under, plus an hour total of setup time. Outside food and drink, including alcoholic beverages for the grownups, and special decorations are encouraged. Customize a playlist, make a slideshow to present on the big TV, and let the kids run loose for an active birthday party sure to please. Packages start at $229, but members receive a 20% discount.
5. My Gym - Various locations
With a focus on active play, along with songs, dance, and puppets, My Gym is a great spot for birthday parties for even the youngest celebrants. Hosted by the My Gym teachers, the parties keep a good pace and kids keep moving throughout. Packages start at $400 for a 1.5 hour private party for up to 12 children. Balloon decorations are included. Due to the constant activity, My Gym recommends opening presents at home and not on-site.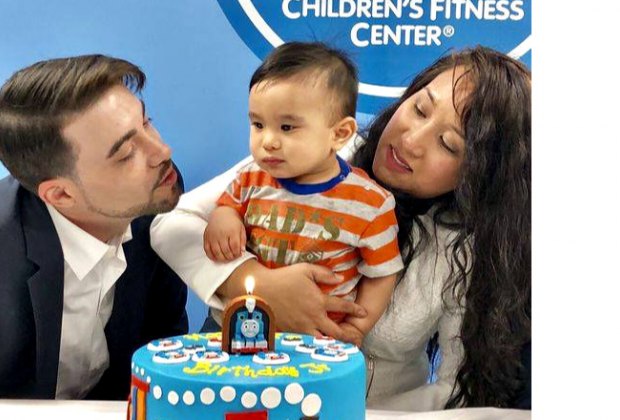 Photo courtesy of My Gym
6. Glen Echo Park - Glen Echo, MDSure, there are plenty of area parks and playgrounds that are perfect for hosting an informal birthday party, but why not pick a park that has an historic carousel to boot? With lots of first come-first serve picnic tables nearby, the only facility cost would be the $1.25/ride on the Dentzel Carousel. There are rooms for rent if you'd to keep it indoors, as well as options for themed birthday parties for older kids.
7. Scramble - Alexandria, VA
Scramble is an indoor playground that's fun even for little ones who are still crawling but there's still lots to explore for older children and siblings as well. Party packages are available on weekdays and weekends and start at $150.
8. Once Upon a Dream - Vienna, VA
Once Upon a Dream is an imagination-focused open play space with all sorts of activities, from dance to construction (they've introduced Toddler Thursdays so the littlest ones can have some age-specific fun too). Party packages start at $320 for 8 children, including the birthday boy or girl, and 8 adults for a 1.5 hour party.
9. Butler's Orchard - Germantown, MD
For spring, summer, or fall birthdays, a party at Butler's Orchards might be just the ticket! Party goers get a private wagon ride to the pick-your-own fields that are currently in season. Once the fruit, veggies, or flowers have been picked, head back to the Farm Park Area to zip down slides, play on the wooden tractors, and say hello to the farm animals. The party cost is $375 for up to 30 guests (babies under 12 months are free) and last 2.5 hours, including set up and clean up.
10. Splashpads and spraygrounds - Various locations
When you've got a summer baby, a splashpad or sprayground is a great option for an informal and inexpensive birthday celebration on a hot day. And there are plenty of spots to choose from in the DC area. Just get there early, stake out a spot at any picnic areas that are available, and you've got yourself an easy-to-throw party that the little ones will love.