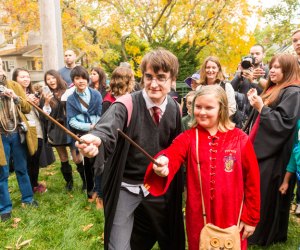 The Harry Potter Festival Returns to Chestnut Hill on October 22
Once a year, Chestnut Hill and all its local businesses transform into a magical place for the Harry Potter Festival. From Butter Beer, to sorting hats and quidditch, if you're a Harry Potter fan this event cannot be missed. You can even meet Harry and his friends! Here's everything you need to know before you go on October 22.
The festival is now in its seventh year, but for the first time this year, 6 blocks of Germantown Avenue will be completely closed off to traffic. That means the festival will be even bigger and better, and crossing the street won't be so tricky. It also means, parking might be a little difficult. The avenue will be closed to vehicular traffic between Rex and Willow Grove Avenues. There are 5 small public parking lots in the area. Limited parking will also be available at Chestnut Hill Presbyterian Church (8855 Germantown Ave.) and United Cerebral Palsy of Philadelphia and Vicinity (102 E. Mermaid Lane). If you'd rather avoid the traffic and parking, the regional rail is a great way to travel to and from, and Harry and his friends might even make an appearance there, too.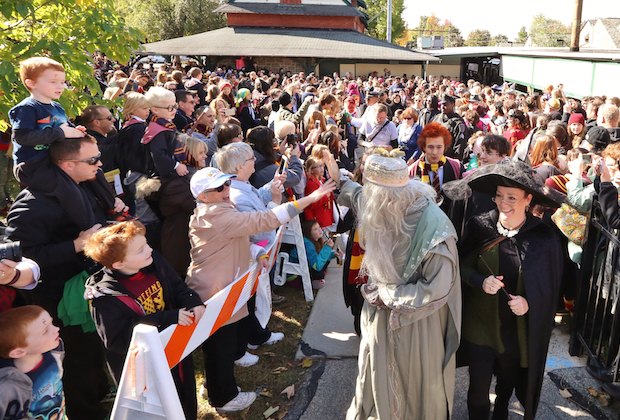 Photo courtesy of Chestnut Hill Business Association.
Another new feature this year is the CityHUNT scavenger hunt. Two hunt times are available: 11:30 AM - 1:30 PM and 2:30 - 4:30 PM. Tickets must be purchased for a team of up to 5 people and cost $100 per team (plus a $6 processing fee). Using the mobile app, you'll travel around Hogsmeade searching for clues and challenges to earn points and win prizes.
Painting by Denni Jones. Photo courtesy of the artist.
Art lovers can visit ARTifacts and Curiosities for a Harry Potter themed art show. The gallery is located at 8614 Germantown Ave. and is open from 11 AM - 5 PM the day of the festival. It features a variety of pieces, some of which include your favorite Harry Potter characters, with a range of pricing if you decide to take something home. Quidditch lovers can visit Chestnut Hill College to watch real quidditch matches from 10 AM - 4 PM. The annual Brotherly Love Cup Quidditch Tournament is free and open to the public. Limited parking is available on campus, and it is not within walking distance to the rest of the festival, so you'll want to plan to stop here separately. There is, however, a shuttle available to and from the regional rail stations, so if you can find parking at the festival itself, this may be a better option for checking out the quidditch tournament.
Brotherly Love Cup Quidditch Tournament. Photo courtesy of Chestnut Hill Business Association.
As usual, the Chestnut Hill shops will also transform into shops from Hogsmeade Village. Butter Beer will be available for purchase at certain pubs and shops, as will Harry Potter themed treats and goodies from local bakeries (think chocolate frog cupcakes and lightning bolt cookies). Many other activities will be available along Germantown Avenue including Defense Against the Dark Arts classes, demonstrations, hands-on activities at over a dozen "horcrux stations," and free rides on the Knight Bus. If the kids need to run around for a bit, visit Jenks Playground (8301 Germantown Ave.), AKA The School of Witchcraft and Wizardry, for Wizard Chess, bouncy castles, potions and food, themed games, craft wands, and more.
The Harry Potter Festival is happening between Rex and Willow Grove Avenues on Germantown Ave. from 11 AM - 5 PM. Quidditch will be on Chestnut Hill College's campus at the same times.
Header image by A. Sinogoga for Visit Philadelphia.