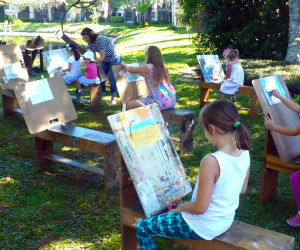 Best Art Classes for Kids in Orlando to Unleash Creativity
Monet, Picasso, Van Gogh, and all genius artists share something in common—they were once children! Before they became masters in their field, they were just little Claude and Vincent fingerpainting and tiny Pablo doodling in the dirt. Further your own child's artistic talents by enrolling him or her in art classes for kids. Orlando art classes cover a variety of mediums -- pottery, drawing, painting, sculpture, and many more—and welcome all ages, from young children all the way to talented teens (and even adults).
Enriching children's lives with art provides a well-rounded education, promotes creativity, teaches independence and decision-making, unlocks an appreciation of the surrounding world, and helps develop fine motor skills. Oh, and keeps your child entertained, happy, and messy! We've put together some of our favorite Orlando art classes for kids for budding artists in need of unleashing their creative talents.
If your child prefers the performing arts, make sure to review the Best Dance Classes for Kids in Orlando and discover great musical theater and dance classes for local kids. There are more all-age classes to peruse in our Guide to Classes for Kids in Orlando, a great way to start off the new school year. And speaking of kicking off the school year, get some great family-friendly fall activities by visiting our Fall Fun Guide here.
Read on for wonderful art classes for kids in Orlando and Central Florida
OUR LATEST VIDEOS
Best Art Classes for Kids in Orlando
The Art Room —Windermere
The Art Room offers weekly six-week sessions for students of all ages to try new artistic media as well as hone skills on existing ones. This teaching art studio offers subjects like painting, drawing, sculpting, collage, 3D art, mixed media, and more, for ages 4 (introductory classes) through high school teens (portfolio classes) during the school year. When summer rolls around, The Art Room puts on eight, one-week camps in the morning and in the afternoon (your choice). Families can also register for various workshops happening throughout the year.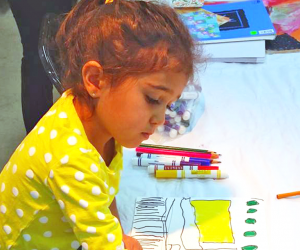 Crealdé School of Art offers classes for even the youngest of artists.
Crealdé School of Art — Winter Park and Winter Garden
For more than 40 years, Crealdé School of Art has offered art classes, camps, workshops, and exhibitions for art makers and consumers in Central Florida. Crealdé offers a large amount of classes divided by Fall I, Fall II, and Winter semesters, as well as ArtCamp in the summer, for a variety of ages at the three campuses. Throughout the year, parents can enroll older kids and teens in classes like Draw Comic Book Action Figures, Figure Drawing for Teens, Painting & Drawing I, and many more; there are classes for younger artists, like Art of Many Cultures, Pint Sized Picassos, and Cartooning and Toy Design. Crealdé School of Art has amazing classes for children of all ages, especially older ones looking to hone skills and learn new ones.
Most art classes for kids at Crealdé are weekly, lasting a total of six weeks, running for 1.5-2 hours each class. Recommended ages are listed at time of registration, as well as enrollment costs, any needed supplies, and more details.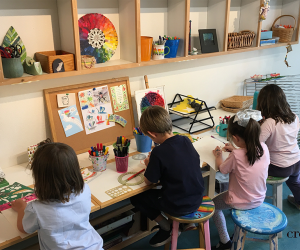 Creative Core offers many art classes for different ages and skill levels.
Creative Core — Orlando
Kids can unleash their creativity and have fun making art at Creative Core, located at Faith Arts Village Orlando (FAVO), an artists' collective studio. During the school year, elementary-aged children take classes after school in various classes: Art Start (preK) introduces art with hands-on projects; Art Spark (kindergarten) introduces various art media and 3D elements; and Art Smart (grades 1-5) explores a mix of techniques, sharpening drawing, and having fun. Depending on your child's age, classes run 1-1.5 hours weekly, with a tuition cost and a materials fee. The summer program is also a great option for budding artists.
Creative Jane Art Studio —Winter Park
Coloring outside the lines is not only okay at Creative Jane Art Studio, it's encouraged! Afterschool painting and drawing classes for kids in grades kindergarten - 3 teach basic techniques and inspired by art history and styles; older kids enjoy the Tween Crafty Club, a one-hour, drop-in monthly class; and Saturday art workshops have different themes each week, like garden bubble wands and rainbow bead suncatchers and cardboard mask sculptures. This studio also offers Art Play!, an art free-for-all where toddlers can engage all their senses with provided art materials. Creative Jane can also host birthday parties and celebrations, too.
Kids Create Art —Windermere
Founded by an award-winning art teacher, Kids Create Art is a colorful studio open to Orlando kids and in the surrounding area wanting to create whimiscal projects. Most classes are geared toward elementary-age kids and older — with in-person classes scheduled for early evening and daytime classes for homeschool students. Kids Create Art offers virtual art classes, also scheduled for after-school time. Artistic adults who also need creative outlets can attend one of the Kids Create Art evening workshops as well. Check the studio's website for details about upcoming classes and corresponding tuition costs.
Osceola Arts —Kissimmee
Osceola Arts is an art mecca for kids and families in the Osceola County—offering countless performing and visual arts performances and classes. Performing arts classes for kids include musical theater dance, acting, youth orchestra, and more — in fact, the list seems endless with the amount of performing arts opportunities for local kids. Since this article focuses on the visual arts, Osceola Arts offers wonderful classes including Youth Art (ages 7-12) that exposes artists to painting, drawing, mixed media, and Kids N' Clay (ages 6-12) which is just that...kids and clay!
Super Awesome Cool Pottery —Orlando
With a name like "Super Awesome Cool Pottery," you know kids are going to be making some super, awesome, cool pottery! This pottery studio is open by appointment only, for kids and adults to paint their own pottery and/or wet-clay projects, as well as provides on-site afterschool classes at a variety of Orlando elementary schools. Super Awesome Cool Pottery also hosts birthday parties, spirit nights, team building activities, and other group events.
Photos courtesy of the schools/studios