Cheap Cooking Classes for NYC Kids and the Kids Food Festival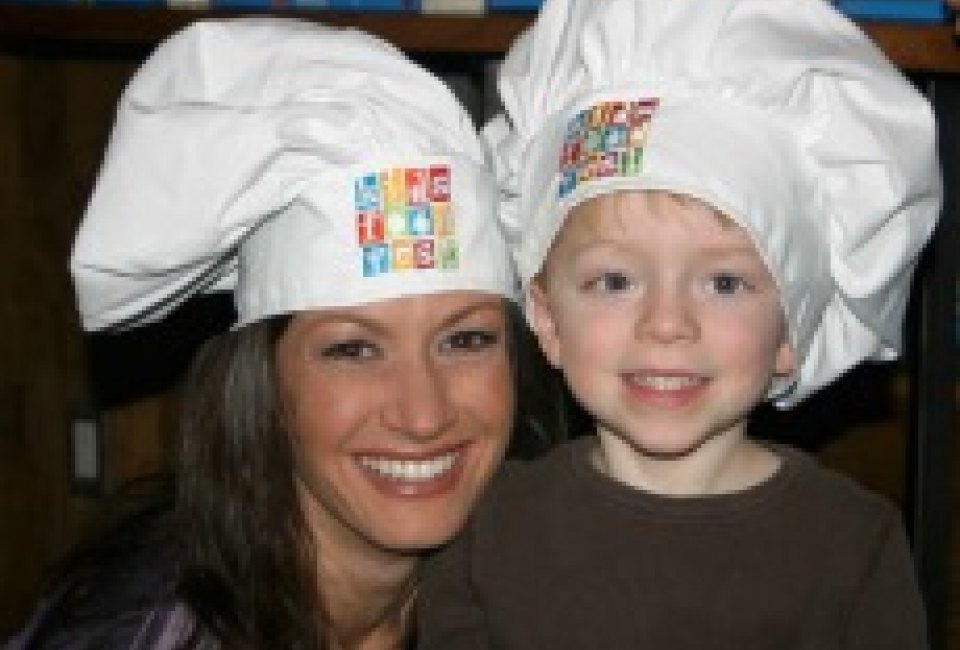 1/12/12
- By
Karlyn Ferrari
I'm a lifelong foodie. Before I had my son, I even worked at the Food Network. I've been dreaming about taking him to a cool kids' cooking class since I was pregnant. While there are certainly lots of wonderful places where children can take cooking lessons in New York City, they tend to be really expensive, around $60 or more a pop. I understand why: Ingredients don't come cheap and you need access to a kitchen. Still, at those prices, I figured my kid would have to learn to cook in the kitchen of chez moi.

But I started to do some research to see if I could find any (relatively) inexpensive cooking classes for kids in NYC. And guess what? They actually do exist. Most of these cooking programs cost $30 or less per session, and a few are actually totally free. Plus, New York City's first-ever Kids Food Festival hits Bryant Park later this month with hands-on activities and classes for families. Time to get cooking!
Kids Food Festival – Midtown West
The Pond at Bryant Park, 40th Street between Fifth and Sixth Avenues
Saturday, January 21-Sunday, January 22 10am-6pm
Free admission; cooking events are $25 per child, free for up to two accompanying adults
The first-ever Kids Food Festival is all about helping families learn to make healthy eating choices. A portion of the proceeds will even benefit charities fighting childhood hunger and obesity. The weekend is jam-packed with celebrity chef demos by the likes of the Food Network's Ellie Krieger and Top Chef's Sam Talbot, and a wide-array of cooking classes, such as mango stuffed challah French toast, allergy-free cooking and Everybody Can Cook: Special Needs in the Kitchen. There will also be performances by the Bilingual Birdies Band, Joanie Leeds and other local family groups. At $25 a session, the cooking lessons seem like a good deal (the bands, not as much). There will also be a handful of free activities, like a food scavenger hunt and no-cost samples at the various kiosks.

92nd Street Y – Upper East Side
1395 Lexington Avenue at 92nd Street
The Y's Kids in the Kitchen classes, which include storytime, a snack and the preparation of one dish, cost $40 a session—not outrageous, but the Shababa Bakery with Marty sessions are a steal. In these one-off classes, kids roll and braid their own challah for just $15. There are multiple sessions per month. Check the website for the complete schedule.

The JCC in Manhattan – Upper West Side
334 Amsterdam Avenue at 76th Street
Same deal at the JCC: Its Kookin' Kids classes are doable: $600 for 16 weeks in which preschoolers and their parents prepare at least two recipes per week. But the Challah Bakin' is the real bargain: Children under 6 kneed, braid and bake the traditional bread for $20 per session. Next class: Friday, February 3.

Brooklyn Botanic Garden – Crown Heights
900 Washington Avenue at Crown Street
The garden offers cooking classes for children ages 2-13 year-round. Kids plant and harvest in the Children's Garden and the greenhouses, and then sample the fresh produce and prepare simple recipes. The winter semester begins next week.
Winter Trees & Saplings – various dates. Check the website for a complete schedule. Ages 2-3 with caregiver; $120 for four sessions
Winter Seeds – begins Saturday, January 21. Ages 4-6; $100 for four sessions
Winter City Farmers – begins Saturday, January 21. First through eighth graders; $100 for four classes

Stone Barns Center for Food and Agriculture – Tarrytown, NY
630 Bedford Road
We're longtime fans of this lovely farm, which is less than a 30-minute drive from midtown Manhattan. Its Kids Are the Cooks! series gives young city slickers a chance to understand the farm to table connection by collecting fresh, seasonal produce and then using it in the kitchen. Young Chefs teaches more advanced hands-on cooking in multiple sessions. Check the website for upcoming dates for the following classes.
Egg Collecting – ages 2-14; $7 per session
Farm to Table: Kids Are the Cooks! – ages 6-10; $30 per sessions
Farm to Table: Young Chefs – ages 11-15; $35 per session

TriniSoul – Harlem
1325 Fifth Avenue near 112th Street
We couldn't leave out this opportunity because, well, it's free, but we admit some of the online reviews we've read make us a little dubious. The organization offers no-cost cooking classes for kids ages 9-15 once a month on a first-come, first-served basis. Participants prep the ingredients and cook Caribbean dishes in the 90-minute class. The next session is the Valentine's Day Cooking Class. Call 800-561-0194 for date and time. FREE

Whole Foods Market's Bowery Culinary Center – East Village
95 East Houston Street at Bowery
The ubiquitous chain offers kids' cooking classes at two of its locations. On the Bowery, children use organic ingredients from the store to whip up a variety of international dishes. Classes for children ages 2-5 include one caregiver, while ages 6-9 and 10-13 are drop-off.
KIDS! Make Your Own Sushi! – Sunday, January 29. Multiple sessions grouped by age; $30
KIDS! Make Your Own Truffles! – Sunday, February 12. Multiple sessions grouped by age; $30

Whole Foods Market Tribeca – Tribeca
270 Greenwich Street at Warren Street
Head to the Kids Zone upstairs for no-cost cooking classes for toddlers with Laura, a healthy eating specialist, who teaches hands-on sessions with nutritious ingredients. Caregiver must be present. R.S.V.P. to laura.lorusso@wholefoods.com.
Kids Zone: Crocodile Crunch – Friday, January 13 at 11am; FREE
Kids Zone: Mini Pizzas on English Muffins – Friday, January 20 at 11am; FREE
Kids Zone: Shooting Stars – Friday, January 27 at 11am; FREE
Read more of our posts on cooking classes and eating in NYC.