SPONSORED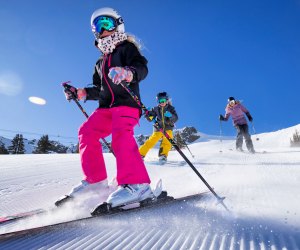 Ski Free All Spring with the 2019 Ikon Pass - And Save $100 on Kids' Passes
If you hit the slopes at least one week a year, a ski pass can mean serious savings for your family. Ikon Pass is an annual ski pass that gives you access to over 30 skiing and snowboarding destinations across 12 states, 4 Canadian provinces, and 4 continents. And even better, if you buy your pass now, you get this year's spring skiing for free!
While you might think of skiing as a quintessential winter activity, the higher temps, longer days, and shorter chairlift waits make spring break the perfect time for a family ski trip. Whether you're a bunch of black diamond die-hards or some of your gang's still all about the bunny hill, an Ikon Pass will definitely help you make the most of spring on the slopes—and since the pass for the 19/20 season literally just went on sale, you can use it for the rest of this season, as well as all of next year.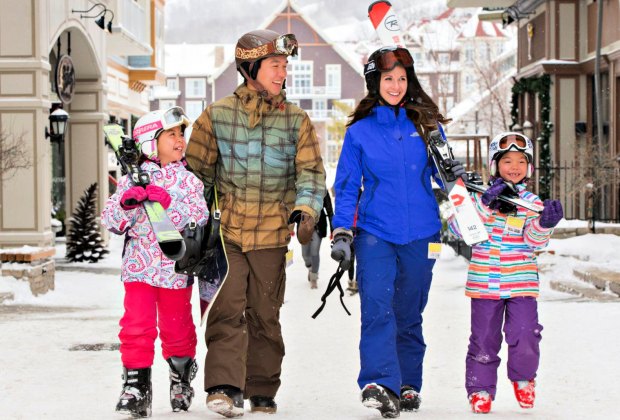 If you're not familiar with the Ikon Pass, we'll go ahead lay it out for you. If you're already in the know, read on to find out what's new this year, and to learn about the big promotion for kid passes you can snatch up right now.
There are two levels of passes, Ikon Pass and Ikon Base Pass. The Ikon Pass offers unlimited access to 14 destinations plus 7 days at 23 destinations, with no blackout dates. The Ikon Base Pass offers unlimited/select access to 12 destinations plus 5 days at 25 destinations, but does have some holiday blackout periods (although don't worry—not during spring break!).
If you're a passholder, you'll also receive a bunch of perks once you're actually on the mountain. You'll ski like VIPs with deals on retail, food, and beverages at some resorts, and have access to specials on everything from spacious, family-friendly lodging to lessons for the little ones (or the not-so-little ones). You can even skip the lift line at a number of destinations—and we all know less waiting means happier kiddos.
In addition, passholders can share the wealth with friends and family with 25% off discounts on lift tickets for up to 10 people with an Ikon Pass, or 8 with an Ikon Base Pass.
Skiing is pricey, and buying a season pass can take a bite out of your budget, but the Ikon Pass offers promotions and a payment plan that can make it easier than ever to get your whole family on the slopes. For adults, the payment plan is a great place to start. With a downpayment of $199 per pass, you can ease into the season while spreading the remaining costs across four monthly payments.
To help get everyone up and on the mountain, if you buy before April 24, 2019, you can save up to $200 on passes for kids. That's $100 off each child pass for up to two children (ages 5 to 12) per every one adult pass. In short, these savings bring it to just $199 per child for an Ikon Pass or $159 for an Ikon Base Pass, and that's huge savings for a full year of skiing! Ikon Pass also has young adult rates for ages 13 to 22, and there's even a pass for under fives for just $49. Check the website for all Ikon Pass pricing.
Ikon Pass can be used at too many resorts to list here, but you can be sure it includes some of our favorite spots in Vermont, Colorado, Utah, California, and Canada. There are even slopes near Washington DC, Boston, and Chicago. See all the destinations here.
With free spring skiing, great deals on kid passes, renewal discounts, and the new payment plan option, there are plenty of reasons to buy an Ikon Pass ASAP.
Photos courtesy of Ikon Pass