Jenkinson's Boardwalk Adds Three New Rides for Summer 2019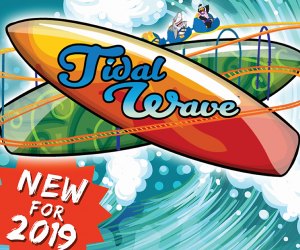 It's difficult to take kids to the Jersey Shore without them hounding you to go to the boardwalk. Now they have three new reasons to twist your arm: Jenkinson's is adding a trio of rides to its amusement area in summer 2019, including a new roller coaster, a giant slide, and a kiddie ride.
The biggest addition is the new roller coaster. At approximately 90 feet wide and 20 feet high, Tidal Wave replaces the popular Flitzer Roller Coaster at the south end of the park. Due to increasing labor, maintenance, and upkeep costs, Jenkinson's decided it was time to find a replacement.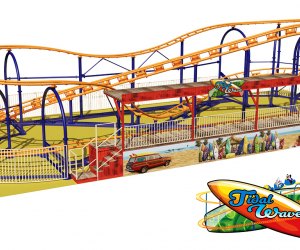 Get ready for the spinning family coaster coming to Jenkinson's in 2019.
The new ocean-themed Tidal Wave is a spinning family coaster with five cars that can hold up to 20 people total. Each ride includes two minutes of clockwise spinning and reaches top speeds of 20 mph. Tidal Wave costs 12 emusement credits, and passengers must be 36 to 47 inches tall to ride with an adult or more than 48 inches to ride alone.
Located next to Tidal Wave will be the new Fun Slide—a giant three-lane slide that riders descend in burlap sacks. The slide costs 5 emusement credits, and passengers must be at least 42 inches to ride alone or 32 inches to slide with an adult.
The last new attraction is Flying Buccaneers, a family ride located in the kiddie section of the amusement park. Passengers control the movement of their own vessel, which travels in a circular motion. Flying Buccaneers costs 7 emusement credits; height requirements have yet to be released.
"We selected the rides through careful market research and analysis," says Alexander Taylor, a marketing strategist for Jenkinson's. "Also, being that we are a smaller amusement park in terms of size and area to work with, we needed to find attractions that fit our space, as well as meet ride height rules and restrictions. We are always looking for new and innovative ways to add attractions to capture our guests' attention and to enhance their overall experience at Jenkinson's Boardwalk."
Read more about our favorite New Jersey amusement parks and water parks.