Funplex's Water Park, Splashplex, is New and Improved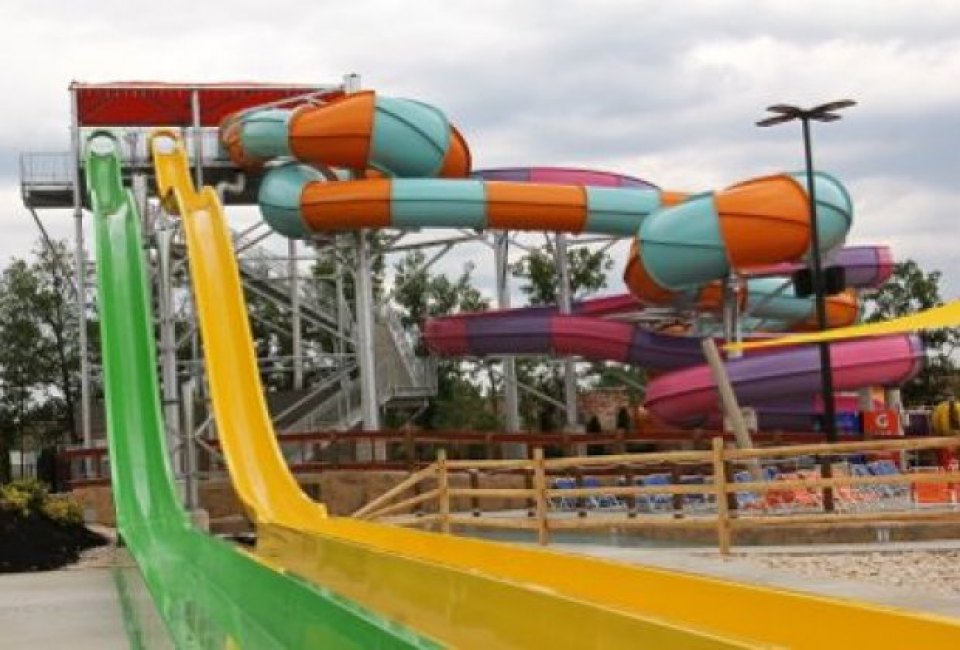 8/1/15
- By
Shari Simpson
My kids are water park fanatics, so when we were invited to check out the new and improved Splashplex in East Hanover, they had their goggles on faster than you can say "cascading waterfall pool". And the Splashplex upgrade did not disappoint--read on for Mommy Poppins New Jersey's review of the newly-expanded summer companion to one of our favorite indoor amusement parks, the Funplex.
When you first pull into the Funplex parking lot, you can't imagine that there could be a water park nearby--it feels like you're going to the mall. Score some big points for the Splashplex's awesome use of space! When you head through the Funplex facility and emerge upon this:
It's quite a stunner. The design of Splashplex is so intricate (but not confusing, never fear) that they managed to fit a whole ton of fun into a relatively moderate space (as far as water parks go, of course). With four water slides ( 2 speed slides, a Constrictor Tube slide, and an inner tube slide), a 5-story water tower, a 5-foot deep pool, a splash pad, and a 580-foot Lazy River, this 130,000-foot expansion knocks your flip-flops off.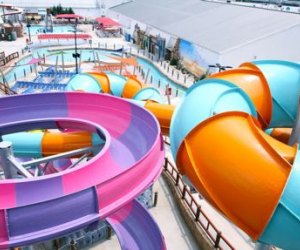 I was immediately pulled onto one of the speed slides by my girls and that was quite an intense ride. They visited it repeatedly, but one time was enough for my old lady bones. Thankfully, there are tons of nice deck chairs, some in the sun, some under shade, and I retired there gladly and peacefully while my maniacs raced around. I did a couple of truly relaxing rounds on the Lazy River (also my husband's favorite, as you can tell from the photograph below) and enjoyed the slides and pool.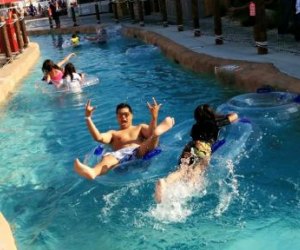 We arrived at noon, near the tail end of the various summer camps that take place during the morning hours, and this was actually good (accidental) planning on our parts; as the camps cleared out, the crowd was quite manageable and the lines were not too long for the slides (which have a height requirements of 42" for the tube slides and 48" for the speed slides).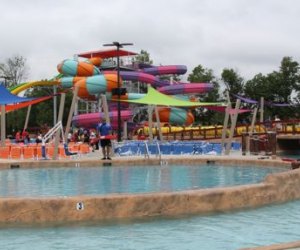 With a wide variety of pricing combinations, you can enjoy both indoor and outdoor fun packages, or go straight water park all the way. At this point in time, you still have to go into the Funplex for food at the Funplex Cafe, but Event Manager Kim Kramm told us that soon there will be an outside cafe for Splashplex patrons who don't want to put their shoes back on. And because everyone wants to bring all their buddies for a float on the Lazy River, check out the Splashplex's Outdoor Party Packages.
The Splashplex is open 10am to 7pm until Labor Day.
Places featured in this article:
---
Splashplex at the Funplex

Sign up for our free
newsletters.
Mommy Poppins is a family activity website that helps people find things to do with kids.
©
2023
MommyPoppins. All Rights Reserved.
mp-prod4-v4.32.99
We use cookies and other data collection technologies to provide the best experience for our customers.
Learn More
Sign up for the Mommy Poppins Newsletter today!