Best Dance Summer Camps in New Jersey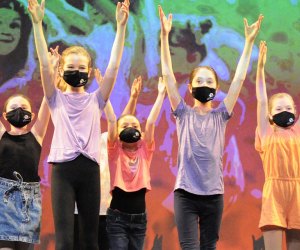 2/22/22
- By
Kaylynn Chiarello Ebner
If your child pirouettes in the kitchen, buffalos down the hallway, or freestyles to the radio, a dance summer camp may be the perfect way to pass the summer break. From recreational summer day camps to more rigorous ballet boot camps, first-time dancers through pre-professionals have lots of ways to explore their love of dance throughout New Jersey. We've found 12 dance summer camps in New Jersey with programming for toddlers, teens, and everyone in between.
For even more summer camps in New Jersey, including our picks for affordable summer camps in the Garden State and STEM summer day camps, check out our Guide to Summer Camps in New Jersey and our Camp Directory, where you can search for summer camps by type, age, and town.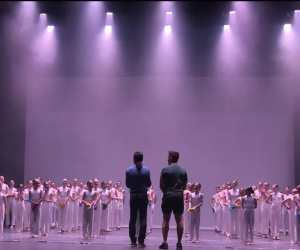 Beginners all the way up through conservatory-level dancers can find a camp at Dance Academy of North Jersey Summer Camp.
Subscribe to our newsletters to get stories like this delivered directly to your inbox.
Dance Summer Camps in North Jersey
This studio offers a wide array of dance classes, from the beginner to the pre-professional/conservatory level, including ballet, jazz, tap, contemporary, modern, musical theater, lyrical, hip hop, and acro. The learning opportunities last year-round, including the summer, when options include weekly classes and multi-day intensive "boot camps" in ballet, tap, and jazz, where students participate in 4-5 hours of lessons daily. Summer mini-camps and classes for all levels (ages 2 and up) are also available in all dance disciplines. Master classes and private lessons are available year-round in aerial silks, lyra, acro, and all dance styles.
This Morris County dance school has a variety of half-day summer camp options for recreational through pre-professional dancers. Programs include Budding Artist (ages 2 1/2-5), Broadway Bound (1st-4th graders), Dance Intensive (ages 5-12), and Musical Theatre Intensive (ages 11-18).
At this welcoming dance camp, kids ages 6-13+ of all levels can choose from several technique-focused summer camps in modern, ballet, and jazz as well as enjoy crafts and outdoor time. Each camp ends with a special performance. Camp weeks vary by age group and run for 5-7-hour sessions depending on level.
Summer camps at Next Step Broadway offer a full day (9am-4pm) of triple-threat fun with lessons in singing, acting, and dancing. Geared for kids ages 4-12, this summer day camp also offers performance opportunities plus arts and craft time to make props. Extended-day options are available. Themes include Frozen, Moana, Descendents, Trolls, and more.
There's something for everyone this summer at the Ridgewood Performing Arts Center. Enroll your preschooler (ages 3-5) in the weeklong Princess Camps, which run for half days. Kids ages 5-9 can learn multiple dance styles at the four-day per week Dance Explosion camps. Dance Intensives are also available for kids ages 7 and up where students experience ballet, stretch, jazz, lyrical, hip hop, tap, and more.
This studio is well-known for its nationally recognized competition team, and over the summer, students of all ages can dance the day away at dance summer camp. There's the pirouette dance camp (ages 2 1/2-4), music video/hip hop (ages 10 and up), acro camp (ages 5 and up), plus stretches, leaps, turns, and tricks (ages 4 and up). Camps are 2-3 hours long and run in one-week sessions.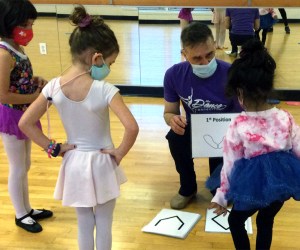 Dance Connections teaches a variety of dance styles for ages 6 and up.
Dance Summer Day Camps in Central and South Jersey
Kids ages 6 and up are welcome to snag a spot in this dance summer camp, where campers take classes in ballet, jazz, contemporary, hip hop, musical theater, arts and crafts, and more. Day camp runs from 9am-3pm in July. More experienced dancers (intermediate level, ages 9 and up) can sign up for summer dance intensives in the evening with master teachers. Children ages 6 through teens can also try out for a role in Beauty & the Beast Jr., the school's summer musical, which takes place the first week of August.
Summer Dance Camp at Dance Connection is perfect for kids ages 5-11. Campers take classes in ballet, jazz, and hip-hop plus group challenges. There are also arts and crafts and more throughout the full-day program. Campers also create a short dance music video to share with friends and family at the end of the week. Weekly themes include frozen kingdom, wizard academy, superheroes, imaginary animals, and ballet. Sign up for as many weeks as you'd like! Early bird discounts are offered.
There's so much fun to be had at these themed camps, which include dancing, games, crafts, snack time, and more. Sessions are two hours daily and previous themes included jungle animals, princesses, unicorns, superheroes, and more. Camp sessions are single days and are offered three days a week. Multi-session discounts are available.
ECDC has a seven-week dance camp that runs Mondays through Thursdays. Dancers explore a specific dance style for four days in a row. There's also a ballet intensive (ages 6-20) culminating in a performance, princess camp (ages 2 1/2-4), and more.
Gotta Dance has a bunch of fun summer programs geared for children ages 2 1/2-5 years and 6-9 years, and beginners are welcome. Preschoolers will love Dance Me a Story, where students experience their favorite princess stories through dance, crafts, stories, and games. Don't be surprised if Tinkerbell, Elsa and Anna, or Mirabel make a guest appearance during the week-long sessions. Classes are 1 1/2-2 hours daily, depending on the student's age. For elementary school kids, the Summer Dance Adventure is perfect for brushing up your skills or trying something new. Dancers learn pre-contemporary choreography, ballet mixed with hip hop, jazz, acro, and musical theater. Week-long sessions include daily three-hour classes and cap off with a mash-up dance movie starring themselves.
Kick your summer into high gear at these half-day themed dance camps geared toward ages 3-18. For young dancers, there are a variety of ballerina princess camps featuring dance, crafts, and snacks. Or, ditch the tutu and try jazz and hip hop camps like Pastel Popstars and Rainbow Rockers (inspired by JoJo Siwa and Taylor Swift), Camp HipHop/TikTok, or #DanceCampRemix. There's also an acro camp, Encanto dance and theater, theater camp, and discipline intensives.
True to its name, Tiny Tutus has six-week-long summer day camps intended for young dancers ages 5-10. Camps have themes like slumber party, American Girl, enchantment, and TikTok, all with a performance on Thursdays. Single-day options and weekly summer classes are available as well.
Photos courtesy of the camps