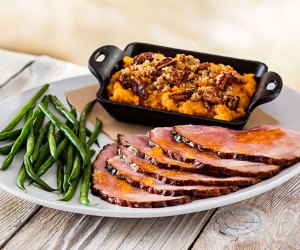 Easter Brunch or Dinner Delivery: LA Restaurants Offering Takeout Holiday Meals
Your Easter or Passover table might not have as many family or friends as usual this year, but that doesn't mean your meal can't be festive. Plenty of restaurants are offering brunch or dinner delivery and takeout options, taking cooking off your plate for the holiday.
Most restaurants that are still open offer curb-side pick-up, and many offer delivery via LA's wide variety of delivery apps as well. A few are even able to provide their own delivery service, if you get your order in early. Decorate the table with Easter crafts and dyed eggs, connect with loved ones via Zoom or FaceTime, and enjoy your holiday.
Westchester & Santa Monica
This Easter meal is likely to the the best deal in town, and (in our experience) darn tasty, too: Truxton's has been offering delivery or takeout from both of its locations throughout the stay-at-home mandate, and each day features a Blue Plate Special at just $7 for adults and $3 for kids. Both locations are offering the normal menu and Blue Plate Special on Easter; they have not yet announced the special meal for the holiday but plan to do something with an Easter theme. Brunch and dinner are both both offered at both locations.
Santa Monica, West Hollywood, DTLA
While there is no special menu planned for the holiday, a meal from BelCampo is always special, with its fine selection of steaks and chops. As the holiday gets closer, a daily special will be decided upon, though, and we have been tipped off that brisket seems likely. Only the All-day Menu is available, but that includes the deviled eggs, which are a fine choice for Easter. (Note that no fish is currently available.)
Beverly Hills
When's the last time you treated yourself to Lawry's? A holiday during a pandemic seems like the perfect excuse to enjoy Lawry's legendary prime rib dinner. Order from the restaurant directly to receive 20% off, and pick up your dinner curbside. Pre-orders start at noon, and pick-up is from 4pm-8pm.
Santa Monica
For a slightly chic holiday meal, Downtown Santa Monica's rooftop Italian bistro is offering a takeout meal for four featuring roasted lamb shoulder, potato, and vegetable. The meal must be ordered 48 hours in advance, and will doubtless be worth the extra planning.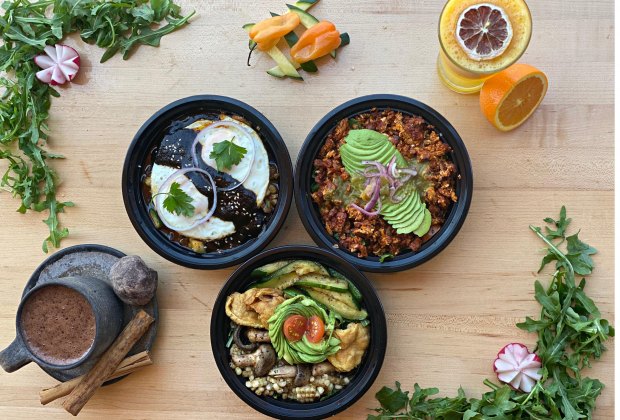 Photo courtesy of Madre
Burbank
Burbank's Castaway has come up with a meal specifically intended for Easter at home. The family style menu is packaged and ready to reheat with instructions. There are three menu choices, ranging in price from $20-$35 per person, in four-person packages. You must call the restaurant to pre-order by Friday, April 10th at 5pm. Curbside pick-up is then available Saturday from 1pm-5pm or Easter Sunday from 10am-4pm.
Palms & Torrance
If Mexican works for your family Easter, how about an Oaxacan brunch from Madre? Both locations offer a special family brunch for four, available either for curbside pick-up or delivery.
DTLA
Fleming's at LA Live offers a three-course Easter Sunday meal that allows families to choose their favorite entree to share, along with salad and a pair of sides, for $30/person. Families can also order off the regular carry-out or children's menus if they prefer. Some bottles of wine are available as well, and it's all available for curbside pick-up from 12pm-8pm.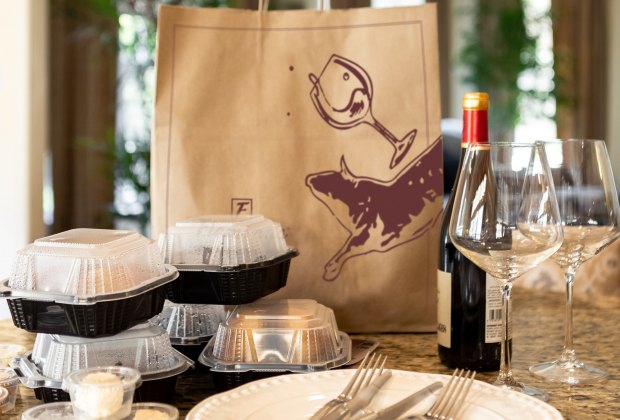 Photo courtesy of Fleming's Steakhouse
Fairfax
What says brunch better than LA's most reliable deli? And for that matter, what says brunch in the middle of the night better than Canter's? Anyone who lives in LA has at some point thanked Canter's for being open when no one else is; in these days of upside-down schedules, isn't it amazing knowing that you can get Canter's curbside any old time you want? Delivery is also available. And Easter pastrami really hits the spot.
Costa Mesa
Orange County families can choose between ordering take-out from the regular menu at Season's 52 on Easter Sunday, or planning ahead for one of the restaurant's family feasts. Pre-order includes a complete, family style Easter dinner with spiral ham or beef tenderloin ($100-$140 for the whole feast), served chilled and ready to warm at home. Curbside pick-up is available starting Friday, April 10, between 12pm-8pm.
Los Feliz
For a Celtic take on the holiday meal, Tam O'Shanter's Irish pub is happy to set your family up with a traditional Irish corned beef or lamb luncheon for the whole brood. There's even 50% off wine to sweeten the deal for Mom and Dad. The whole kit 'n' kaboodle can be picked up curbside.
Sherman Oaks
If the Irish can do it, you can be sure the Brits can as well. The Valley's finest London pub offers every classic British meal you could wish for, from Sunday Roast to Fish 'n' Chips, and promises a special Easter menu that can be ordered in advance to be sure not to miss out. The menu will be posted on the pub's Facebook page later this week, and we're told will include staples like holiday ham and champagne. Pick-up is available daily from 2pm-8pm, including Easter Sunday.
Multiple locations
There are 10 Bucas located around the Southland, and they are all offering Easter at Home versions of their plentiful Italian feasts, available for pickup or delivery. Prices start at $11 per person, with two separate packages available: one is just salad and pasta, while the other includes an additional entree. Oh—and they all include cannoli, for anyone who didn't find enough Easter eggs!
Photo courtesy of Blue Plate Taco
And finally, a thought for Passover...
While delivery options for a true Passover-friendly meal are mostly sold out, most of us have a deli nearby where we can order some good matzo ball soup. If you're looking for a different bowl of matzo balls this year, why not try Blue Plate Santa Monica, which is offering matzo ball soup by the quart in time for seder, with curbside pick-up Tuesday and Wednesday. Pre-order by calling 310.458.2985 or emailing.
And once you've got your order in, check out our ideas for making seders a little more fun for kids!