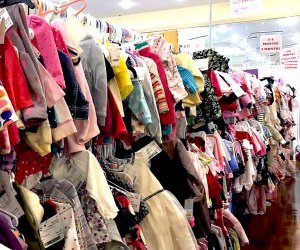 Kids' Consignment Shops and Sales on Long Island
Whether you're stocking up for school clothes or dressing up a wee one that changes in size every couple of months, kid clothes can really add up. Luckily, there are kid-centric consignment shops and special sales across Long Island, where you can buy barely (or never) worn kids' items at a discount. You can also sell your own gently used items to get some extra cash.
For more ways to your family can fun together without breaking the bank check out the affordable activities listed on the Long Island Events Calendar.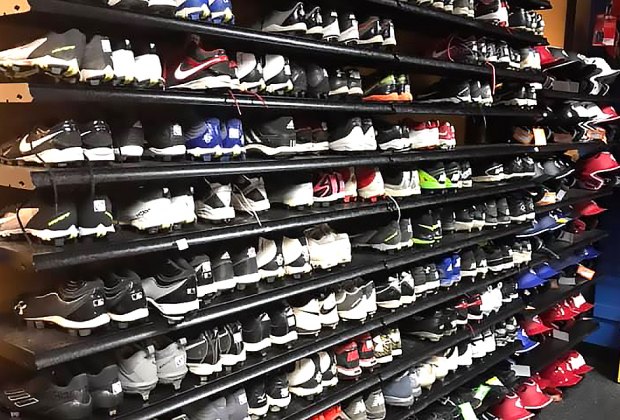 Sports gear is always in demand and Play it Again Sports has what your kids need for every sport!
Nassau
Kidz Stuff - Valley Stream
This shop offers cash on the spot for gently used items. While they accept mainly clothing, Kidz Stuff also accepts shoes, baby gear, furniture and toys. Budget-conscious shoppers will love the option to trade-in their old gear for new-gently used items. They are open seven days a week.
Once Upon a Child - Seaford
Once Upon a Child buys and sells gently used kids clothing, toys and baby gear at up to 70% off regular retail prices. Clothing ranges from newborn to sizes 16/18 youth. Footwear, books, toys, games and furniture is also available at a steep discount. All items are carefully inspected and sellers are paid for their merchandise on the spot.
Play It Again Sports - Massapequa & Oceanside
Wondering what to do when your child grows out of his sports equipment in six months? Head to Play It Again Sports. With two locations, this shop will offer you cash on the spot after checking out and researching your gear. Or you can trade it for other items in the shop, which also offers new and used items.

Kids Kloset has an amazing clothes, but more than that too! Come in for a wide array of games and toys.
Suffolk
The Kids Kloset
Kids Kloset hosts at least four events throughout the early, in the Fall and Spring in both Nassau and Suffolk counties, featuring top-quality, pre-screened items consigned by hundreds of families and organizations on Long Island and surrounding areas. Sellers earn 60% or more (you can earn more if you volunteer to work an event) and buyers can expect up to 90% off retail prices. Clothing, books, children's toys,
ChickenKidz - Riverhead
This is a modern, upscale four-day consignment event held in Riverhead. There are two events each year (one in September and one in March), and moms can earn money by selling their new and gently used quality kids' items (books, clothes, DVDs, equipment, etc.) in a store-like setting. Moms can also buy clothing and items for 50-90% off retail prices. Tot to Tween, they have it all.
Photos courtesy of the shops
Updated in October 2019.