Top Ten Candy Stores In The Hamptons & North Fork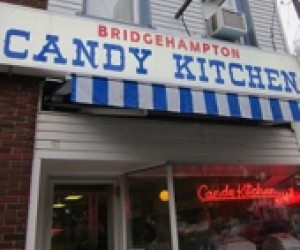 When drug stores and supermarkets start selling sweets right at the checkout counter, an honored American tradition starts to die - the local candy shop. Luckily, the geographical pockets of the Hamptons that cling to nostalgia still boast small, independently owned stores. Jars of colorful penny candy and homemade fudge are available. Nothing says summer like a little bag of sweets after dinner. Here are our picks for the best candy shops in the Hamptons and North Fork to satisfy every sweet tooth.
Fudge N Stuff
4 South Edgemere Street
Montauk, NY 11954
631-668-4724
As the name implies, Fudge N Stuff specializes in homemade fudge, with a wide assortment of other delicious treats like candy, ice cream, and cotton candy. The fudge comes in an array of decadent flavors like mudslide and pistachio, as well as sugar free varieties. The cotton candy is made to order, not pre-packaged in plastic bags. Fudge N Stuff is open late to satisfy late night cravings.
Bridgehampton Candy Kitchen
2391 Montauk Highway
Bridgehampton, NY 11932
631-537-9885
More than just a candy store, Bridgehampton Candy Kitchen dates back to 1926, and is a place for celebrity sightings on the weekend. Locals rave about the house made ice cream, thick shakes, and fudge, as well as the usual diner fare of grilled cheese, cheeseburgers, and traditional breakfast. This corner spot in the center of town maintains the nostalgia of an old-fashioned luncheonette with counter service and leather booths.
Sweets Unlimited
11160 Main Road
Mattituck, NY 11952
631-298-1700
Sweets Unlimited offers candy and chocolates by the pound, as well as candy trinkets and toys.
A Little Bit Of Everything
33 The Plaza
Montauk, NY 11954
631-668-3888
Another aptly named store in business in the heart of Montauk for over 30 years is A Little Bit of Everything. This classic seaside shop for kids is filled with trinkets, toys, novelties, souvenirs, and most importantly, old-fashioned jars of penny candy.
Love Lane Sweet Shoppe
125 Love Lane
Mattituck, NY 11952
631-298-2276
Love Lane Sweet Shoppe opened in 1996 on historic Love Lane in Mattituck and is family owned and operated. Offering a wide variety of candies, Love Lane Sweet Shoppe specializes in Godiva brand chocolates and beautiful gift baskets. Place an order for a gift basket and have it shipped, which makes it the perfect gift for any occasion.
Main Street Sweets
121 Main Street
Westhampton, NY 11977
631-288-5753
Main Street Sweets was recently purchased by the local hairdresser, Toni Mundinger, and underwent an extensive renovation. Ben & Jerry's ice cream is located in the back. The shop's entrance is lined with shelves of candy, trinkets, and fresh chocolates by the pound.
The Fudge Company
67 Main Street
Southampton, NY 11968
631-283-8108
Family owned and operated since 1973, The Fudge Company carries a wide assortment of sweets, like the seaside favorite salt water taffy, and over 30 flavors of frozen yogurt, sherbert, and ice cream. The Fudge Company is best known for creamy fudge, from traditional chocolate and maple walnut, to fanciful concoctions like chocolate pecan caramel "turtle" fudge.
Sweet Indulgences
200 Main Street
Greenport, NY 11944
631-477-8250
Sweet Indulgences, located on the North Fork, is a gourmet specialty and gift store that carries everything from Jelly Bellies to gourmet Godiva chocolates, and everything in between.
Sugar And Spice
105 Newtown Lane
East Hampton, NY 11937
631-605-1557
One section of this sundries store is devoted to candy, with a wide assortment that is beautifully displayed in a candy shop style.
Good Westhampton
141 Main Street
Westhampton, NY 11977
631-998-4444
Good Westhampton calls itself a modern general store and boasts a wide selection of gifts, children's clothing, cards, and penny candy displayed in glass jars all along the wall behind the counter.
Photo Credit: Bridgehampton Candy Kitchen