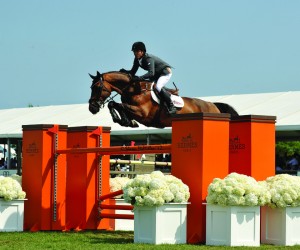 Spectator Sports Bargains for LI Families in the Hamptons & North Fork
Few things are as generational as baseball, especially on the East End of Long Island. Here, family traditions are born and potential major leaguers blossom amid the cornfields and pasture lands of both forks.
But where 60 years ago, Red Sox legend Carl Yastrzemski played on his father's potato farm in Bridgehampton, now things aren't as rustic. These days, Hamptons Collegiate Baseball offers some of the best summertime competition around on fields suitable for wannabe big-leaguers.
It's ideal family entertainment, and just one of several spectator sports options for East End families on a budget. Love running? The Hamptons Marathon is considered a top prep race for the New York City Marathon. How about horses? Bridgehampton hosts one of the highest-profile equestrian meets In the world.
And if it's a sport you like watching, chances are you can watch it here, at prices guaranteed not to pinch your pocket book.
Here are six of our favorite spectator options on the East End; And for other activities in the area, check out our Hamptons and North Fork Family Guide.
The Hampton Classic
Sunday, August 23-Sunday, August 30
240 Snake Hollow Road, Bridgehampton
As a world-class equestrian competition, it is hard to believe tickets for the weeklong Hampton Classic can be as little as $10 per person or $20 per carload. What's more, general admission is free for the Monday competition and seniors are free Tuesday, Aug. 25-Thursday, Aug. 27. Tickets get pricier as the week continues, climaxing with the Grand Prix on Sunday, Aug, 30. Competition is held in both hunter and jumper disciplines in youth and adult divisions. The Classic is fine ground for celebrity sightings: Former New York City Mayor Michael Bloomberg's daughter Georgina and Bruce Springsteen's daughter Jessica are regular competitors.
Hamptons Collegiate Baseball
Games played June-August
Locations throughout the North and South Forks
Each year, some of the best college baseball players head to the East End for two months of summertime competition. Games are played at municipal fields in Montauk, Peconic, Riverhead, Sag Harbor, Shelter Island, Southampton and Westhampton at no charge to fans. The quality of play has improved since the league's debut season of 2008, making it a worthy competitor to Massachusetts' storied Cape Cod summer league. Since 2011, the league has sent four players to the major leagues, with the promise of more to come.
Hamptons Marathon
September 26
Starting at Springs School
48 School St., East Hampton
A recent survey ranked the Hamptons marathon as the 14th best marathon in the United States, and if you follow its course you can see why. Beginning in East Hampton, it straddles the ocean as it winds through Amagansett and Napeague State Park before finishing up at Springs School. Top-tier runners come to enjoy the scenery, but also to prep for the New York City Marathon five weeks later. As in New York City, spectators are encouraged to line the route, serve water and cheer the runners on. Admission is free and it's an ideal way to introduce your child to the pleasures of road running.
Bridgehampton Polo Club
Sundays, July 19-August 23
Two Trees Farm
849 Hayground Road, Bridgehampton
Another treat for the horse lover in the family. World-class polo has been a part of the Hamptons scene for generations, but who ever knew it was so inexpensive? At $30 per carload, youngsters can be introduced to all that makes a Hamptons polo afternoon a memorable experience. Here, the grounds are striking, horses incomparable and the athletes highly approachable, and the entire series benefits the Bridgehampton Child Care & Recreational Center. Matches are canceled in inclement weather; announcements are made on the club's Twitter feed @bhpolo.
Robin's Island Sailing Series
Wednesday nights, Memorial Day-Labor Day
New Suffolk Waterfront, New Suffolk
Every Wednesday beginning at 6pm, North Fork sailors engage in a friendly, but spirited race around Robin's Island. Their majestic sails dot Peconic Bay to the delight of race enthusiasts, who gather at New Suffolk Beach to greet them. With favorable wind, the race can last less than two hours, with most sailors then adjourning to a local eatery to discuss the competition. Your child sailor will love the way these vessels dart through the water never more than a half-mile offshore. It's one of the North Fork's grandest summer spectacles and it's, of course, free.
Riverhead Raceway
1797 Old Country Road, Riverhead
631-842-7223
What child doesn't love monster trucks? And there are plenty of them at Riverhead. Opened in 1951, it is one of the country's oldest stock car tracks, with a 1 ¼ -mile, high-banked oval course that is home to NASCAR stock car racing, demolition derbies, pro trucks and more. Five to six racing divisions are featured every Saturday night from May through September. Prices can vary, but for the most part children ages 6-12 are a mere $5 and children 5 and younger are free. Call or see the website for upcoming events and prices.
Photo: Hampton Classic