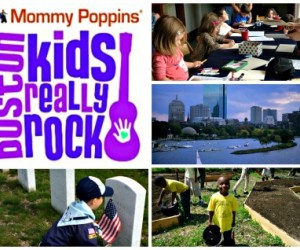 Show Mommy Poppins a Boston Kid Who Really Rocks (and Win Money for Local Charities)!
Nominations for the Boston Kids Who Really Rock contest are now closed. We'll announce the winners onstage at the Boston Kids Really Rock music and arts festival at 5:15 on Sunday, October 5th at the Lawn on D. We hope to see you there!
Do you know a kid who is doing great things for the community? A kid who goes way out of his way to make a difference - organizing food drives, raising funds for a local nonprofit, volunteering with a charity organization, dishing it up at a soup kitchen - in short, a kid who really rocks? NOMINATE THAT KID NOW for our Boston Kids Who Really Rock contest!
Mommy Poppins Boston is proud to partner with the Kids Really Rock music and arts festival to sing the praises of some very special Boston kids who are making a difference in their communities through service. We are searching for young Bostonians who exemplify the spirit of kindness, community, and creativity celebrated by the Kids Really Rock festival - a spin-off from last year's remarkable One Family Music Festival. The awesome kids selected by the editors of Mommy Poppins and dubbed "Boston Kids Who Really Rock" will be featured, along with the charities they are passionate about, in a Mommy Poppins Boston article. Five Finalists and one Grand Prize Winner will also be invited to appear on stage at the Boston Kids Really Rock music festival, where we will make a $500 donation to the Grand Prize winner's 501(c) charity of choice and another $500 donation to the festival's not-for-profit partner, Cradles to Crayons. You know Boston kids ROCK; now prove it! Read on for contest rules and regulations and information on how to nominate a rockin' Boston kid.
In response to the 2013 Boston Marathon tragedy, the city came together for the One Family Music Festival, a music- and art-filled day held to support One Fund Boston. We were thrilled to be part of such a powerful day of creativity, community spirit and Beantown pride, and we know this year's Boston Kids Really Rock is going to be even grander. Organized by Karen Kalafatas of Karen K and the Jitterbugs fame, the event features a concert by cool, rocking kindie bands, including Karen's own band and the granddaddy of all kid rockers, Dan Zanes. Families also have the chance to get creative and participate in community service projects at the festival. Plus, Mommy Poppins is celebrating those rocking kids who make Boston a better place by giving back.
If you know a kid who goes above and beyond to give of himself, who does so much for her community that you want everyone to know, then nominate that rockin' kid! Parents, clergy, teachers, youth group leaders, and even the kids themselves can make nominations; simply fill out this form. Please check the fine print below for contest rules, nominee criteria, and other important information.
---
New to Mommy Poppins Boston? Sign up for our weekly e-newsletter so you'll never miss out on the best things to do with kids in and around Boston.
The fine print: Nominees must be ages 5-12 as of September 1, 2014. Open to children who reside in Massachusetts. Nominations must be made via online nomination form by 11:59 PM EST on September 28, 2014. Winners will be notified by the editor of Mommy Poppins Boston in advance of public announcement. Nominees and winners will be featured in an article on Mommy Poppins Boston. First names and last initials of the children will be used in the article.The grand prize winner will be presented with a check to the nonprofit organization of his/her choice on stage at the Kids Really Rock Festival on October 5, 2014. The nonprofit must be a 501(c) and the nonprofit tax ID number must be provided to Mommy Poppins. Nominees are not required to be present at the festival in order to be eligible to win. Names and images of nominees may be used by Mommy Poppins and Kids Really Rock.