Places to Play in New Rochelle: Kids' Classes and Play Spaces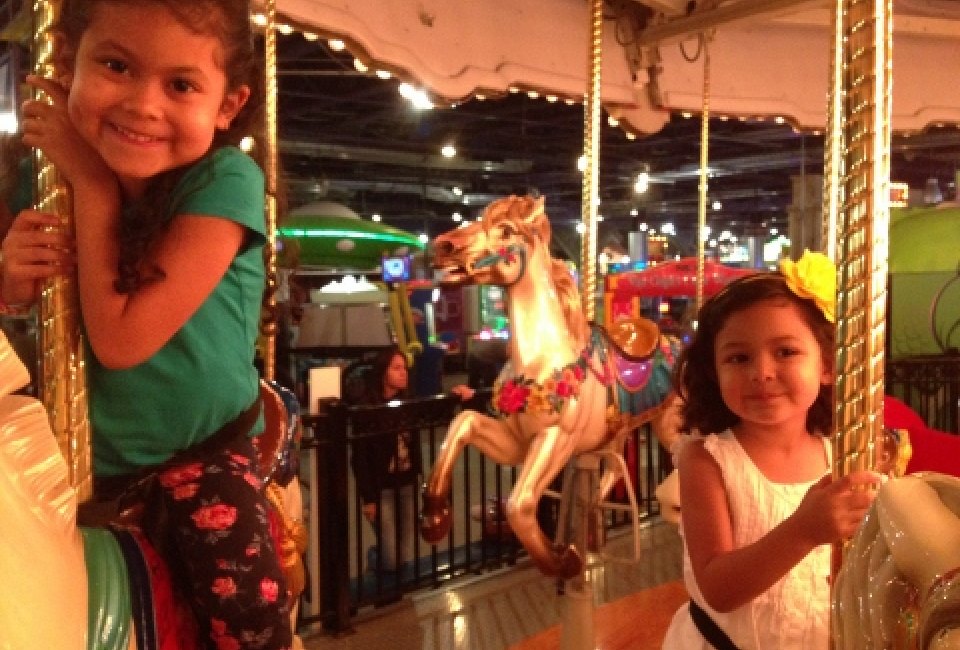 1/27/14
- By
Sonia Gonzalez
We continue our month-long focus on New Rochelle with a look at places to play and learn in the area. New Rochelle has lots of options for kids and families including rock climbing and other indoor play spaces, beautiful parks and libraries with fantastic children's programming, cultural events and more. You'll also find bowling, mini golf, an arcade and a go-kart speedway--all under one roof! Read on for our top picks for places to play with kids in New Rochelle.
New Rochelle Public Libraries
Libraries are a great place for kids to play (quietly, of course) and learn for FREE. New Rochelle has two library branches including the only free standing children's library in Westchester County.
Huguenot Children's Library
794 North Avenue
We love this charming building, the only stand-alone children's library in Westchester. As toddlers, my kids played with the wooden train table, puzzles and other games and activities, in between lounging on the kid-sized chairs and furniture as I read book after book to them. Now they can browse the books and curl up on their own while I get a few precious moments to flip through a magazine. Our visit usually isn't complete without a romp in Jack's Friendship Garden, the playground directly adjacent to the library building. The Huguenot Children's Library hosts many events and story times throughout the year. One particularly fun event is Summer Fun on the Patio, a FREE program on weekdays during summer months where kids can enjoy a host of supervised activities including hopscotch, jump rope, relay races, arts and crafts and more.
New Rochelle Public Library
1 Liberty Plaza
The main library branch has a dedicated Children's Room that has recently received many new upgrades. You'll find so many wonderful programs for kids and families that go beyond traditional story hours (though they have those, too!) including music and movement classes and other tot-friendly programs year-round. From September to June families can enjoy BID Family Saturdays with activities that include scavenger hunts, shows and performances, films and other cultural events.
Fun Fuzion
New Roc City, 19 LeCount Place
Though sometimes touted as an indoor amusement park, Fun Fuzion is more of one-stop place with fun for all ages. Have fun bowling or playing a game of miniature golf--both facilities are glow in the dark (I make sure my kids wear white when we go; it adds to the fun if they are glowing as well). Teach older kids how to shoot pool at Rack & Cue Billiards. Of course, lots of kids will want to head straight for the Fun House where you'll find games and rides including a toddler-only play area, carousel, a few easy games for younger kids and standard games for older ones. Looking for more options? Check out Speedway, the only indoor electric go-kart track in Westchester.
Sydney E. Frank Skate Park
5th Avenue and Potter Avenue
This skate park, open March through November, is lots of fun for novice and seasoned skaters. There's a nominal entrance fee or you can purchase an annual membership. Helmets are required at all times and skateboards are not provided. 2nd Nature offers skate lessons for all skate levels.
The Rock Club
130 Rhodes Street
If you're kids are climbing the walls at home, head to the Rock Club where they can climb all they want. The Rock Club offers classes for kids and adults and they also have drop-in sessions if you're not looking for classes. Rates range from day passes to full memberships with options everywhere in between so check their website for full details.
New Rochelle YMCA
50 Weyman Avenue
The Y is a great option for family fun. The New Rochelle YMCA offers many youth programs including universal Pre-K, aquatics and sports programming.
Glen Island
1 Pelham Road
We've already mentioned how much we love Glen Island. The castle replicas won my kids over on our very first visit. Add playgrounds overlooking the Sound, beach access and open fields to run and play and you've got a day of fun for everyone.
Growing Minds of NY
466 Main Street, Suite LL20
Growing Minds of NY offers children's programming in arts, fitness, leadership and academics. They also offer daycare and summer camp options.
Sign up for the Mommy Poppins Newsletter today!