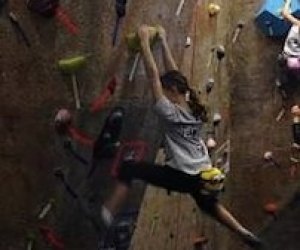 Indoor Birthday Party Places for Active Kids North of Boston
Water slides, ice rinks, laser parks, trampolines, and rock walls: We've found some unique spaces north of Boston to host a birthday party, places where kids can keep active, have fun, maybe try out something new. Since the parties take place indoors, there's no need to worry about rain, snow, heat or cold. And, of course, since they take place somewhere other than your home, there's no mess, minimal fuss, and it's great fun for parents, too!
Read on for details about indoor birthday party places north of Boston. Find even more birthday ideas in our Party Guide.
---
Sky Zone Everett, MA
69 Norman Street
Everett, MA 02149
(617) 387-1000
Best for Ages: 6 and up (over 40")
Average Party Size: 10 (max 30)
Sky Zone is an indoor trampoline park, where kids bounce across its all-trampoline, walled playing courts. There are several party packages to choose from, and they include trampoline time, use of the party room, plates and napkins, pizza and a party host. Reserve online at least a month in advance for best availability.
---
CoCo Keys
At DoubleTree by Hilton Boston North Shore
50 Ferncroft Road, Danvers
(978)750-7971
Best for Ages: 6 and up
Average Party Size: 10 person minimum, up to 100 guests
CoCo Keys offers several party packages, each which includes swim time, use of a private party room, food, and birthday cake. Rates vary depending on time of day and week. Plenty of upgrades available, from a magic show to invitation, arcade cards to face painters and storytellers.
---
FMC Ice Sports - Cronin Ice Rink
850 Revere Beach Parkway, Revere
Rink: 781-284-9491; To reserve your party: 888-74-SKATE
Best for Ages: 5+
Average Party Size: 15+
Parties fees include the standard facility ice rental rate. Skates can be rented for $5 per pair payable at the arena on the day of the event or $75 for unlimited pairs payable at the time of reservation. There is a special gift for the guest of honor. Cronin has a party room for gifts and cakes, available for rental at $25/45 minutes. Bring your own decorations and food (no candles, please). Reservations and payment must be received 2 weeks prior to event date.
---
Laser Quest
139 Endicott Street, Danvers
978-762-8778
Best for Ages: 8 and up
Average Party Size: 8+
Birthday parties include two Laser Quest games; guest passes for future games; private party room. You may bring your own food, cake and drinks, or ask about bringing in pizza from a local pizza restaurant. Reserve in advance.
---
Metro Rock Indoor Climbing
40 Parker Street, Newburyport
978-499-7625
Best for Ages: 6 and up
Average Party Size: 6
Metro Rock's two-hour party package include a private party room, all safety equipment, and skilled instructors. Bring your own food and decorations. Deposit due at time of booking; reserve in advance.
---
Originally published March 2014 by Audrey T. Updated January 2015 by Tara D.