Awesome Houston Area Swimming Pools for Birthday Parties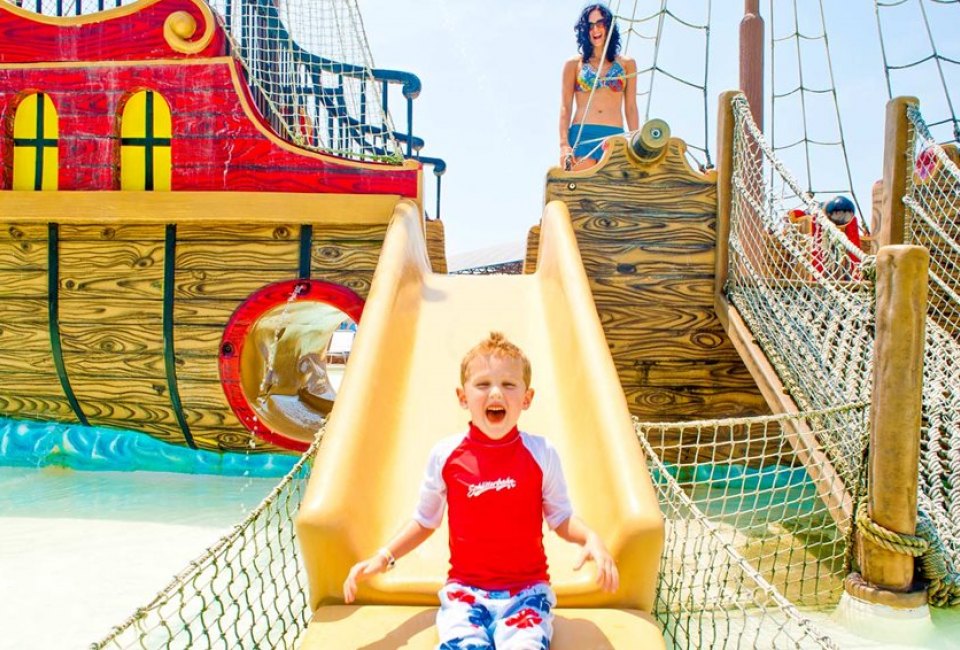 6/27/17
- By
Carrie Taylor
Pool parties reign supreme in Houston because, let's face it, we have pool weather all year long. While there are some great pools around Houston for indoor pool parties, nothing beats a morning or afternoon in the sun with your best friends, a bottle of sunscreen, and a picnic basket. All of these options have fees associated with them, but we also have recommendations for some of the city's best FREE swimming pools where you can call the city of Houston for reservation details. And for more ideas on where and how to throw the best birthday party in and around Houston, check out our Houston party guide.
Conroe Aquatic Center - Conroe
1205 Candy Cane Lane, Conroe 77301
936-522-3930
Cool off and celebrate at Conroe's miniature water park which features three pools, several slides, water features, and a dump bucket. You can reserve the pool for exclusive use or just pavilions, and reservations are two hours long. The water park is generally open May-September, and reservations become available in early March.
Bellaire Town Square Family Aquatic Center - Bellaire
7008 5th St., Bellaire 77401
713-662-8249
This aquatic center includes a lap pool and water play area, where there are water slides, interactive spray features, and a covered shallow area for the smallest swimmers. Table and pool rentals must be scheduled one month prior to the event.
Quillian Center (Noah's Ark Pool) - Westchase
10570 Westpark Drive, Houston 77042
713-781-9195
Rent the fabulous Noah's Ark Pool for your kiddo's next birthday, and you won't be disappointed. The themed pool is shaded and has slides, interactive features, and plenty of seating. The center also has a large lap pool with a deep end for older kids.
Evelyn Rubenstein Jewish Community Center - South Loop
5601 S. Braeswood, Houston 77096
713-595-8165
This fun pool has unique features like a rock wall and its 18-foot-tall slide. You do have to be a member to rent the facilities, however, but we thought it worth mentioning because the pool is such fun. For 2017, the center is offering a family pool membership for $300.
Colonial Park Pool - West University Place
4130 Byron St., Houston 77005
713-662-7460
West University Place's fabulous pool has plenty of shade, lily pads to hop across, a rock wall, and plenty of other interactive features. Non-residents must be accompanied by a resident when purchasing a guest pass, which is $7 per person.
Strawberry Pool - Pasadena
1114 Parkside Drive, Pasadena
713-944-0262
Strawberry Pool is fairly new - it opened in 2015 and features water slides, deep and shallow swimming areas, interactive splash features, and a dump bucket. You can rent rooms, cabanas, or just island umbrellas at Pasadena's miniature theme park.
Schlitterbahn Galveston - Galveston
2109 Lockheed Road, Galveston 77554
409-770-9283
So yes, this is a bit of a hike from Houston, but did you know you can rent part of Schlitterbahn Galveston's massive interior and exterior park for parties? Packages include park admission, decorations, party favors, and other add-ons. There are even group and party discounts as well as on-site catering.
Top photo courtesy of Schlitterbahn Galveston
Enter to Win!