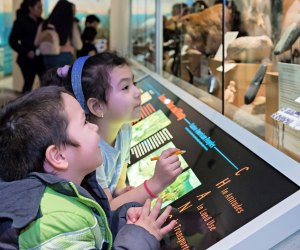 Veterans Day Weekend Things To Do in Connecticut: Parades, PAW Patrol, Museum Sleepover
With Halloween behind us, it is very fitting that this "season of thanks" begins with Veterans Day Weekend in Connecticut. Many of our favorite venues around the state will offer free admission for veterans as a way of showing gratitude for their service. The Institute for Native American Studies, New England Air Museum, and the EverWonder Children's Museum are all offering family-friendly Veterans Day programs and activities.
Now that the days are noticeably shorter (and cooler), it is time to take full advantage of all the fantastic cultural and arts opportunities tailored to Connecticut kids. You can chill like a villain at Descendents Pottery Night or sleep with the dinosaurs at the Peabody. Kids can spot some of their very favorite animated characters on the stage this weekend, too. PAW Patrol pups race to the rescue at the Palace Theater while Disney Jr. favorites sing and dance at the The Oakdale Theater.
For even more ideas, make sure that you subscribe to our weekly newsletters and follow us on Facebook and Instagram so that you won't miss any of the fun. Have a great weekend!