Thanksgiving Weekend Things To Do in Connecticut: Reindeer Fest, Candy Cane Hunt, Turkey Fun Runs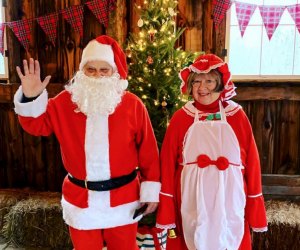 Looking for the best things to do in Connecticut on Thanksgiving weekend? Here are some family-friendly events and activities to add to your list for this Thanksgiving weekend.
Connecticut does not disappoint for a full roster of holiday activities beginning Thanksgiving weekend. Nutmeggers won't have to look far to find some festivities that are great for families. While the state is lighting up holiday, including the opening weekend of annual displays in Bridgeport and Meriden, you can get active with the Flashlight Candy Cane Hunt in Weston and a Friday Night Glow Skate in Stamford. Or, you can work off some Thanksgiving calories at holiday-inspired fun runs in Rowayton and Fairfield.
Hopefully, you will have a chance to enjoy the company of friends and family, and have safe and easy travels if you are on the road this holiday weekend. Pass the downtime by checking out our Connecticut Holiday Fun Guide, updated with all the latest Christmas, Hanukkah, and New Year's Eve events for the 2021 season. Happy Thanksgiving from all of us at Mommy Poppins!
More Things to do in Connecticut this Week with Kids