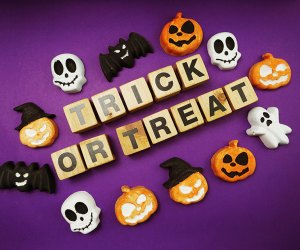 Where to Go Indoor Trick or Treating in Chicago
It's Chicago: The weather doesn't always cooperate, and that's just an accepted fact of life in our fair city. So when snow, slush, thunderstorms, or even worse weather threaten Halloween, trick-or-treaters will always have lots of indoor trick-or-treating options to turn to. (Hey, this isn't our first rodeo.) Those of us who fondly remember walking through snowy neighborhoods with our Halloween costumes stuffed inside our winter coats are welcome to brave the elements on Halloween night. But when the weather turns really nasty, it can be safer—and more enjoyable—to take the fun inside.
The Chicago Park District hosts Halloween events indoors at community centers around the city. Plus, many malls throughout the Chicago area host indoor trick-or-treating on Halloween night. Check your local mall's website or social media pages to find out if yours hosts Halloween trick-or-treating, and in the meantime, watch this space for a growing list of options for rainy, snowy, or otherwise monstrous Halloween nights in Chicago.