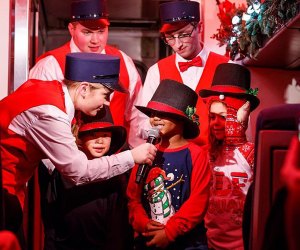 Best Holiday and Christmas Trains in Chicago
This holiday season, hop aboard one of the amazing Christmas trains in Chicago. From Polar Express trains that feature story narrators and actors to holiday-themed trains that take kids on a ride with Santa to the North Pole, we've rounded up some of the best holiday and Christmas trains in Chicago.
These trains book quickly so pre-registration is encouraged. Let's bundle up, grab a hot chocolate, and hop aboard. Don't forget your matching holiday pajamas!
Looking for more things to do with kids during the holiday season? Check out our Guide to Holiday and Christmas for Chicago Families.
Polar Express Trains in Chicago

Take a train ride to the North Pole without leaving Chicago. Photo courtesy of The Polar Express, Chicago
The Polar Express in Chicago is probably the biggest, most over-the-top train ride experience ever. Departing from the iconic Union Station in downtown Chicago, families can wear their pajamas, grab a cup of hot cocoa and a cookie, and enjoy a story and interactive performances by talented actors who bring The Polar Express to life. Kids will get a visit and a special keepsake gift from Santa himself.
OUR LATEST VIDEOS
The Polar Express comes to life from November 27th – December 19th in South Elgin. Trains are boarded at Blackhawk Station in the Jon J. Duerr Forest Preserve. This is about two miles from the Fox River Trolley Museum. Actors will perform the Polar Express with a special visit from Santa. This magical train ride lasts about an hour. Trains are heated, but note that there are no restrooms on board. Pajamas are encouraged for this cozy voyage.
The Polar Express leaves from the Itasca Metra Station and heads straight to the North Pole. The train ride takes place on December 11th and December 19th. Two trains leave each day at 8:45 and 10:45. Onboard, kids will enjoy listening to the Polar Express while eating festive cookies. Once you reach the North Pole, Santa Claus hops on board. Kids can also participate in a snowball fight with goodies and treats to take home.
On December 12th, the Butterfield Park District is hosting a breakfast and lunch Polar Express Storytime Train. The train boards at the Downers Grove Main Street Station and heads to the North Pole (Two Brother's Roundhouse in Aurora). Santa's elves will welcome kids into his workshop for breakfast or lunch. During your trip to the North Pole, kids can get their picture taken with Santa, play games, do holiday crafts, and decorate a holiday sugar cookie. On the return visit, families will enjoy music, songs, and storytime. A holiday bus is also available to take you to breakfast or lunch.
On December 12th, the Polar Express is departing from the Hickory Creek Metra Station. Trains depart at 9:30 and 11:20. Kids will enjoy a festive train with a Polar Express storytime and more. Tickets are awarded through a lottery on the Park District website.

Festive Holiday and Christmas Trains in Chicago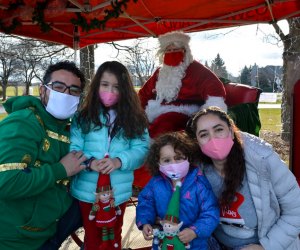 Visit with Santa after a ride on a Christmas train in Chicago. Photo courtesy of the Oswego Holiday Express, Facebook
December 9th-12th the Holiday Express train will leave the Santa Station and head to the North Pole. Wear your coziest pajamas and get on board this magical train. The train departs from South Point on Preston Drive in Oswego.
Join the DuPage County Historical Museum for a train ride on the Santa Express from December 8th - December 12th. The Santa Express train departs from the Wheaton Metra Station downtown. Each paid child receives a small gift from Santa and a goody bag.
All aboard the holiday express to the North Pole. Departing from the LaGrange Road Metra Station, the holiday train will travel to Naperville to see Santa. Once you're on the train you can enjoy drinks, treats, and a gift from Santa. The train ride runs on December 11th from 8:45-11:03.
Mrs. Claus and the train conductor invite you aboard a magical journey to the North Pole from the 143rd Street Metra Station. Families can drop off a letter to Santa while enjoying a socially distanced visit with the man himself. You can also hop aboard the holiday trolley and take a trip around the North Pole.

The CTA makes its normal trains and buses into festive holiday affairs. Photo courtesy of the Chicago Transit Authority
Make your trip to a museum or commute more festive with a ride on the CTA's decked-out trains and buses, all included in the normal fare. You might even spot the big guy himself, his elves, or Rudolph, in bus form! Be sure to check the CTA website for exact routes, dates, and times.

Photo courtesy of the Illinois Railway Museum.
You and your family can enjoy a 40-minute train ride with Santa to the North Pole. Visit with Santa and enjoy treats on the train. While on your train ride, you'll pass the largest Christmas tree and Christmas lights display in McHenry County. Enjoy free hot chocolate, gifts, and more. Some of the museum's historic trains will also be on display in the museum barns.
December 4th-5th, enjoy a fun-filled holiday train from New Lenox to Tinley Park and back. With your tickets, you'll receive breakfast or lunch, a visit with Santa, and more.