33 Things To Do for February's Winter Break in Boston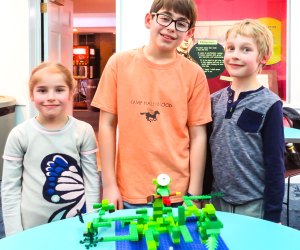 2/12/23
- By
Kip Wilson Rechea
If this month's plans include a staycation, you're in luck, because there are tons of cool things to do for February's winter break in Boston. Along with some very special exhibits, performances, and fun activities, we've discovered some drop-off programs for kids of parents who need childcare (or just a break). We've found extraordinary happenings in Boston, Cambridge, and all around the area. While none of these events involve lounging on the beach with a tropical drink, they're all easy to get to—and (bonus!) easy on the wallet.
For more ideas for making the most of a chilly vacation in Boston, see our February GoList and check out our Winter Fun Guide.
Don't forget to follow us on Facebook and subscribe to our newsletter to get tips sent straight to your inbox.
Things To Do for February's Winter Break in Boston: Museum Exhibits and Camps

Winter break brings STEMtastic fun to Boston! Everyday Engineering event photo courtesy of the Discovery Museum in Acton
1. Celebrate national engineers week by constructing projects from recycled materials. —Acton
2. Swim with the sharks at the Harvard Museum of Natural History. Learn all about these fascinating creatures lurking beneath the waves. —Cambridge
3. Visit the Cape Ann Museum for Black History Month and enjoy activities centered on mariners and quilt-making.—Gloucester
4. Got a boat lover? Head over to the USS Constitution for the Maritime Lego Festival happening all week long. Get inspired by the different ship designs on display and build your own ship with Lego and Duplo Bricks.—Charlestown
5. Travel back in time and participate in an assortment of family activities in the Franklin Lyceum.—Concord
6. Explore ice and snow and all the winter wonders at the Waterworks Museum.—Boston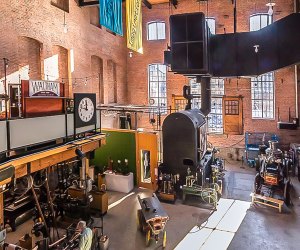 February break is ideal for exploring Boston's museums. Photo courtesy of the Charles River Museum of Industry and Innovation
7. Preview the all-new hands-on children's learning space, Innovation Alley, at the Charles River Museum of Industry and Innovation.—Waltham
8. Visit with President Lincoln and listen to him regale guests with tales of his life, war, and a rousing presentation of the Gettysburg Address.—Concord
9. There are drop-in, artful animal projects and story hour every day at the Museum of Fine Arts.—Boston
10. Teach your kids about climate change at this interactive exhibit at the Harvard Museum of Natural History.—Cambridge
11. If you'd simply like to explore some cultural institutions you've never visited (or haven't in a while), several local museums offer free admission for children (accompanying caregivers in most cases still pay regular admission).

Find nature's wonders close to the city. Photo courtesy of the Boston Harbor Islands National Park
Things To Do for February's Winter Break in Boston: Skating, Winter Hikes, and Outdoor Fun
12. Sneak at peak at snowy owls hiking the dunes of Crane Beach.—Ipswich
13. If prowling for owls isn't your style, taking the kids on a hike or a winter walk are certainly great ways to shake off cabin fever.
14. Pop over to either the Franklin Park Zoo or Stoneham Zoo and get wild with winter-themed crafts, scavenger hunts, and zookeeper chats.—Boston & Stoneham

15. Lace up for free skating at these local indoor rinks or low-cost skating at these charming outdoor rinks across Greater Boston.—Boston
16. Sip hot chocolate, cozy up by the fire, or jump into a game of curling at Winterfest on the Plaza. —Cambridge
17. Wonder what Peddocks Island is like in the winter? Sail on over for guided tours, hot chocolate, and junior ranger activities. —Boston
Things To Do for February's Winter Break in Boston: Winter Sports
18. Hit the slopes at one of these nearby ski hills, all worthy of a day trip.—Various locations
19. Don't want to ski? Hit the slopes to go snow tubing instead!—Various locations
20. An even simpler way to make the most of cold weather: Snowshoeing at one of these local parks, which is great fun (and great exercise).—Various locations
Things To Do for February's Winter Break in Boston: Library Activities
21. Mother Goose is on the Loose and she's hosting a storytime full of nursery rhymes, songs and stories for the littlest of friends.—Brookline
22. Join the STEAM team and tackle different hands-on activities.—Boston
23. Create comic book masterpieces with a professional cartoonist at this Comics Workshop.—Boston
24. Teens interested in sewing or needing a little extra help with a current project will have fun at this drop-in sewing session.—Dorchester
25. Want to add a little magic to your week? The Watertown Library is hosting an interactive magic show with a professional magician.—Watertown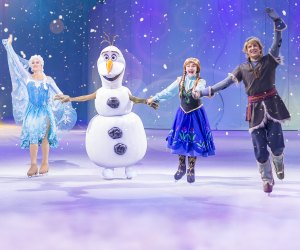 Bring the kids out for an amazing show in Boston during school break. Disney on Ice photo courtesy of the production
Things To Do for February's Winter Break in Boston Shows and Performances
26. Sing along to your favorite Disney movies including Beauty and the Beast, Moana and Encanto.—Brookline
27. Make Way For Ducklings in this reimagined musical featuring Boston's favorite duck family. —Boston
28. Disney on Ice is back featuring Frozen and Encanto. Kids will join the race to find Elsa and sing with Mirabel at this exciting on-ice spectacular.—Boston
29. Watch The Dragon King, a puppet show by the Tanglewood Marionettes.—Newton
30. The Walpole Children's Theatre is putting on a performance of Rapunzel, a classic tale with a new twist.—Walpole
31. Get ready to be amazed at Magic & Beyond, a one-person illusion show that combines magic and theater. —Brookline
Things To Do for February's Winter Break in Boston: Drop-Off Camps and Sleepovers
32. Budding chefs can whip up some tasty treats inspired by their favorite stories at Taste Buds Kitchen.—Beverly, North Andover
33. Our plush friends will finally have their turn at a sleepover at the Stuffed Animal Sleepover at Gore Place. We're sure they'll have so many stories to tell when they come home!—Waltham
Originally published on 2/8/2016. Updated by Lucie T. on 2/13/2017 and 2/11/2018 and 1/31/2020. Updated by N.Ferreira 2/9/2023