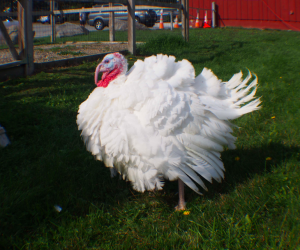 Where to Buy a Local Turkey for Thanksgiving Near Boston
The eating local trend has taken Boston by storm, with farmers markets cropping up in many neighborhoods and the Boston Public Market opening last year. And we can't think of a better way to celebrate local food than by purchasing a regionally raised turkey for Thanksgiving. So we've rounded up 10 Boston-area farms and shops where you can purchase a local turkey to have as the centerpiece of your family's holiday meal. With Thanksgiving only weeks away, it's time to reserve your bird!
Bob's Turkey Farm, Lancaster
Bob's Turkey Farm is a family business that has been raising birds for more than 50 years. The farm is open year-round—even after suffering a major fire this summer—and has plenty of turkeys ready for Thanksgiving. The birds are raised on a grain diet and are free to roam around the farm's barns and outdoor pens.
Chris' Farm Stand, Haverhill
As third-generation farmers, the folks behind Chris' Farm Stand take pride in raising their turkeys naturally and sustainably. The birds are preservative-, antibiotic- and hormone-free, raised in a cage-free environment and processed in a humane-certified facility. Fresh turkeys are available from the farm for a delicious, and all natural, Thanksgiving meal.
Elm Turkey Farm, Dracut
At Elm Turkey Farm, you can order an antibiotic-free, hormone-free and preservative-free turkey for an all natural Thanksgiving feast. Elm Turkey Farm's gourmet birds weigh anywhere from 15-30 pounds and are fed a high-quality grain diet. If you're simply crazy for turkey, try one of the famous turkey pies!
Lilac Hedge Farm, Berlin
Lilac Hedge Farm is committed to sustainably raising meat, so it sources all of its turkey feed from other Massachusetts' farmers in order to support the local industry. The farm's pasture-raised turkeys are not treated with antibiotics, steroids or growth hormones, so you can feel good about feeding them to your family. Pick up a Lilac Hedge Farm fresh turkey from one of its Boston-area farmers market booths or the Boston Public Market.
Mayflower Poultry, Cambridge
Most Bostonians are familiar with the iconic Mayflower Poultry sign, but did you know that the shop does retail ordering in addition to wholesale? This local institution has been serving the Boston area since 1932 and many families make a Mayflower bird the centerpiece of their Thanksgiving meal. Order yours now and pick it up at the famous shop for a Thanksgiving that's rooted in history.
Natick Community Organic Farm, Natick
If you're looking for a certified organic, local turkey in the Boston area, Natick Community Organic Farm is the place to go. Every year the farm raises 150 turkeys that are feed an organic diet from hatching and allowed to roam the farm's organic pastures as they please. Because there is a limited number of the fresh turkeys, they sell out quickly, so the farm recommends reserving yours as early as possible. Note: Thanksgiving turkeys at Natick Community Oganic Farms have sold out for the year. But the farm has plenty of other organic meat and even offers tours until about a week before the holiday.
Raymond's Turkey Farm, Methuen
Some farms raise turkeys just for Thanksgiving, but at Raymond's Turkey Farm raising the birds is a year-round business. The farm has been breeding Broad Breasted White Holland turkeys on its farm for more than 60 years, feeding them a high-quality grain diet and letting them roam in an open environment. You can order a fresh or frozen turkey—no preservatives here—or even pick up a roasted bird to make your holiday extra easy.
Stillman's Quality Meats, Hardwick
My family has ordered a fresh turkey for the last several years from Stillman's Quality Meats and we unanimously agree that they're the best turkeys we've ever had. Stillman's pasture-raises and processes traditional and heritage turkeys, which are feed an all-natural diet, on its farm in Hardwick. Stillman's will brine, spatchcook or even smoke your turkey to save you some time in the kitchen. You can pick up Stillman's birds at the farm, several area farmers markets or the Boston Public Market.
Savenor's, Boston and Cambridge
With two locations in the area, picking up your Thanksgiving turkey from Savenor's is a cinch. The shop, a butchery and market, has a lot on offer for the holiday: free-range Massachusetts Broad Breasted White Turkeys, wild heritage Red Bourbon Turkeys and fresh foraging turkeys from Vermont. Looking for something completely different? Try Savenor's turducken, a Massachusetts turkey stuffed with a Moulard duck, a Gianonne chicken and stuffing.
Wilson Farm, Lexington
At Wilson Farm in Lexington, you'll find a type of turkey that boasts more white meat than any other breed, so there's no fighting over the lightest meat. They're sold fresh, which means you don't have to worry about defrosting the bird in time for the big meal. Or try one of Wilson Farm's smoked turkeys for a twist on the traditional.
---
Photo: Thanksgiving Table by vxla on Flickr via Creative Commons.