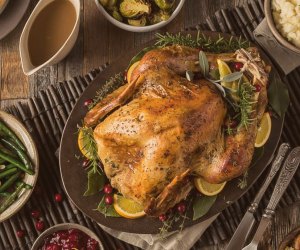 Restaurants Open on Thanksgiving in Boston
Thanksgiving is all about food and family, two of our favorite things. And while we love cooking a big meal, we also love when someone else does it for us … especially the clean-up! Going out to eat on Thanksgiving is actually pretty traditional for city families, and we're seeing this trend reach into the suburbs. With a little help from some of Boston's best restaurants, you can have a holiday that's delicious, relaxing, and memorable.
We rounded up our favorite local spots that are serving a traditional Thanksgiving meal, or something a little more innovative, as well as those that are offering Thanksgiving takeout.
Restaurants Open on Thanksgiving in Boston
Boston Harbor Hotel—Boston
The Boston Harbor Hotel is serving a Thanksgiving brunch in The Atlantic Room that features modern takes on traditional holiday dishes along with breakfast favorites, so you can have the best of both for $135 for adults and $60 for children age 12 and under. Brunch with live jazz music is being served from 11am-4pm. Reservations can be made online or by calling the hotel directly at 617-856-7779. The hotel's Rowes Wharf Sea Grille is also serving Thanksgiving dinner at 7:30pm; reservations can be made online or by calling 617-856-7744.

Thanksgiving Brunch out is an annual tradition for many Boston families. Photo courtesy of The Boston Harbor Hotel
OUR LATEST VIDEOS
Davio's—Boston, Chestnut Hill, Lynnfield, Foxboro
An Italian steakhouse might not be your first thought for where to spend Thanksgiving, but Davio's will be adding turkey with all the trimmings to its menu in honor of the holiday. The restaurant will be open from 11am-8pm; adults are $75 per person and children age 12 and under are $23 per person and some locations are offering a la carte options. If you're a little sad you'll be missing out on leftovers by dining out, Davio's has you covered. For an additional $13, you can bring home their Tomorrow's Turkey Sandwich to snack on the day after Thanksgiving! Reservations can be made online or by calling each location. Back Bay: 617-357-4810.

Davio's locations offer a family-friendly Thanksgiving Dinner all day. Photo courtesy of Davio's
Legal Seafood—multiple locations
Rumor has it that seafood was featured at the first Thanksgiving, so Legal Seafoods will be offering fish dishes alongside a traditional turkey dinner to celebrate the holiday. Each restaurant has its own opening hours and holiday specials. Reservations can be made online or by calling a restaurant individually.

Legal Seafood locations throughout Boston and the suburbs create a Thanksgiving menu alongside their fish and seafood entrees. Photo courtesy of Legal Seafood
Joe's on Newbury—Boston
Joe's on Newbury is open forThanksgiving for all of your holiday dining needs from 11am-8pm with breakfast served in the morning. The details for 2021 are still in the works, but in the past, Joe's has offered a special 3-course, prix fixe meal that's affordable and tasty. Reservations can be made online or by calling 617-536-4200.
Scampo—Boston
Lydia Shire's eatery at the Liberty Hotel on Charles Street is offering a 4-course prix fixe for $70 for adults and $30 for children age 12 and under. The menu combines Italian fare with roasted turkey with all the trimmings. Reserve online or call 617-536-2100.
Trifecta—Boston
If you feel like splurging, the Four Seasons Hotel is the place to do it. This year Trifecta is preparing Thanksgiving dinner for the One + One dining room upstairs. The 3-course prix-fixe is available from 1-7pm. If you don't feel like cooking or dining out, this restaurant is also offering a takeout option. Reservations can be made by calling 617-377-4888.

Trifecta is taking over the upstairs dining room at the Four Seasons on Thanksgiving Day. Photo courtesy of The Four Seasons
Restaurants Open on Thanksgiving Near Boston
Harvest—Cambridge
The Thanksgiving menu includes gnocchi with braised rabbit, seared Atlantic salmon, and traditional turkey with all the classic holiday sides served from 11am-8pm for $82 per person. Reserve online or call 617-868-2255.

Seared Atlantic salmon alongside traditional turkey is available for Thanksgiving pescatarians. Photo courtesy of Harvest, Instagram
Henrietta's Table—Cambridge
The Harvard Square institution that is Henrietta's Table combines elegance and coziness for a completely unique dining experience. Join them on Thanksgiving for a 4-course plated meal with holiday classics, plus many New England specialties, like roasted heirloom pumpkin bisque. Henrietta's is also offering the vegetarians in your family a grain bowl with fall vegetables, squash, and maple vinaigrette as an entree option. Seating is available from noon-6pm. Reservations can be made online or by calling 617-661-5005.
L'Andana—Burlington
The 3-course prix fixe Thanksgiving menu for $78 per person features wood-grilled, herb-roasted turkey and much more. Choose to sit indoors or outside under the heaters. Reserve online or call 781-270-0100.

L'Andana is offering a 3-course prix-fixe holiday dinner inside or outside under the heaters, and takeout, this Thanksgiving.
Town Meeting Bistro—Lexington
The 3-course Thanksgiving menu features twists on traditional favorites and will be served noon-6 pm for $75 per adult and $45 for children age 4 and over. Call 781-301-6655 or go online to reserve.
Restaurants Open for Thanksgiving Takeout Near Boston
Saltbox Kitchen—Concord
This farm-to-table eatery is offering a full a la carte Thanksgiving menu with baked brie, roasted brussels sprouts, sage and apple stuffing, and ofcourse, turkey, to go. Order online by November 18 or call 978-610-6020 and pick up November 24 from 9am-2pm.
Season to Taste—Cambridge
Pre-order a Thanksgiving Day feast for 4 for $200, with a wine pairing option, or order sides ala carte. Get details and order online or call 617-945-9535.
State Street Provisions—Boston
Also open for a la carte dining on Thanksgiving, order confit duck gnocchi, roasted heritage turkey, and pumpkin pie with candied pecans to go. Pick up from 12-8pm on Thanksgiving. Order online or call 617-863-8363.
Summer Shack—Boston—Cambridge
This might not be the first place that comes to mind, but you can get your turkey southern deep fried or oven roasted with all the accompaniments. You can also get their conrbread stuffing and glorious pies a la carte. Pick-up on November 24 from 12-6pm. Order online or call 617-867-9955 (Boston) and 617-520-9500 (Cambridge).
TAMO at the Seaport Hotel—Boston
TAMO is offering a 4-course Thanksgiving menu to go.
Urban Hearth—Cambridge
Order a full Thanksgiving spread for 2, 4, or 6 people ($175-$450) and get sage and cider-brined turkey with stuffing, gravy, colcannon, biscuits, and more Pick-up 4-7pm on November 24 or 9am-12pm Thanksgiving Day. Order online or call 617-682-7295.
---
Originally posted in 2016
Updated November 3, 2021