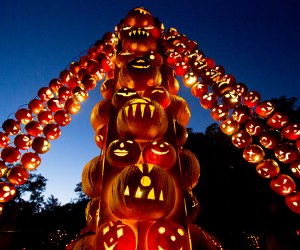 Things To Do in Westchester this Weekend: Blaze, Book Festival, Applefest
Fall fun continues this weekend for Westchester and Hudson Valley families with apple picking, pumpkin picking, fall festivals, and the like—and now many of the large-scale Halloween activities are added to the mix. Among the scary attractions for older kids is Hudson Horrors, a walk-through haunted-house experience.
One of the big headliners this weekend is the return of the Chappaqua Children's Book Festival, where young bibliophiles get the chance to meet authors and illustrators, collect autographs, hear book readings, and celebrate beloved literature. Also returning this year are the apple-licious Warwick Applefest, featuring assorted attractions and delicacies, and the Ultimate Willy Wonka Party, attended by two of the film's cast members. Horse lovers will get a kick out of the Peekskill Rotary Annual Horse Show and Country Fair.
This is just the beginning! Read on for our top weekend picks, visit our Event Calendar for more, and refer to our October Go List for our top choices for the rest of the month!