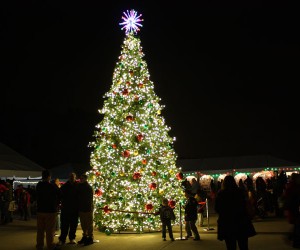 Westchester Winter Wonderland at Kensico Dam Plaza: A Holiday Carnival
Winter Wonderland, put on by the Westchester Parks Foundation, takes place at the park in Kensico Dam Plaza. The area closes to the public at 4pm and then reopens as the Wonderland at 5pm. Tickets cost $15 per person (3 and under are FREE) and can be purchased on site or in advance. It's open until 9pm Sunday-Thursday and 10pm on Friday and Saturday.
Most of the attractions at Winter Wonderland are included with the fee, including two carnival rides, hay rides, a circus performance and more. For a supplemental fee, visitors can purchase refreshments and and gift items from vendors, or ride a pony or camel for an additional $7.50. Unlike many other ticketed events, there's no need to commit to a specific day you would like to attend if you purchase tickets in advance. So if you get tickets with intentions of going on a Friday and then get sidelined with a stomach virus (speaking with experience), you can use them any other day until December 31.

The music-synchronized light displays run continuously.

Things To Do
See holiday light shows: The light displays at Winter Wonderland run continuously through the night and are synchronized with classic and contemporary holiday music. They are quite impressive, and we spent a lot of time walking through the park and simply admiring the displays. (Want more Christmas lights? The North Kensico Light Show is just a short drive away.)
Meet Santa: A visit with Santa is included with your ticket; photos can be taken with your own camera.
Go ice skating: You can rent skates or bring your own and skate on "RangersTown Rink." Rentals are included with admission.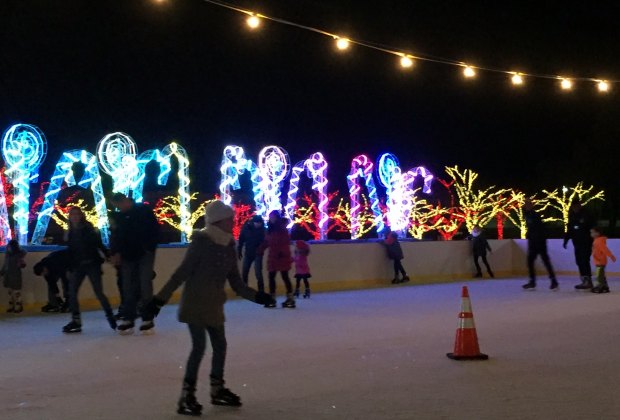 Ice skating is included with admission. Photo by Mommy Poppins' Susan Miele

Take a hay ride along the dam: If you've never been to the park, the 300-foot-high dam at Kensico is quite a staggering sight.
See a holiday circus show: This year's Winter Wonderland includes shows from the Hanneford Holiday Circus.
Ride carnival rides: There are two rides set up: The Holly Jolly Caterpillar is geared toward younger children, and the Wonderland Express is for the older set. Parents are permitted to ride on both.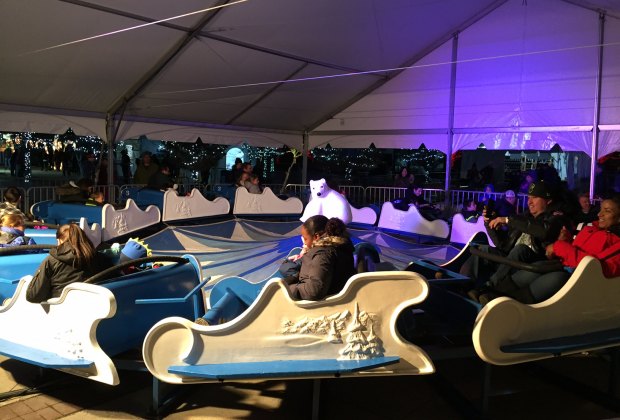 Older kids (and adult kids!) enjoy the high-speed fun of the Wonderland Express. Photo taken by Mommy Poppins' Susan Miele
Visit Food Truck Alley: A range of foods is offered from the row of food trucks, including gourmet grilled cheese, cheese steaks, waffles, BBQ, hamburgers, Greek food, pizza and more. There is also a truck selling hot chocolate and cider doughnuts (fresh out of the fryer, drool) next to the Holly Jolly Caterpillar ride. A heated tent offers seating away from the winter chill.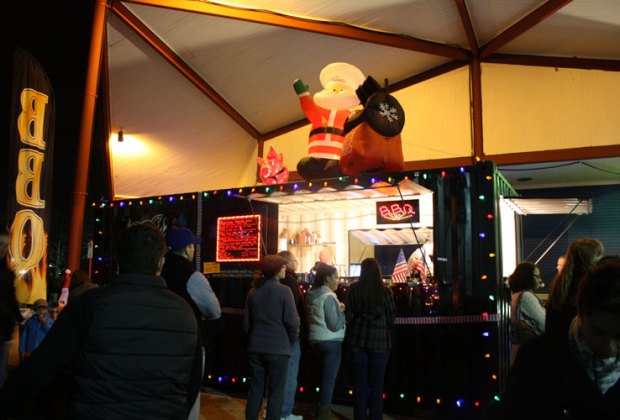 There are plenty food options in Food Truck Alley.

Buy holiday gifts: Numerous vendors are on hand selling gift items. Take note that they're not of the artisanal variety but rather commercially sold items. (Looking for hand-crafted gifts? We've got you covered.)
Winter Wonderland also hosts other activities depending on the day you visit, including special character appearances, so be sure to check the calendar.
What To Know
Dress appropriate but don't fret too much: Organizers have made plenty of preparations for when temperatures plummet. All of the tents are heated, and there are also chairs and benches clustered around outdoor heat lamps.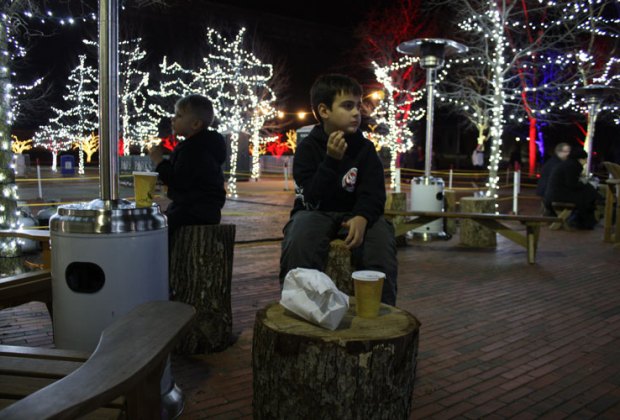 Taking a cider doughnut break next to a heat lamp.

Parking is free, but expect a bit of a walk.
Strollers are permitted (and you may find them necessary if you do end up parking far away).
There is a playground behind the restrooms. Despite the darkness, plenty of kids were running and climbing about.
This was originally posted in 2015 and has been updated for 2016.
All photos taken by the author unless otherwise noted.