21 Fall Day Trips from DC and Fun Weekend Getaways for Families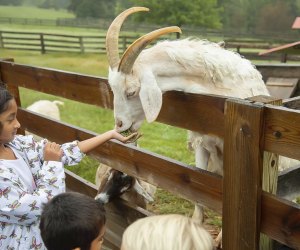 8/26/22
- By
Jamie Davis Smith
For many families, long weekends like Labor Day weekend mean piling in the car and heading out of town for some fun and relaxation. But for families who can't get away for a few days, there are also plenty of great day trips from DC. Here are 21 fun day trips and weekend getaways from DC that are perfect for long weekends like Labor Day weekend. While of all these places make great fall getaways for families or fun fall day trips from DC, most of them are also wonderful places to visit any time of year.
For more ideas for fall getaways from DC, check out our list of fall day trips from DC for families. And, start planning your local fall activities by checking out our Fall Fun Guide for Washington, DC Families.
Fall Day Trips From DC for Families
1. Family-Friendly Wineries, Breweries, and Beer Gardens
If the grown-ups want to enjoy the weather and some adult beverages, there's no need to hire a babysitter. Just head to one of the many family-friendly wineries or kid-friendly breweries and beer gardens near DC, many of which also welcome dogs. Several of these spots have wide-open spaces where the kids can run around and play. Others offer lawn games or board games for kids to enjoy, and some even have live entertainment on weekends.
Related: 10 Great Animal Farms and Petting Zoos Near Washington, DC

Apples taste better when they're pulled right off a tree. Photo courtesy of Great Country Farms
2. Apple Picking
As late August and September arrive, so do thoughts of apple picking near DC. Head to one of several great apple picking farms and orchards within easy driving distance, many of which offer several other activities for kids such as playgrounds, slides, petting zoos, and more. Many of them begin their fall festivals by mid or late September, too!
3. Gaylord National Resort — National Harbor, MD
While the Gaylord National Resort is best known for its Christmas activities, it also offers plenty of other family fun all year long. Through Labor Day, there are pirate-and princess-themed activities, scavenger hunts, live animal encounters, and more. Fall brings Halloween-themed fun such as a a jack-o'-lantern walk, spooky animal meet-and-greets, and trick-or-treating. Families can also splash into the hotel's indoor pool and spend time exploring National Harbor, which boasts great restaurants and shops, family attractions, a giant Ferris wheel, a carousel, and a playground.
4. Scenic Train Rides
Though these train rides near DC are especially beautiful when the leaves are changing colors, they are fun to ride with kids any time of year. You can still get gorgeous views and, in some cases, meals while aboard, then have fun exploring the surrounding towns.
From late August through late October, families can take a trip back in time to the reign of King Henry VIII at the annual Maryland Renaissance Festival. Enjoy Shakespeare, jousting, jugglers, jesters, and other family-friendly entertainment and games. Feast on a wide range of delicacies, and shop from artisan crafters. Wear a costume to get into the spirit—you can rent clothing for both adults and children at the festival.
Related: Fishing Lakes Near DC and More Kid-Friendly Places to Go Fishing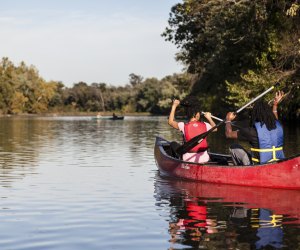 Spend an afternoon on the water by renting a canoe, kayak, or paddleboard. Photo courtesy of the Chesapeake Bay Program
6. Paddleboarding, Canoeing, or Kayaking
The DC area offers many places where families can rent paddleboard, canoes, or kayaks from spring through fall, offering the perfect way to spend the day on the water as a family. Many of these places are inside large parks, so families can round out the day with a picnic, hiking, and other fun activities.
This Northern Virginia suburb is home to so many kid-friendly restaurants, shops, parks and playgrounds, museums, and more fun things to do with kids. The city, which began as the Town of Providence in 1805, is also steeped with history—it was the site of several Civil War battles and home to many historic buildings.
Although Baltimore is less than an hour's drive from DC, it's an entirely different city with its own identity. While its proximity makes it the perfect day trip, families can easily spend an entire long weekend here. At Baltimore's famed Inner Harbor, enjoy the National Aquarium, the Maryland Science Center, the Port Discovery Children's Museum, the B&O Railroad Museum, and many other attractions, shops, and restaurants. Check out the Maryland Zoo, or cheer for the Baltimore Orioles at Oriole Park at Camden Yards.
Related: 12 Must-Try Ice Cream Shops Near DC

Peterson's Ice Cream Depot alone makes Clifton worth a visit. Photo by Bob Sivinski
The town of Clifton in Fairfax County is small, but it's brimming with charm and some fantastic restaurants. One of our favorite family-friendly wineries, Paradise Springs Winery, is nearby. There are also beautiful places to hike and explore nature. And from March through October, Peterson's Ice Cream Depot is a must-visit for delicious homemade ice cream. Bonus: It's located next to a fun playground where little ones can burn off all that sugar!
Families can easily spend a day at this charming Montgomery County town. Browse the antique shops on Antique Row, take a stroll to check out the historic houses, and explore the town's various parks and playgrounds. If you have little ones, be sure to stop by the Noyes Library for Young Children, an adorable one-room library with a variety of board books and picture books.
11. Harpers Ferry, WV
For an outdoorsy day trip full of history and natural beauty, head to Harpers Ferry, a National Historical Park. Visit the site of John Brown's Raid, a failed attempt to end slavery that sparked the Civil War. Take a hike on the Appalachian Trail, try your hand at whitewater rafting, and visit The Point, the spot where the Potomac and Shenandoah rivers meet.
Fun Weekend Getaways from DC for Families
12. Charlottesville, VA
This beautiful city is full of history. Tour the University of Virginia and visit three nearby presidential homes: Monticello (home of Thomas Jefferson), Montpelier (home of James Madison), and Highland (home of James Monroe). Stroll along the Downtown Mall with lots of shops and restaurants, and stop in at the Virginia Discovery Museum for hands-on exhibits young kids will enjoy. For parents, there are several kid-friendly wineries and breweries just outside Charlottesville.
Related: 14 Stunning Mountain Hikes to Try with Kids

Explore stalagmites and stalactites at Luray Caverns. Photo courtesy of the caverns
There is so much for families to do in the Shenandoah Valley. Shenandoah National Park is a beautiful place to go hiking and see the natural world. Then, head underground to explore stalactites and stalagmites at Luray Caverns or Shenandoah Caverns. There's also Dinosaur Land (where you can get up close to 50 larger-than-life re-creations of dinosaurs), a family movie drive-in, and some fun museums. In the fall, visitors to the Shenandoah Valley get an added bonus of seeing gorgeous foliage.
Richmond's place in U.S. history is distinct: one of the oldest cities in the nation, Richmond was the capital city of the Colony of Virginia. Today, Richmond is known as the River City, and there are plenty of modern attractions for kids and families. While the deep history is evident in monuments, battlefield sites, and architecture, Richmond is also home to an expansive parks system, 550 aces of river shoreline, great museums such as the Children's Museum of Richmond and the Science Museum of Virginia, and outdoor places like the Lewis Ginter Botanical Garden and Maymont Farm that are great to explore with kids.
For history buffs, fewer vacation spots can top a visit to Williamsburg. Its biggest attractions—Colonial Williamsburg, Historic Jamestowne, the Jamestown Settlement, and Yorktown—bring history to life in an exciting way for kids and families. But there are also plenty of other fun things to do in Williamsburg with kids, from exciting theme parks and water parks to beautiful beaches and gardens. Just check out our review of Busch Gardens for a taste of modern life in Williamsburg!
Visit Hersheypark and get four adventures in one: an amusement park, a zoo, a water park, and Chocolatetown. The amusement park features over 120 attractions ranging from mild to wild, including 15 roller coasters and a wide variety of mini rides for younger kids. Leave plenty of room for tasty treats at the ice cream parlor and the confectionary kitchen in Chocolatetown, and be sure to take the 30-minute chocolate factory tour in Chocolate World.
Related: The Best Children's Museums in the US

Getting hands-on is the name of the game at the Please Touch Museum. Photo courtesy of the museum
The City of Brotherly Love has endless ways to spend a long weekend—especially Labor Day weekend, when you can catch Harry Potter: The Exhibition at the Franklin Institute before it flies out of town on September 18, 2022. Even if you miss the exhibit, the Franklin Institute is an amazing place to bring science- and tech-minded kids any time of year. Younger children will love the Please Touch Museum, and the entire family will be wowed by the Museum of Illusions. Don't miss the Smith Memorial Playground & Playhouse!
A trip to Lancaster County, Pennsylvania, offers a surprising number of family activities, from farm visits and more country fun to cool museums. Younger kids who aren't quite ready for bigger thrills will have a blast at Dutch Wonderland amusement park. Learn how ice cream is made, taste samples, and even create your own flavor at the nearby Turkey Hill Experience in Columbia. And take a train ride through the heart of Amish Country aboard the Strasburg Railroad. For kids who love The Powerpuff Girls, Ben 10, and other Cartoon Network favorites, there's no cooler place to stay than the Cartoon Network Hotel, just down the road from Dutch Wonderland.
There's no better place to say goodbye to summer over Labor Day weekend than the beach. With wide, sandy beaches, fun boardwalks featuring rides and games, tax-free outlet shopping, mini golf galore, and loads of ice cream shops, the Delaware beach towns are full of family fun. Each of the towns has its own distinct personality, but our favorites for families are Rehoboth Beach, Bethany Beach, and Fenwick Island. The Delaware beaches are great to visit in the fall, too, when crowds are thinner and prices are lower.
If you want your long weekend to be jam-packed with activities, you can't beat the City That Never Sleeps. Don't want to risk sitting in traffic? Get there in under four hours on Amtrak. While there, take in a family-friendly Broadway show, explore Central Park, visit a museum, eat lots of pizza, and enjoy one of the many other top attractions in NYC.
Related: 15 Amazing Indoor Water Parks Near DC for Families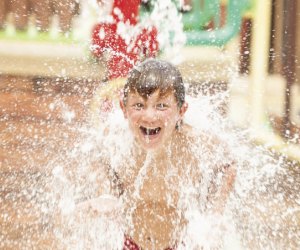 Massanutten offers the perfect mix of fun and relaxation. Photo courtesy of Massanutten Resort
21. Spa Resorts Near DC
When looking for the perfect family weekend getaway, it can be difficult to please everyone. The kids may be looking for adventure and fun, while the grown-ups seek to kick back and unwind. Or, everyone may need a little bit of both. These eight family-friendly spa resorts near DC may be just the ticket. Besides their relaxing spas, they all offer plenty of activities for families, like an indoor water park (Massanutten Resort), an awesome kids' club (Tides Inn), tons of sports (Lansdowne Resort), and more.
With additional reporting by Jennifer Marino Walters and Meredith Kiryakov