8 Kid-Friendly Wineries Near DC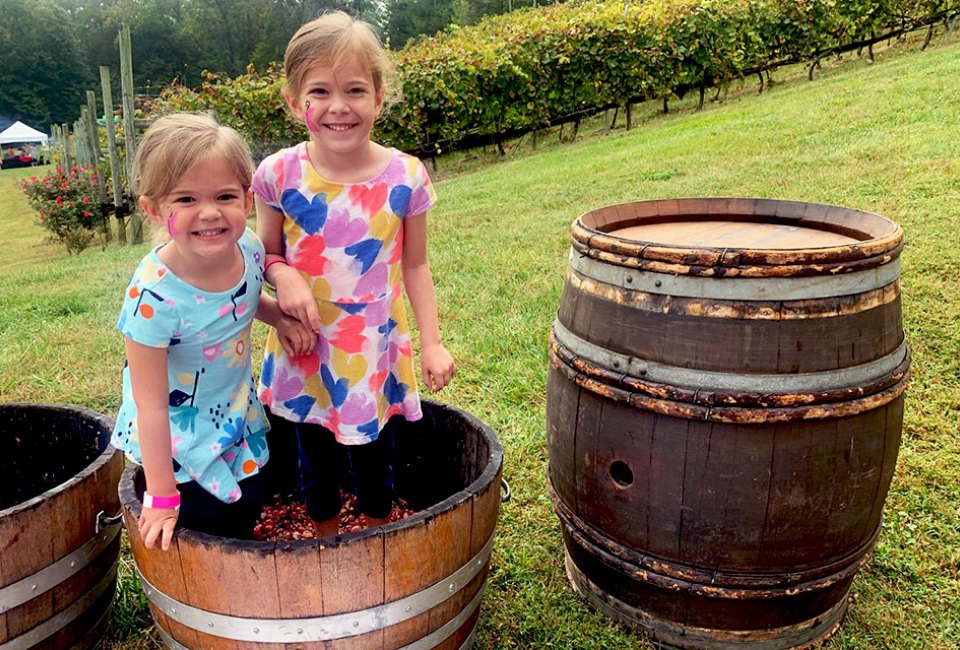 7/23/21
- By
James Smith
For all the joys of parenting, there are those moments when a mom or dad just needs some adult time—and perhaps even an adult beverage. Many wineries near DC offer parents both of those, with the added bonus of kid-friendliness. So if you're just killing for a Cabernet or pining for a Pinot this summer or fall, pack up the kids and head out to one of these family-friendly wineries near DC, where you're guaranteed a vintage good time.
Most of these kid-friendly wineries near DC offer live music on weekends and food trucks or on-site kitchens for a quick bite. Some of them allow you to bring in food from outside; others insist that you order on-site. Pet policies vary also. Call ahead to check if you're uncertain.
Barrel Oak, located about an hour from DC in Delaplane, boasts of its kid-and pet-friendliness. Choose from award-winning Cabernet Francs, Merlots, and some zesty blends. There is even a craft brewery on site for those who prefer malt beverages to grapes. The owners welcome hikers and bikers, locals and out-of-towners; and their love of dogs (leashed when on-site) is plainly evident.
At nearly two hours from DC in Madison, Early Mountain is the most distant of all of our options. Wine lovers will delight in the trip, however. Highchairs and booster chairs are available for kids, and leashed dogs are welcome. Visitors may bring an outside cake or dessert if celebrating a special occasion. Choose from top-shelf whites and rosé.
What could be better than a hike in the countryside followed by a stop at a winery? Visitors to Paradise Springs in Clifton can live that dream. Families can enjoy the outdoor environment at nearby Hemlock Overlook Regional Park and then stop in for a vintage Chardonnay, rosé, Cabernet Franc, Viognier, or more. The expansive grounds are ideal for playful children. Note: Children are not allowed in the bar area.
Reserve a picnic table and delight in the Tuscany-like vibe at this family-friendly venue a little over an hour from DC in Stafford. The on-site bistro features a kids menu, and adults can choose from a wine list that includes award-winning Petit Verdots, Viogniers, Merlots, and more.
"Quattro goombas" is Italian for "four close friends"—a fitting name for this Aldie winery, which is all about celebrating friendship and family. About an hour outside DC, Quattro Goombas welcomes kids and dogs to its 12-acre property, which offers plenty of space to run around. In addition to wine, you can order beer from the on-site brewery, or a wine frappe slushie on a hot day. While no outside food is permitted, the on-site kitchen churns out pizza, subs, and other small bites.
Kids have lots of space to roam at this winery and working farm in Poolesville, about 30 minutes from DC. Outside food is permitted, but you can also purchase cheese, meats, and other nibbles from the on-site market, or order from a food truck on weekends. The winery offers a large selection of red, white, rosé, and even sparkling wines. Dogs are not allowed.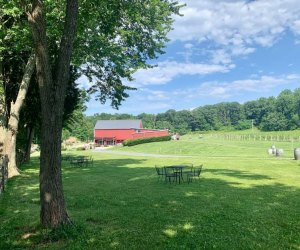 Sugarloaf Moutain Vineyard.
This unique destination, just off I-270 in Dickerson, welcomes dogs and kids. Balls, frisbees, and other outdoor game equipment are available for kids. Reservations are not required, and the Chardonnays and Cabernet Francs will delight parents.
Centreville's Winery at Bull Run, about 45 minutes from DC, sits on 225 acres near Manassas National Battlefield Park. That means history abounds here. Kids will love to explore the property and its historical markers, though dogs are not permitted. Specialties include Cabernet Franc, Viognier, and Cuvée Blanc.
Photos courtesy of the vineyards

Looking for last-minute camp options? Find a variety of
online camps
that still have availability.