All Aboard a Polar Express Train Ride, Plus More Christmas Trains Near DC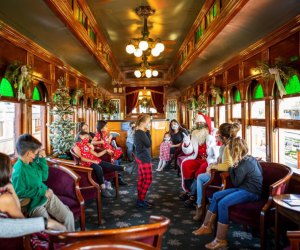 Nothing adds magic to the holiday season quite like a festive train ride. To help your family experience that magic, we've rounded up 12+ Christmas trains near DC, including several options for a Polar Express train ride. From trains that transport you to Christmas tree farms to those that bring classic Christmas stories to life, these Polar Express and Christmas trains near DC will make even your Grinchiest family member's heart grow three sizes. And all of them are within a three-hour drive from DC!
Check out our Christmas Activities and Holiday Guide for DC Kids to help you plan more holiday fun this season, and get a jump on your holiday decorating by trying some of these 101 Christmas activities for kids. Santa will be here before you know it!
While these Polar Express and Christmas trains near DC run on multiple dates and times, many of them sell out quickly, so be sure to purchase tickets as soon as possible. Some of them offer different seating options at various price points, which can be found when booking online.
Polar Express and Christmas Train Rides Near DC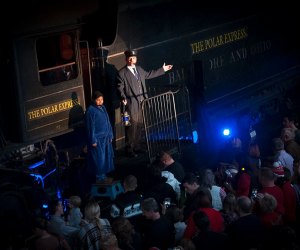 Passengers aboard B&O Railroad's Polar Express will feel like they are really part of the classic story. Photo courtesy of the B&O Railroad Museum, Flickr
Fridays-Sundays, November 25-December 18 and Monday, December 19, 2022
Chris Van Allsburg's classic book comes to life from the moment passengers climb aboard this Polar Express train ride, when the conductor punches their golden tickets. Once aboard, passengers can indulge In hot chocolate and cookies and receive the first gift of Christmas from Santa himself. Note that strobe lights are briefly used during the journey as scenes from the book are brought to life.
Saturdays & Sundays, November 26-December 18, 2022
Bring a camera to catch the excitement of meeting Santa on this magical train ride about a 75-minute drive from DC. During the 1 hour, 10-minute journey aboard the festively decorated train, Santa and his helpers pass out a small gift to every child while Christmas music plays in the background.
Saturdays, December 3 & 17, 2022
Some special friends join Santa for two magical train rides—Beauty and the Beast characters on December 3 and the Ice Queen and Ice Princess on December 17. The special guests sing popular songs on the train platform, then join families for a 70-minute train ride with on-board entertainment. Each child receives a small gift from Santa. Kids are encouraged to dress up!

You never know when Santa and Mrs. Claus will show up on the Santa Express. Photo courtesy of Northern Central Railway, Facebook
Saturdays & Sundays, December 3-18, 2022
On this one-hour ride aboard a festively decorated steam-engine train, kids can have their picture taken with Santa and receive a special gift. Back at the station they can explore a
Winter Wonderland and enjoy hot chocolate, a cookie, and music by a strolling fiddler.
Friday-Sunday, November 25-27, 2022
A mischievous elf named Finnegan Frost has scattered pieces of Santa's elves' goof-elf-o-matic machine throughout the train. Riders must search for and conceal the missing pieces from Finnegan, then return them to the platform at the end of the 75-minute ride to help restore Christmas cheer.
Fridays-Sundays, November 25-December 11, 2022; Daily, December 16-24, 2022
The beloved children's book comes alive on this hour-long Polar Express train ride to the North Pole, for which passengers are encouraged to wear their favorite pajamas. Listen to the original movie soundtrack while eating cookies and sipping hot chocolate. There is also a reading of the book, as well as singing and dancing to Christmas favorites. Santa makes an appearance and gives each passenger a silver sleigh bell, which—if you know the story—can only be heard by those who believe.
Saturdays & Sundays, November 19-December 24 and Friday, November 25, 2022
Ride to Paradise, Pennsylvania and back on this 45-minute train excursion. The train is decorated for the holidays, and there are readings of favorite Christmas stories until Santa makes his grand entrance and gives a special gift to all children age 11 and under. Passengers sitting in the President's Car can purchase drinks and treats, while those who buy tickets for the Dining Car can choose a sandwich and dessert at booking.

Storytime is truly special on Strasburg Rail Road's Night Before Christmas Train. Photo courtesy of Strasburg Rail Road, Facebook
Friday, December 2; Thursday-Sunday, December 8-11; Daily, December 15-23, 2022
Experience the excitement of Christmas Eve even when it's not December 24 on this very special one-hour train ride. Listen to the classic poem 'Twas the Night Before Christmas on this journey aboard a decorated holiday train, where drinks and treats are available for purchase.
Wednesdays-Fridays, December 7-16; Monday-Friday, December 16-23; and Friday December 2, 2022
Take a 45-minute ride through Amish Country with Santa aboard a 100-year-old train that's all decked out for Christmas. Kids can take a picture with Santa as Christmas music plays.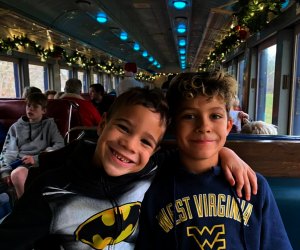 Travel to the North Pole aboard the North Pole Express. Photo courtesy of Potomac Eagle Scenic Railroad, Facebook
Fridays-Sundays, November 18-December 18; Monday-Friday, December 19-23, 2022
This 75-minute, interactive train ride includes milk and freshly baked cookies courtesy of Mrs. Claus, readings of favorite Christmas stories, and Christmas caroling. Santa boards at the North Pole and gives a special gift to each child. Back at the station, the fun doesn't end: There's an event barn with several holiday-themed activities, a Nativity scene with live animals, cocoa and snacks for purchase, and more. There's also a station where kids can write their Christmas list, check it twice, and send it to Santa. The Potomac Eagle is less than a 2.5-hour drive from DC.
Saturdays & Sundays, November 18-December 18 and Friday, November 25, 2022
Journey through Chester Creek Valley aboard Santa's Express. Parking can be tricky in this town less than a three-hour drive from DC, but the railroad has its own parking lot just past the station. Santa greets passengers at the station and then joins them for the ride aboard the heated and festively decorated train, so don't forget your Christmas list!
Christmas Tree Trains Near DC
Fridays & Saturday, November 25 & 26; Saturday, December 3, 2022
Travel on an authentic steam train to Leaman Place Grove to choose the perfect pre-cut Christmas tree. After selecting a Frasier fir, passengers can sing along to Christmas carols around a campfire. On evening trips, old-fashioned Edison lights illuminate the way around the grove and add to the ambiance. Passengers can watch as their trees are baled and loaded onto the freight car for the journey back to the station. Upon arrival, the crew unloads the trees and helps passengers tie them to their vehicles.
Sundays, November 27 and December 4 & 11, 2022
West Chester Railroad's heated and festively decorated Christmas Tree Train departs the station in West Chester, Pennsylvania promptly at 8am to take passengers to Wiggins Tree Farm, where they can cut their own Christmas tree. The crew helps load Christmas trees onto vehicles at the end of the trip.