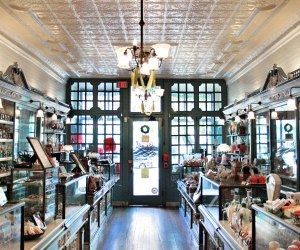 Shop Local to Support Small Businesses in Philly
Due to coronavirus, local businesses in Philadelphia and throughout the Delaware Valley have been impacted by the ongoing stay-at-home orders. With restrictions still in place, small businesses are adapting to the "new normal" while serving the community and keeping customer safety at the forefront. But Philly families can help support local businesses in lots of ways.
Buying books and toys at local shops to keep young minds engaged and entertained, order delicious take-away meals to satisfy ravenous appetites and take a break from cooking breakfast, lunch, and dinner everyday, and purchase gift cards for future use. Remember: When patronizing local shops, you directly make a difference to a family. (And when possible, consider contacting restaurants directly instead of using a third party service to help keep the profit at the small business).
Mommy Poppins Philadelphia has rounded up a list of 27 local businesses offering pick up and delivery options. Refer to this list when need a jolt of coffee, a sweet (or salty) treat, or gift for your little one. Shop local! Together, we'll make it through!
And while you're showing your support for the businesses you love, we hope you'll count Mommy Poppins and our small business partners among them. You can support Mommy Poppins by sharing articles you find useful with friends or on your social media channels, checking out our directory of virtual classes, camps and birthday parties and telling businesses you found them through Mommy Poppins. Also, as part of our effort to keep our local parent writers and this website afloat and support some of our favorite family businesses, we've created Poppins@Home, a platform for small businesses to share free and low-cost online classes and birthday parties with kids all over the country. Please consider trying a few of these fun, affordable, and creative classes—and spreading the word among your friends—as yet another way to support, uplift, and get through these challenging times together!
For ideas on how to stay active and safe during these times, browse through our Stay-at-Home Guide with over 100 resources of things to do.
Places to Buy Sweets in the Philly Area
1. Bevan's Own Make Candy- Media
Bevan's has been in business for over 60 years and now is offering curbside pick up. Simply call in your order. The tough part is deciding what to select!
2. Kelly's Kandy & Nuts- Collingdale
A third generation candy business, Kelly's Kandy & Nuts provides its shoppers with a variety of candy including chocolate covered pretzels, sugary sweets, and fudge.
3. Raymer's Homemade Candies- Doylestown
This spot in Bucks County is open for curbside pick as well as delivery. Customers are notified by email or phone when the order is ready for pick up.Gift cards are available for purchase too!
4. Shane's Confectionary- Philadelphia
Established in 1863, Shane's Confectionary is American's oldest candy store. It serves seasonal candies, clear toy candy, caramels, chocolates, fruit & gummy candies, and even ice cream. Orders can be scheduled for pick up, local delivery through 3rd party apps, and shipping. Gift cards are available for a 10% discount.
5. Zipf's Candies- Chesnut Hill
Call, email, or DM Zipf's to order gourmet chocolates, caramels,and licorice. This store offers curbside, local delivery, and shipping too!

Make staying home more fun with the Rainbow Sprinkler. Photo courtesy of The Blue Beret
Places to Buy Children's Clothing and Gifts in the Philly Area
6. cBOP Kids- Haverford
This store not only has clothing for babies, tots, and children but also has great gift options too! There is free shipping on orders over $50 and free local delivery.
7. Little Moon + Arrow- Philadelphia
Infant gear, clothing, and toys can be purchased from this children's boutique in South Philly that is known for its carrying sustainable and quality products.
8. Luxey Little Ones- Newtown and West Chester
Customers can find layettes for newborns, clothing for children up to 6X, shoes, and other necessary kid gear at Luxey Little Ones. Currently the store offers free shipping with code FREE2020 for online shoppers.
9. The Blue Beret- Wayne
Shoppers can place orders for children's clothing, gifts, and party supplies. Purchases are either shipped for $7 domestic or delivered locally for free.

Photo courtesy of Valerio Coffee Roasters
Places to Buy Coffee Beans and Beverages in the Philly Area
10. Function Coffee Labs- Philadelphia
Every day from 7 am-2 pm, customers can pick up drinks such as hot coffee to cold lattes as well as breads and breakfast foods. Offerings also include merchandise and masks. A $20 minimum order is required for delivery.
11. Media Bean Co.- Media
This coffee spot is open Friday through Sunday from 8:30 am- 2 pm and offers curbside pick up and delivery through GrubHub and UberEats. In addition to specialty coffees, customers can indulge in breakfast sandwiches and smoothie bowls.
12. Menagerie Coffee- Old City
Those needing a bit of caffeine to get moving can grab a cup of coffee or tea at this spot in Old City. Go online to select hot coffee, cold brew, hot chocolate, espresso, cappuccino, or latte. Customize it by adding sugar and cream in your favorite combination. Then, place your order and pick up your drink. Bakery items such as scones, breads, and cookies are available as well.
13. Nonno's Cafe- Doylestown
Nonno's offers both walk up and take out service to patrons and only 8 customers can be inside the store at a time. In addition to an extensive coffee selection, guests can purchase pastries, cakes, ice cream, gelato, and gift cards too!
14. Old City Coffee- Old City and Reading Terminal Market
From drinks to coffee beans to baked goods, Old City Coffee provides online pre-ordering for its customers. It is important to note that Old City is open daily while Reading Terminal Market is open 6 days a week (excluding Sundays).
15. Pilgrim Roasters- Manayunk
While this cafe is not currently open, it is still roasting up delicious coffee beans for customers. Curbside pick up is available on Fridays from 12 pm-2 pm. By ordering online and using the code FREELOCALPICKUP, customers can get their order at the door. Shipping is also available.
16. The Green Line Cafe- Multiple locations
With multiple locations throughout the city, this small family business currently provides online ordering and pick up at its Baltimore Avenue or Locust Street shops. The Green Line Cafe serves organic and fairly traded coffees as well as a variety of snacks and sandwiches.
17. The Farmhouse Coffee and Espresso Bar- Downingtown
Get your coffee, donuts, and ice cream at The Farmhouse Coffee and Espresso Bar. Currently this spot is offering drive thru service. Donuts by the dozen can be ordered in advance.
18. Valerio Coffee Roasters- Audubon
This small micro roaster provides Fair Trade and organic coffees to its customers. Currently, the Audubon location offers take out of a wide variety of beverages as well as delicious eats such as quiche and breakfast sandwiches.

Photo courtesy of The Franklin Fountain
Places to Buy Frozen Treats in the Philly Area
19. Bassetts Ice Cream- Reading Terminal Market
In its fifth generation serving customers, Bassetts Ice Cream is offering curbside pick up and delivery of its frozen desserts. Purchase a pint, quart, or 2 1/2 gallon tub of your favorite flavor. Or, order a sundae or root beer float kit to make your own at home. Digital gift cards are also available.
20. Chill Out Ice Cream and Water Ice- Ridley Park
Voted favorite ice cream parlor from 2015 through 2019, Chill Out Ice Cream and Water Ice is open every day from 3 pm-9 pm for curbside pick up of your favorite frozen treats.
21. Crave Creamery- Springfield
With over 30 flavors from which to select, Crave Creamery is open daily from 4 pm-8 pm. Water ice, frozen yogurt, and smoothies are available in addition to traditional ice cream.
22. Freddy Hill- Lansdale
Head to Freddy Hill for ice cream in a dish or cone, shakes, sundaes, and flurries, for take out only.
23. Scoops 'N Smiles- Malvern and West Chester
With two locations serving up ice cream, Scoops 'N Smiles provides curbside pick up and carry out service of its delicious ice cream. Customers can expect flavors such as Birthday Cake, Graham Slam, and Muddy Sneakers in addition to traditional ones.
24. Sprinkles Ice Cream Shoppe- Elkins Park
Currently only open on the weekends, Sprinkles Ice Cream Shoppe offers carry out and pick up. Guests can call ahead and pay by Venmo if they would like.
25. The Franklin Fountain- Center City
Call in an order for a container of ice cream (half-pint, pint, and quart are available) and pick up curbside at The Franklin Fountain from 12:30 pm-7:30 pm everyday. Customer can also select Ice cream sandwiches, ice cream bars, and baked goods. Delivery through 3rd party apps is an option as well. Gift cards are available for purchase and currently are 10% off.
26. Weckerly's Ice Cream- Philadelphia
This ice cream shop is open for walk ups and pre-orders on Thursdays and Fridays from 2 pm-8 pm and Saturdays from 12 pm-8 pm. Shoppers can place their orders online while selecting a convenient pick up date and time.
Local Philadelphia Businesses Worth Mentioning
27. Center City Pretzel Co.- Philadelphia
If you are craving a pretzel (and frankly who isn't), this is the spot for you. Currently offering pick up only on specific days of the week (check Facebook for dates), Center City Pretzel Co. offers its classic soft pretzel for customers. No specialty pretzels are available at this time and payment is cash only. Large orders over 100 should be placed in advance on Facebook.