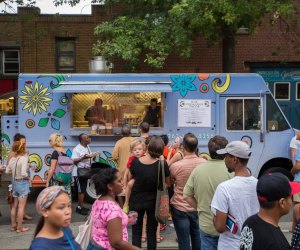 8 Awesome Food Festivals Happening in Philly this Summer
Food festivals are a great way to bring families together. Nothing screams summer more than corn on the cob, watermelon, barbeque, and ice cream. Food with music, entertainment, and games is the perfect formula for a great family afternoon for kids of all ages. We've compiled a list of some awesome food festivals happening this summer. Come hungry and ready for fun!
July 16, 2016
​Sidewalk Sizzle and Ice Cream Freeze- Reading Terminal Market, Philadelphia
For most foodies, Reading Terminal Market needs no introduction. From homemade Amish delights to Jewish delis, homemade ice cream, and fresh produce, there is something for everyone at this quintessential Philadelphia haunt. Sidewalk Sizzle and Ice Cream Freeze is back for another year from 10 AM-4 PM offering up homemade ice cream and BBQ grills.
July 16-17, 2016
Bluegrass and Blueberries Festival- Peddler's Village, Lahaska
Come celebrate National Blueberry Month at Peddler's Village with everything blueberry. Enjoy locally grown blueberries, blueberry treats, and live bluegrass and country music. From the general store, you can take home blueberry pies, blueberry butters, jellies, and preserves, and even blueberry fudge! Enjoy live bands, local artists and craftsman, and children's crafts at the Family Fun Field and Artisan Area. The festival is held rain or shine both days from 10 AM-6 PM.
July 25, 2016
PhillyFeast, United We Eat- Old City, Philadelphia
If you plan on checking out the Democratic National Convention at all, stop by Philly Feast. This daytime Night Market-style food truck festival is located at 3rd and Arch from 11 AM-3 PM. It's the perfect way to kick of convention week.
July 30, 2016
Philly's BBQ Fest- Citizens Bank Park, Philadelphia
One of Philadelphia's favorite summer events is back, offering up the best BBQ that this city has to offer. With over 40 vendors sampling their BBQ dishes, there is sure to be a variety to please everyone! After you've had your fill of food, head over to the craft beer garden featuring some of the best local beers on tap. Kids will love the carnival games, food trucks, live music, and even an appearance from the Phillie Phanatic. There are two levels of ticket pricing, both including multiple BBQ samples and vouchers for Phillies game tickets. But this kid-friendly event is free for those 6 and under. You can enjoy free parking during the festival from 12 PM-6 PM at the Citizens Bank Park parking lots.
August 6, 2016
Peach Festival- Linvilla Orchards, Media
A favorite place for families and children of all ages is Linvilla Orchards. Their annual Peach Festival features pick-your-own fun at the peak of peach season every August. To make this festival extra lively, Makin' Music will be there to lead fun and exciting shows featuring music, games, prizes, crafts, and costumed characters. Pick-your-own begins at 8 AM and the festival runs all day in the Entertainment Garden. In the event of rain, the festival will be rescheduled for the next day.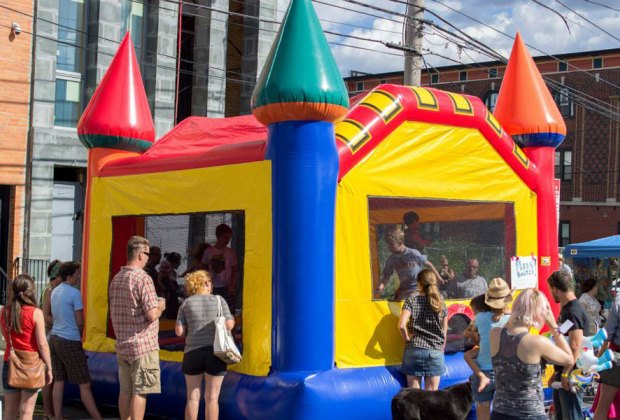 Kids enjoy a moon bounce at Philly's 2nd Street Festival. Photo courtesy of 2nd Street Festival.
August 7, 2016
2nd Street Festival- Northern Liberties, Philadelphia
If a neighborhood block party is more your scene, head to the 2nd Street Festival in Northern Liberties for a day of music, food, beer gardens, and vendors. Festivities start at noon and feature live bands on three stages along with over 150 food and craft vendors. Wander the streets, soak up some sun, and give your kids a taste of a Philadelphia tradition with a truly unique neighborhood vibe. The festival takes place in the seven block stretch of North 2nd Street between Germantown Avenue and Green Street. There is no designated parking area, so if you're local, consider taking the El.
August 13-14, 2016
Peach Festival- Peddler's Village, Lahaska
If you missed Linvilla's festival, enjoy more peach treats later in the month at Peddler's Village. Enjoy savings from the local shops with the annual sidewalk sale while your kids enjoy live entertainment, music, and games. The festival runs all weekend from 10 AM-6 PM and offers free admission and parking.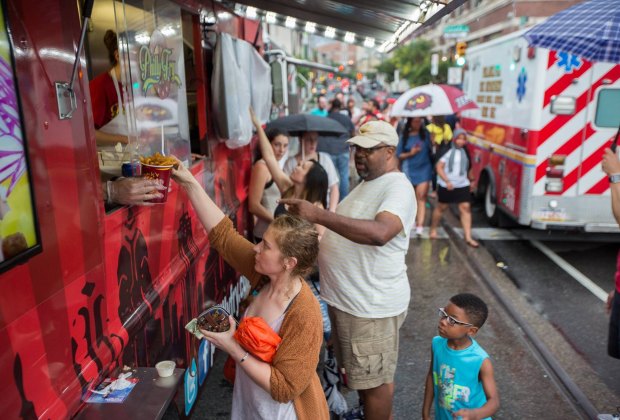 Callowhill Night Market patrons visit Philly Fry. Photo credit Dave Tavani at The Food Trust.
September 1, 2016
Night Market- West Philly
Join local neighbors for Philadelphia's Night Market. Enjoy yummy treats from food trucks, local craft beverages, outdoor seating, and live music. In partnership with The Food Trust, Night Market is in its 5th year and is part of a larger effort to support local food entrepreneurs and showcase the quality and diversity of ethnic foods in Philadelphia. Each year, The Food Trust hosts a few Night Markets throughout the summer, each of which is in a different neighborhood. The next night market takes place in West Philly- the exact location has not yet been announced.
Header image of Night Market Lancaster Ave. courtesy of The Food Trust.