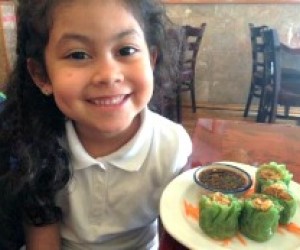 Family-Friendly Restaurants in Pelham Bay, Bronx: Locally Owned Favorites That Welcome Kids
During our month-long focus on the Bronx's Pelham Bay, we've highlighted the 25 best things to do with kids in the neighborhood and explored the attraction-filled Pelham Bay Park, NYC's largest green space. We wrap up our coverage with a roundup of our favorite kid-friendly restaurants in Pelham Bay. Since my family lives here, we've been to all of them and can recommend them personally.

While Pelham Bay isn't a foodie destination, we do have a lot of great, homey restaurants serving a wide variety of cuisines like Italian, Mexican and Thai, plus some decadent dessert spots. And since it's such a big family neighborhood, it's no surprise that most of our eateries don't just accommodate kids, they welcome them. Here are my family's top nine Pelham Bay restaurants where we love eating with the kids, most within walking distance of Pelham Bay Park.
Honey's Thai Pavilion
3036 Westchester Avenue near Hobart Avenue
For casual, no-frills Thai food, Honey's is a solid choice. My kids love the vegetable dumplings (the ginger sauce is really good and not too spicy). The kids' "menu" consists of one choice: chicken nuggets with fries. So skip that and go for authentic dishes like pad Thai and chicken curry, or order a bunch of appetizers (spring rolls, dumplings, beef satay) to share.

Juice Me
1829 Hobart Avenue near Westchester Avenue
This small, colorful spot is great for a quick and healthy lunch. Wraps, salads and all kinds of smoothies are on offer—my kids actually prefer those to wraps, which is fine with me. Juice Me doesn't seem to keep consistent hours (once we stopped by on a Saturday about an hour after it was scheduled to open and the gates were still down). But when open, it's an easy and fuss-free choice.

Mexico Magico
1761 Crosby Avenue near Westchester Avenue
Cozy and quaint, this Mexican eatery serves fantastic homemade food. I haven't had a dish here that I didn't love! The menu has all of the ethnic staples: guacamole, nachos, salsa, carne asada, tacos, enchiladas, burritos, etc. Sadly, my kids usually opt for chicken fingers (where did I go wrong?), however for more adventurous eaters there's lots to enjoy.

Lucca
3019 Westchester Avenue near Hobart Avenue
Named after a small town in Tuscany, Lucca serves classic and delicious Italian fare like a variety of pastas, and entrees such as chicken marsala and veal sorrentino. The service is fantastic and the staff is very welcoming of all ages. On Tuesdays, children under age 13 eat FREE with the purchase of an adult entree, and on Wednesday's Pasta Night you can snag a full meal for under $13, but Lucca is a solid choice any day of the week.

Shangerila Restaurant
2893 Buhre Avenue between Pilgrim and Edison Avenues
In addition to all-you-can-eat sushi, this Asian fusion spot offers chicken and broccoli, fried rice, pad Thai and other continent dishes. The menu is quite extensive so there's plenty to choose from whether your kids prefer Japanese, Chinese or Thai.

George's Restaurant
3000 Buhre Avenue at Westchester Avenue
This diner has been a Pelham Bay staple since the 1980s. You'll find all of the classic diner options here, including all-day breakfast, served in large portions by an efficient staff.

Mangia's Brick Oven Pizza & Pasta
1760 Crosby Avenue near Buhre Avenue
There are plenty of pizzerias in Pelham Bay but Mangia's stands out from the pack. A relative newcomer to the neighborhood, this casual spot serves delicious brick-oven pies, specialty pizzas, pasta dishes, heroes and other Italian favorites. The friendly staff takes care with the dishes (even when delivering: the heroes come in boxes, not crushed and soggy in foil) and the small storefront is immaculate.
And for dessert…
Pelham Bake Shop
1650 Crosby Avenue near Roberts Avenue
I just love this longtime neighborhood gem. It's large and bright with lots of seating, and there are so many desserts to choose from: cakes, cookies, Italian pastries, you name it, all made fresh daily.

Teresa's Gourmet Italian Ices
1298 Crosby Avenue near Waterbury Avenue
Though you can order soup and sandwiches at Teresa's, the real draw is dessert. And you'll find much more than Italian ices here. Indulge in homemade pies, cannoli, cupcakes, gelato and more. Teresa's also has an outpost in Scarsdale in Westchester.

Read all of our posts about exploring the Bronx's Pelham Bay with kids.