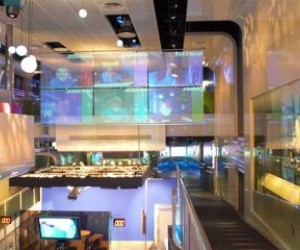 Sony Wonder Technology Lab
We recently visited the newly renovated Sony Wonder Technology Lab and by the end of the visit this great venue had shot up to the top of our list of must visit spots for kids in New York City. The Sony Wonder Technology Lab has always been a great find, with free movie screenings and a fun children's museum with interactive exhibits. But the new renovation and exhibits leap-frog the Sony Wonder Technology Lab to the forefront of NYC children's museums for kids.
New York is full of great children's museums, but the Sony Wonder Technology Lab does one thing really, really well that none of the other children's museums in New York City currently do: it teaches kids about the stuff they want to learn about most, technology.
In the new Sony Wonder Technology Lab (man, we need an acronym here guys) kids can program robots, practice being in front of or behind the camera, create 3-D and motion capture animations, and perform open heart surgery using haptic technology. The only thing this place is missing is auditions for American Idol, otherwise, it pretty much covers everything kids want to learn about for their future dream careers.
OUR LATEST VIDEOS
The museum is recommended for ages 8-14, but my 5 year old loved it too and they also have lots of programs targeted to children from toddlers through tweens. Some of the special programs include films from classics like Jack Lemmon's Operation Mad Ball to recent features like Surf's Up to short films featuring preschooler's favorites like Elmo and Dora. They also host family workshops, tech for tots and sci-tech workshops where kids can learn things like how to wire LEDs to create art and how to take electronics apart. All programs are free, but some of them have a modest $5 materials fee.
The Sony Wonder Technology Lab is always free, but visitors must make a reservation in advance. The least crowded times are, surprisingly, weekday afternoons and weekends. You can also ask the receptionist to put you in the least crowded time.
Sony Wonder Technology Lab
550 Madison Ave. at 56th St
Tuesday-Saturday 9:30am-5:30pm
Closed Sundays, Mondays and Major Holidays
Reservations and general info: (212) 833-8100
sonywondertechlab.com
FREE

Find more must-see museums and hot spots in our Culture Guide.