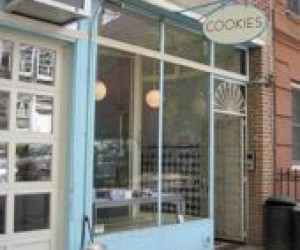 5 Brooklyn Spots for Seasonal Sweets (and Places to Play Nearby!)
The sticky days of summer are over and brisk fall days are here. What better time to treat you and your little ones to apple pie, pumpkin tarts and other seasonal sweets? Below are five Brooklyn bakeries that serve cozy, cold-weather treats, and have fun places to play just a few blocks away.
Four and Twenty Blackbirds
439 3rd Avenue (at 8th Street)
Gowanus
718-499-2917
Opened this year by two sisters from South Dakota, Four and Twenty Blackbirds is the place to get pie. Sold by the slice, seasonal pies such as honeyed pumpkin and salted caramel apple are baked and sold in this quaint shop on an up and coming strip in Gowanus. Other homemade breakfast treats and savory items, such as eggs in a nest and blackbird's bread, are delicious too. Just remember that it's cash only.
Place to Play: Powerplay
Across the street from Four and Twenty Blackbirds, this gym has classes for kids of all ages, an indoor playspace, and an afterschool program. It's a great spot for rainy days and a short walk from the 4th Ave and 9th street subway stop.
Brooklyn Farmacy & Soda Fountain
513 Henry Street
Carroll Gardens
718-522-6260
Snag a stool at this old-fashioned sweet shop and savor a scoop of pumpkin ice cream or a hot malted milk. Or settle in at the big wooden table in the back of the shop and play a board game while enjoying your treat.
Place to play: Carroll Playground
A few blocks away from Brooklyn Farmacy is Carroll Park, Brooklyn's third oldest public park. A fun spot for kids of all ages, there is a playground for toddlers, another one for bigger kids, baby swings, basketball hoops and bocce courts.
One Girl Cookies
68 Dean Street
Boerum Hill
212-675-4996
On a quiet block in Boerum Hill, you'll find One Girl Cookies, a cheery bakery with bite-sized cookies and a nice selection of other tempting sweets. Pumpkin whoopie pies seem to scream fall, while their homemade yogurt, granola and stewed apples are the perfect way to start a chilly day.
Place to Play: The LICH Playgrounds
After taking the F to Bergen Street and stopping at One Girl Cookies, walk over to Henry Street, between Amity and Pacific in Cobble Hill, where you'll find two playgrounds next to Long Island College Hospital. One is perfect for toddlers and full of brightly colored structures that are easy to navigate. The other has bigger jungle gyms that older kids will love.
Trois Pommes Patisserie
260 Fifth Ave
Park Slope
718-230-3119
Park Slope's popular patisserie serves all sorts of homemade seasonal sweets, including apple pies and pumpkin ice cream. And on Saturdays and Sundays, get there early for fresh from the oven jelly donuts.
Place to Play: Washington Park/ JJ Byrne Playground and the Old Stone House
Just a few blocks away from Trois Pommes, Washington Park/JJ Byrne Playground offers many places for kids to frolic, from a small toddler area to a larger jungle gym, while The Old Stone House has pretty gardens and educational events. There's also a big field behind The Old Stone House where you can kick a soccer ball or have a picnic.
Iris Café
20 Columbia Place
Brooklyn Heights
718-722-7395
Located on a beautiful block in Brooklyn Heights, Iris Café is great for breakfast, lunch, or an afternoon snack. They serve a different type of muffin every day and their sticky buns, snickerdoodles, gingersnaps, and nutella oat bars are ideal cold-weather treats.
Place to Play: Pier 6
From Iris Café, it'll just take you a few minutes to walk over to Pier 6, the new 1.6 acre destination playground at the foot of Atlantic Avenue that has a swing valley, slide mountain, a water-play area, and climbing structure.