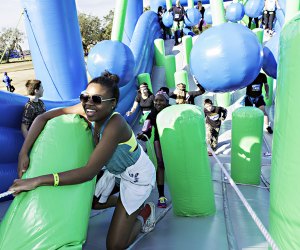 Get Ready for the World's Largest Inflatable 5k Obstacle Course
If you and your children adore trampolines and bounce houses, this family-friendly 5k will be right up your alley: Get "pumped up" to grab your running shoes and your most breathable clothing, because the Insane Inflatable 5K is coming your way.
Touring the country this summer and fall—including stops in Chicago, the Hudson Valley, the Poconos, and Houston—this unique fun-run features giant inflatables which form an enormous obstacle course. Inflatable fun that parents and kids can enjoy together? Count us in!

This family-friendly fun run lets kids and parents bounce together.
In order to participate in the Insane Inflatable 5k, you must be a minimum of 42" tall. Do you need to be in tip-top shape? Thankfully, no. But the course does feature climbing walls and slides, so you'll want to be at least mentally prepared for a workout unlike any other. The "race" isn't timed, so think of it more as a friendly competition where you can take your time if you choose to, and share plenty of laughs along the way. If an obstacle looks too challenging, you can simply walk around it. No pressure. For the safety of kids, adults are not allowed to climb on the obstacles.
Ensuring that little ones who aren't quite ready to tackle so much bouncy terrain don't feel left out, there's also a Krazy Kids inflatable course, geared toward ages 4-9. Children must be minimum of 36" tall to partake in this action-packed activity.
If you don't want to test your balance by bouncing toward the finish line but still want to watch your family have a blast, you can. Spectators are welcome to attend free of charge.
How did the idea for this traveling course come about? According to Insane Inflatable 5K's website, the idea was "born on the back of bar napkins" in Orlando, FL as friends devised an oversized way to combine fun, exercise, and, of course, inflatables. While each venue offers different terrain, the organizers attempt to keep the course off pavement and on grass as much as possible. One to two water stops are placed along the route so participants stay hydrated.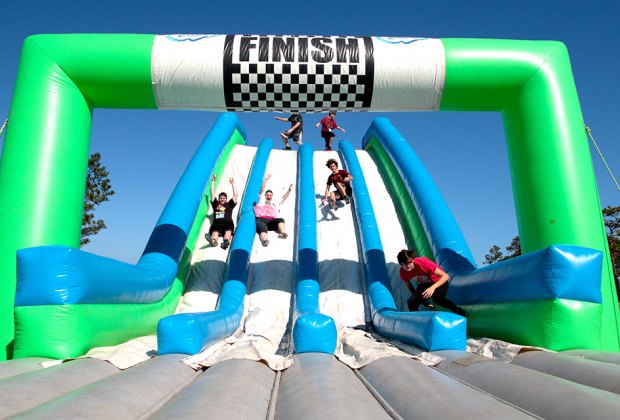 Finish off your 5k course by sliding down a giant bouncy slide.
Once you and the kids have conquered the course, you can visit the Insane Midway, where you can catch your breath, relax, and grab something to eat. Though the Midway attractions vary from one location to the next, attendees can expect to find food trucks, games, music, and activities offered by event sponsors at every location.
Organizers suggest that families arrive at least an hour before their appointed start time to allow for parking, check in, and stretching.
Tickets can be purchased online and are priced as follows: Krazy Kids course: $20, Insane Inflatable 5K: $40 and up. You can also save time by completing your waivers on the website ahead of time. For the sake of everyone's enjoyment and safety, you can register for a specific start time, and space is limited.
Ready to attempt this one-of-a-kind workout? The giant obstacle course will be visiting the following locations:
Chicago, IL: July 20
Hudson Valley, NY: July 27
Poconos, PA: Aug. 3
Buffalo, NY: Aug. 10
Syracuse, NY: Aug. 24
Albany, NY: Sept. 07
Harrisburg, PA: Oct. 12
Houston, TX: Nov. 2
Check out the complete list of locations here.
Photos courtesy of Insane Inflatables 5K