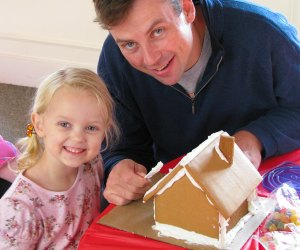 Gingerbread House Displays, Classes, and Competitions for NJ Kids
To really get into the holiday spirit this season, dig into some gingerbread. Whether you want the hands-on experience of learning how to make your own traditional house, or you prefer to peruse the creative works of others, these gingerbread classes, competitions, and displays are sure to keep things festive all season long.
Displays & Competitions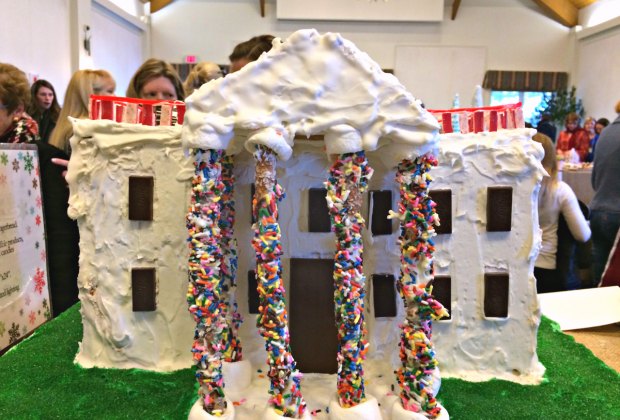 The White House gets the sweet treatment at Frelinghuysen's Gingerbread Wonderland. Photo by the author.
Gingerbread Wonderland – Morristown
On display December 1–10
Frelinghuysen Arboretum features nearly 200 creations that run the gamut from campground scenes submitted by scouts to more extreme feats of architecture. To enter, register by November 22. If you need some help, check out the arboretum's website for a gingerbread recipe and construction tutorial.
RELATED: Where To Have Breakfast with Santa in New Jersey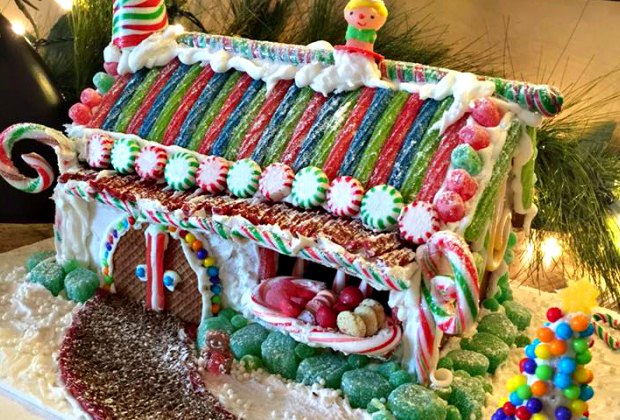 See amazing creations, and bring one of your own, to the Flanders Hotel. Photo courtesy of the hotel.
Gingerbread House Contest – Ocean City
On display December 1 – January 1
This annual event at the Flanders Hotel is fun for artisans of all ages. Many creations sport beach-inspired themes. And as always, Blue Dolfin Sweets of Marmora will display one of its grand, signature houses. No need to register; just drop off your house to add to the collection starting December 1. Every child who enters receives a prize.
Gingerbread House Contest – Long Valley
On display December 3
Register by November 30 to be a part of the Long Valley Junior Women's Club's annual competition. Ribbons and prizes from local sponsors will be awarded to winners in multiple categories. View entries on display while enjoying refreshments during this holiday celebration that includes a tree lighting.
Gingerbread Competition – Flemington
On display December 4–31
Hunterdon County Library invites bakers big and small to craft their favorite storybook tableau or Hunterdon County scene out of gingerbread, icing, and other sweet treats. Prizes are awarded for category winners. Register by November 17.
Sustainable Homes & Habitats Gingerbread Contest & Exhibit – Roseland
On display December 6–15
Sign up for a December 2 gingerbread workshop at Essex County Environmental Center, where staff can help you create a candy-coated masterpiece. Some materials are provided, but you're welcome to bring your own sweet bling. This is also the last day to sign up for the annual gingerbread house contest, which will focus on natural accents and green building design.
Classes & Workshops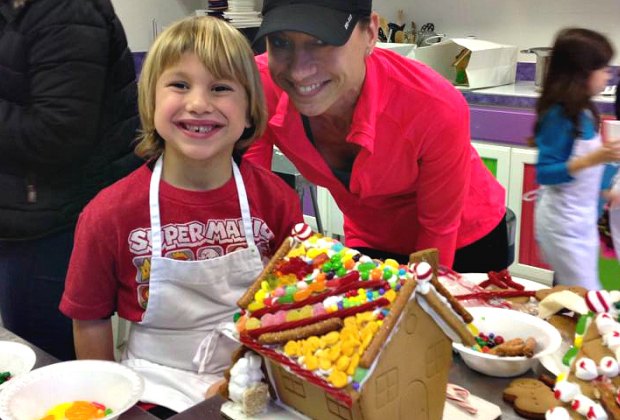 The whole family can decorate a pre-assembled house at Young Chefs Academy. Photo courtesy of Young Chefs.
Gingerbread House Workshops – Morganville
November 25–26; December 1–3, 8–10, 15–17, 21–22
The whole family is invited to participate in Young Chefs Academy's gingerbread decorating classes. Take a look at the sample structure on display, then take your pre-assembled home and embellish it with colorful candies. Feel free to snack on the treats while listening to seasonal music, and cap it off with a hot chocolate.
Gingerbread House Workshops – Atlantic City
December 2, 3, 9, 10, 16, 17, 23
Viking Cooking School at Harrah's Resort brings together young and old to collaborate on pre-assembled gingerbread houses. Use sprinkles, sparkles, and fancy sugars to bedazzle your home, and create surrounding items such as snowmen and fir trees to give it some seasonal context. Holiday snacks and beverages are included.
RELATED: A Dozen Must-Do Holiday Activities for New Jersey Kids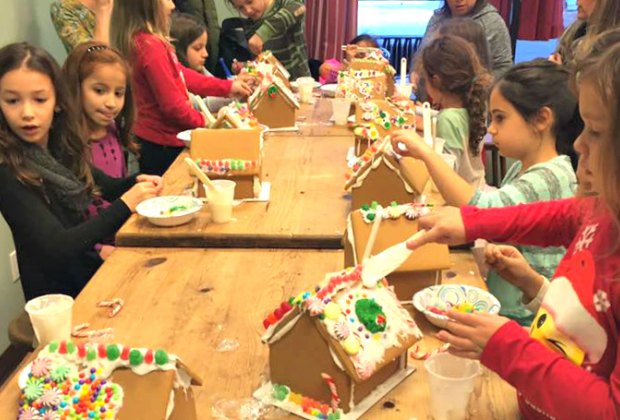 Enjoy cider and doughnuts while decorating a gingerbread house at Ridgewood Culinary Studio. Photo courtesy of the studio.
Gingerbread House Decorating – Ridgewood
December 2, 9, 15
Ridgewood Culinary Studio offers kids' classes that are great for individuals or small groups. Teachers begin with a pre-assembled gingerbread house and show how to add icing, candy, and even fondant. When it's time to leave, they package the houses in clear wrap and attractive bows. Donuts and apple cider are offered to the builders.
Gingerbread Sunday – Westfield
December 3
It's all things ginger at the Miller-Cory House Museum. Kids can try their hand at making a gingerbread house. When they are done, they can move on to another craft, then listen to stories and snack on refreshments. There will also be an open-hearth cooking demonstration, which will focus on early American recipes that incorporate ginger.

Kids can make a candy-coated masterpiece at Liberty Hall Museum. Photo courtesy of the museum.
Gingerbread House Workshop – Union
December 9 and 16
Kids can let their imaginations run wild at this Liberty Hall Museum event. They'll learn how to use icing to hold gingerbread pieces together, and then decorate with more icing, gumdrops, peppermint rounds, and other treats. When their work is done, kids can bring the houses home to proudly display all season.
Gingerbread Creations – Tinton Falls
December 9
Build a gingerbread house from start to finish at the newly revamped Fort Monmouth Recreation Center kitchen. Kids will learn how to roll out the dough, bake it, build it, and add festive frills to make their vision a reality. Teachers will share their tried-and-true tips and tricks, including how to make royal icing—a recipe that can be used throughout the year for various baked goods.
Iggie's Gingerbread – Hoboken
December 16
Sugarsuckle hosts this sweet workshop based on a children's book about a hedgehog named Iggie who wants to open a gingerbread shop. Participants can assemble and decorate a small gingerbread house to take home, and all will receive a copy of the book.