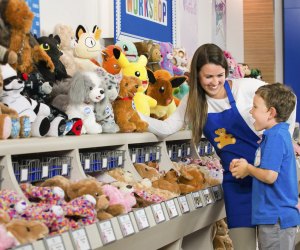 Build-A-Bear Has a New Pay-Your-Age Contest, without the Lines
Making a puffy, fuzzy DIY toy at Build-A-Bear is a great experience, especially for a birthday gift, but those bears are far from free. So it was no surprise last year that the company's big Pay-Your-Age Day (5 years old, get any toy for $5) resulted in lines not only out of the stores but out of the buildings—and lots of angry parents when lines were shut down. The good news? Build-A-Bear is doing the popular event again, but doing it differently this year.
Instead of asking people to wait (and wait) in line this year, Build-A-Bear is stepping into the 21st century by giving everyone a chance to win a ticket for a Pay-Your-Age toy online. First, you'll have to become a Bonus Club Member (it's free) and fill out your kid's birthday profile. The site will then prompt you to enter the ticket offer.
Even though there's likely to be grumbling that not everyone who wants a toy will get one, this is still a big improvement over last year's chaos. The company is expected to distribute more than 200,000 tickets for Pay-Your-Age toys; and while there's bound to be some disappointment, it should be a whole lot easier to manage than standing in line for hours with an excited kid, only to be handed a coupon and sent away.
Enter between now and 11:59pm Eastern (8:59pm Pacific) on June 16, 2019. No worries if you don't get to it today, since you can only enter once anyway, but get it done by Father's Day! Winners will find out if they made the cut by June 21 via email. Then be ready to make that bear pronto; winners are assigned a time during one of two redemption periods, to shop between June 24 and 28. You can make one toy per child present, with a limit of two toys per ticket.
Even better, 10 entrants will win the Count Your Candles Sweepstakes grand prize of a birthday party experience, to use any time in the next year, valued up to $250. All that, plus joining the Bonus Club qualifies your kids for a Pay-Your-Age critter on their birthdays every year, too—pretty much a win-win.
So what are you waiting for? Log on, enter, cross your fingers, and build a bear!