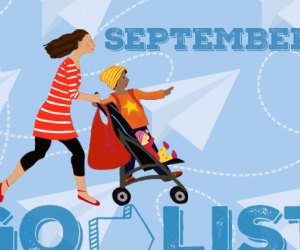 September GoList: The Best Things to Do With Kids in Westchester
Though September signals the closing of beaches and pools and the end of summer, there are so many scheduled events this month in Westchester and the Hudson Valley, it's hard to feel down about it! With fall festivals, film festivals, and non-festivals, the events this month are plentiful.
Though Halloween might seem a ways off, trust us: You don't want to delay snagging your tickets to The Great Jack O'Lantern Blaze, which go on sale to the general public September 3 (a moment's delay, and you'll wind up with a date closer to Thanksgiving). And the New York Renaissance Faire, which runs through early October, is worthy of a reminder after being featured in our August GoList, as is CORNucopia, which bridges August and September.
Beyond these, there are many reasons to keep tabs on our Event Calendar this month, where you'll find activities that celebrate Labor Day, the return to school, Grandparents Day, and the start of autumn, among other occasions. Stay in the know with our newsletters and check back frequently for updates.
New York International Children's Film Festival: Westchester – Pelham
Friday, September 6–Sunday, September 8, 2019
This annual cinematic event showcases short films from around the world specifically geared to young audiences. Filmmaking workshops for kids are also planned.

Have a blast at the FREE Play2Learn Festival in Harrison on September 7. Photo by LoAn Austin/Harrison Public Library
Play2Learn Festival – Harrison
Saturday, September 7, 2019
Celebrate the importance of play in a child's life with over 40 hands-on activities grouped into "zones" like Technology, Construction, Make-Believe, Sensory, and Music & Dance. Enjoy large vehicles, a teddy-bear clinic, the Bubble Bus, STEAM, community art, yoga, and more. FREE Register in advance. FREE
Revolutionary War & Burning of Bedford Re-enactment – Bedford
Saturday, September 7, 2019
Enjoy Patriot and British cavalry demonstrations; an encampment; musket drills; colonial games and dances; tours of the 1787 Court House, Bedford Museum and the oldest jail cell in Westchester; lessons with the School Marm at the 1829 schoolhouse; a libation ceremony honoring veterans; constitutional photos; and a grand finale Burning of Bedford re-enactment. FREE
Community Family Campout – Katonah
Saturday, September 7-Sunday, September 8, 2019
Interested in camping but not ready to rough but not into a deep-wilderness retreat? This lower-key campout offers games, a campfire, breakfast, and ice cream. B.Y.O. dinner (charcoal grills available for use).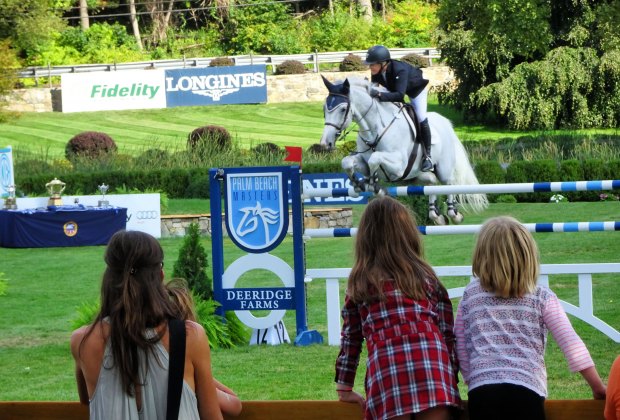 Cheer for the horses and riders at theAmerican Gold Cup in North Salem. Photo by Susan Miele
American Gold Cup – North Salem
Wednesday, September 11 – Sunday, September 15, 2019
This prestigious equestrian event takes place over five days, with enormous prize money at stake. In addition to watching the horse-jumping events, enjoy such family-friendly attractions as pony rides, face painting, a magic show, celebrity sightings, and more (weekend only). Weekday events are FREE.
Peppa Pig Live! Peppa's Adventure – White Plains
Thursday, September 12, 2019
Get ready, preschoolers, 'cause Peppa Pig is coming to town! The popular TV character is starring in a live stage show that's touring the country, joined by George, Pedro Pony, Suzy Sheep, and Gerald Giraffe as they take a musical romp on a camping trip.
Riverfest – Yonkers
Saturday, September 14, 2019
With an estimated 25,000 people expected to attend, this all-day event returns with music on multiple stages, arts and crafts, and more—all FREE.
Go the Distance Walk and Family Fun Day – Valhalla
Sunday, September 15, 2019
This annual fundraiser features a casual one-mile walk plus family activities such as face painting, bounce houses, crafts, carnival games, The Bubble Bus, character appearances and more—all while supporting a charitable cause. Form a team or go solo. FREE
Armonk Cider & Donut Festival and BHPA Carnival – Armonk
Sunday, September 15, 2019
Get your fix of fall treats at this annual festival, plus live music, kids' races (even for toddlers!), carnival rides, and more.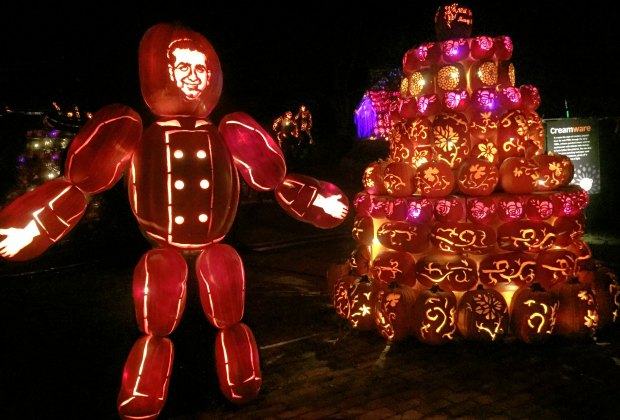 Snag your tickets now for the Great Jack O'Lantern Blaze, a can't-miss Halloween event! Photo by Susan Miele
The Great Jack O'Lantern Blaze – Croton-on-Hudson
Various dates from September 20 through November 30, 2019
At this wildly popular event, families can marvel at more than 7,000 hand-carved, illuminated jack-o'-lanterns displayed all over the 18th-century grounds of Van Cortlandt Manor. This event positively sells out (quickly!), so be sure to grab your tickets pronto.
The Best of the New York International Children's Festival – Pleasantville
Sunday, September 22, 2019
Highlights of the New York International Children's Film Festival will be presented, with screenings arranged by age group, each presenting short films from countries as diverse as Guatemala, Lithuania, South America, Sweden, and Japan.
Jay Day – Rye
Sunday, September 22, 2019
A panoply of attractions are in store at this event designed to celebrate American culture and customs. Expect live entertainment, literary events for kids, vendors, pony rides, historical immersion, face painting, and more.
Hiplet Ballerinas – Valhalla
Saturday, September 28, 2019
Westchester Community College hosts this innovative dance performance. Traditional ballet technique is fused with African, Latin, urban, and hip-hop styles, incorporating African drums with Tchaikovsky, and arabesques with beat-boxing and tango on pointe.
Be sure to check our Event Calendar for even more events happening this month and beyond in Westchester and the Hudson Valley!