Outdoor Dining for LI Families in the Hamptons & North Fork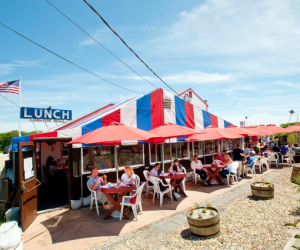 There's nothing quite like dining outside near the sand and surf. And while it's a must-do for couples, these days outdoor dining isn't just a dating ritual. More and more, restaurants are opening their (out)doors to families eager to share a meal under the summer sun.
We've rounded up some of our favorites from both forks whose menu, location and attractions make them ideal choices for parents with hungry kids. Late summer is the perfect time for outdoor dining and more, so check out our Hamptons and North Fork Family Guide for the best in what's happening in the area.
Crabby Jerry's at Claudio's Clam Bar
111 Main St., Greenport
631-477-8252
Part of the famed Claudio's restaurant chain of downtown Greenport, Crabby Jerry's caters to families eager to enjoy harbor views, sunsets and simple, self-ordered food. As you might expect, the menu is heavy on seafood, but there are landlubber options, including burgers, chicken, fries and more. Kids will love Shelter Island ferry, the boaters on Peconic Bay and the short walk to the carousel and other tourist attractions.
Gosman's Dock
West Lake Drive Montauk
631-668-2549
Gosman's is the quintessential Montauk hangout, and the Dock offers kids great views, great food and in the summertime the excitement of watching the fishing fleet load off their catch. There are four restaurants at this touristy spot, but the clear choice for outdoor dining with the family is the clam bar. Kid-sized chicken tenders and mac and cheese supplement the regular menu, but steer the kiddies toward the seafood--it's among the freshest in Montauk.
La Fondita
74 Montauk Highway, Amagansett
631-267-8800
Upscale Mexican takeout is served in a picnic-table environment at this Amagansett bistro known for its fresh ingredients and ample children's portions. The restaurant is cleverly decorated and the children's menu (burritos, black beans and rice and more) is perfect for parents eager to introduce kids to international flavors.
The Lobster Roll
1980 Montauk Highway, Amagansett
631-267-3740
Among seafood lovers, few places can rival this Amagansett institution, situated just feet from the Atlantic Ocean. Celebrating its 50th anniversary in 2015, The Lobster Roll advertises an all-natural, gluten-free menu sure to delight health-conscious parents. Kids will come for the sun, but parents will find the celebrity spotting just as entertaining.
The Lobster Roll Northside
3225 Sound Ave., Riverhead
631-369-3039
The Lobster Roll's North Fork sister sits, appropriately, in a refurbished North Fork farmhouse. But what will draw the kids, especially young ones, is Gingerbread University next door. A reasonably priced kids menu is available for children 12 and under with outdoor, picnic-style seating. No need to wait for the holidays, after dinner create and decorate your own gingerbread house at the largest self-decorating center in the country.
Oaklands and Sunday's on the Bay
365 and 369 Dune Road, Hampton Bays
631-728-2611
Sunsets and live music draw an adult crowd in the evenings, but this pair of family restaurants serves up a lavish kids menu of pizza, chicken penne, chicken tenders and more for $10 and $12, including a soft drink (as of August 2015). After dinner, enjoy the bayside view as Hampton Bays' fishing fleet arrives after a day's work, or take a walk along the jetty at Shinnecock Inlet.
SALT Waterfront Bar and Grill
63 S. Menantic Rd., Shelter Island
631-749-5535
This upscale dockside eatery features fresh shellfish, fish tacos, barbecue and more for adults, and an eclectic children's menu that includes hummus, sushi and burgers. Boaters can tie up for a meal and a sunset sure to bring a smile to any young one's face.
Photo: The Lobster Roll