Great Small Towns in NJ: Nutley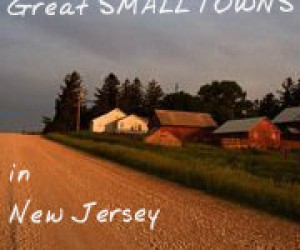 Tucked between Montclair and Clifton, Nutley is a charming small town located 10 miles from Manhattan. It may be known as the birthplace of Martha Stewart, but this quaint little Essex County village is also full of parks, annual events, and family-friendly eateries. If the idea of a sweet little village floats your boat, check out our other posts on Cranford, Millburn, Chester and Sparta. Get out there and explore our great state in one of these wonderful small towns!

Things to Do
Although Nutley's borders only cover three square miles, it's home to more than nine public parks and playgrounds. Yanticaw Park (Centre Street and Park Drive) boosts a fieldhouse, multiple fields, a bocce court, shuffleboard and two foot bridges. Memorial Park, aka "The Mudhole", is known for its playground and kid-friendly duck feeding area.
If you are looking for an indoor activity, stop by Nutley Historical Society and Museum (65 Church Street). This local museum features the rich history of Nutley, tours, concerts and monthly events. And try out Chef It Up! (512 Franklin Avenue). This new kid-cooking venue offers parties, classes and school trips.
Places to eat
If you are looking to chow down, Nutley has several family friendly options any hour of the day. For breakfast, stop by the Pancake Palace (547 Franklin Avenue), the Nutley Diner (372 Centre Street) or the Chestnut Café & Eatery (338 Passaic Avenue).
Lunch and dinner options vary from The Steakhouse (522 Franklin Avenue) to Lil Burgers (223 Franklin Avenue). Jim Dandy's of Nutley (563 Franklin Avenue), Michael's Pastaria (143 Franklin Avenue) and Loue's Place (185 High Street) are also great options for the entire brood.
If you are craving a little sugar, then Jarets Stuffed Cupcakes (231 Franklin Avenue) is an excellent option for cold winter days. They offer a vary of cupcakes flavors, including Peppermint Twist and Egg Nog, as well as several hot chocolate flavors. Gigio's Gelateria (11 High Street) offers authentic Italian gelato and fresh crepes, but is currently closed for the winter. Yo-lish (217 Franklin Ave), Rita's (371 Centre Street) and Applegate Farm (397 Centre Street) offer a mix of frozen yogurt, Italian ice, custard and homemade ice cream.

Upcoming Events
Nutley is home to an annual St. Patrick's Day parade; a Columbus Day parade; a seasonal farmer's market and a 5K run hosted by the Chamber of Commerce. Franklin Avenue accommodates several craft and street fairs throughout the year and residents are invited to holiday events such as the Trunk or Treat or Santa's Arrival (via helicopter)!
Nearby Nutley
Medieval Times Dinner & Tournament (Lyndhurst, NJ), Yoga Berra Museum (Montclair, NJ), Brunswick Bowling (Belleville, NJ), Montclair Art Museum (Montclair, NJ) and the Meadowlands (Secaucus, NJ) are all within a ten minute drive from Nutley's town center.