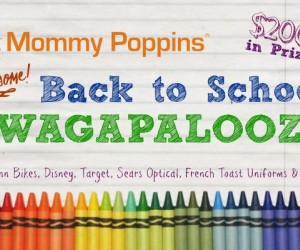 Back to School Swagapalooza Giveaway 2013
It's back-to-school time, when parents heave a joint sigh of relief/groan of pain as they send their kids off to be educated for another year. To help you ease back into the new school routine, we're doing a huge giveaway with back-to-school essentials and swag.
We've got some amazing prizes that you and your children will love. Brand-new bikes, a year's supply of school uniforms and vitamins, backpacks, books, school supplies and more. Click on each link to enter that giveaway. You must enter each giveaway separately to be eligible to win that prize.
There are multiple ways to enter. Plus you can share with your friends to earn even more entries, and spread your entries out throughout the giveaway week. Pay attention, though, because each giveaway ends on a different date. Good luck!
2013 Back to School Swagapalooza Giveaways:
Love Mommy Poppins' giveaways? Help us by sharing this giveaway using the sharing tools below.