Best Kids' Consignment Shops Near Houston
8/21/22
- By
Rebecca Matheson Ortiz
It's no secret that kids grow up fast. And with all that growing, it can start to feel like their closets are just revolving doors of clothing. You know what I mean—as soon as you buy the new shoes and clothes and get their closets organized, they grow right out of them and you have to start over again from scratch. This seemingly endless cycle can cost a small fortune and create boxes and boxes of clutter.
These kids consignment shops near Houston are a great solution to the problem! Many of these consignment shops in Houston offer mostly children's items. Save your money and make some, too, as you recycle your children's gently used hand-me-downs and baby gear, upgrade their wardrobes, and clear out your attic. If you like the idea of consignment, but prefer to do it online, check out our guide to online consignment shops.
Top Children's Consignment Shops Near Houston
Children's Collections is a great consignment shop near Houston that has everything you could need for your little one. From maternity clothing for moms-to-be and new and used children's clothing to nursery furniture and equipment, toys, books, and more, you're sure to find some neat treasures here. If you're looking to sell your gently used items, quotes can be made online or with a quick call to the shop.
Thread is a by-appointment-only children's consignment shop near Houston that has a wide selection of baby gear and on-trend baby and children's clothing. Stock up on (or sell) all the equipment you could think of, including baby carriers, strollers, bassinets, and even the occasional water slide. And make sure to browse the latest clothing, shoes, accessories, and more, to have your kids looking cute and feeling comfortable in every season.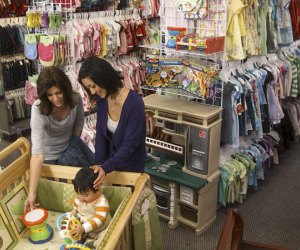 Photo courtesy of Once Upon a Child
If you're looking for a place to buy and sell gently used kids' items, look no further than Once Upon A Child. With multiple locations throughout Houston, this resale shop is easy to access and usually boasts a great selection of items in all sizes and categories. Whether you need sports and dance gear, clothing, toys, equipment, furniture, or maternity clothes, Once Upon A Child has you covered. And selling is usually quick and easy, making it a top choice for Houston parents.
If you're looking for that perfect smocked outfit for your next occasion or need to sell the precious Matilda Jane outfits your little one outgrew and replace with a new batch, Second Childhood is the place for you. Offering new and resale items, this consignment shop near Houston's Galleria area is the hot-spot to shop for those name-brand looks and precious keepsake outfits at a fraction of the cost.
Kid to Kid – Multiple Locations
Another staple in greater Houston, Kid to Kid has been helping parents across the nation recycle their kids' lightly used items and clothing for 30 years. From name-brand outfits to sports equipment, seasonal items, accessories, and baby gear, Kid to Kid is the perfect place to save some cash on top-notch clothes and equipment while making some money on goods you're ready to pass on to the next family.

Photo courtesy of the Lollipop Boutique, a cute children's consignment shop near Houston.
Cute and well-organized, the Lollipop Boutique in Pearland offers a great selection of children's clothing, shoes, gear, maternity clothes, and more. This consignment shop near Houston covers the needs of kids from birth to adult, with lots of excellent toys, too. If you can't make it in to the brick-and-mortar location, no worries! You can shop clothing directly from the website. If you're looking to consign, don't stress about sorting for seasonal items only - they accept items in excellent condition for every season all year round.
Retail Therapy is a consignment shop near Houston that offers unique goods for women and children. Whether you choose to shop online or visit the store, you're sure to find an array of new-to-you goodies to meet your kids' (or your own!) latest clothing needs. This resale shop carries baby and kids clothing from sizes newborn through 16 as well as women's clothing, purses, jewelry, and more. Pop by and browse for affordable, quality apparel or to consign your own gently used items.

Buy for the whole family at MAM Resale. Photo courtesy of MAM Resale Store and Boutique
Built to bring communities together, MAM Resale is a thrift shop near Houston that offers a little something for everyone. Here, you'll find a wide variety of goods, including clothing for men, women, and children, as well as art, furniture, home goods, and more. Stop by for a new pair of soccer cleats for your little athlete and leave with a whole new wardrobe. Donations of new and gently used items can be made to this non-profit resale shop from Tuesday through Saturday.
Great Children's Consignment Events Near Houston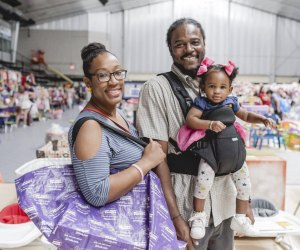 Photo courtesy of Just Between Friends, a children's consignment event in Houston.
Though it's not a store in the traditional sense, Just Between Friends is an incredible way to shop and sell tons of children's items right in your own neighborhood. This organization puts on local sale events where community members just like you can set up items and shop around all in one location. These events are a great way for busy moms to find cute clothes, save some money, make some money, and maybe even make a new mom friend or two in the process.
Make money selling your child's lightly used items while you save cash on their next wardrobe at a Kids Closet Connection consignment sale event. Local Houston parents can submit their items for consignment while neighborhood moms and dads can shop the admission-free sale for hot finds from their own community members. These pop-up sales are easy to join; just register your items, hand them over, and watch as the sales are made.