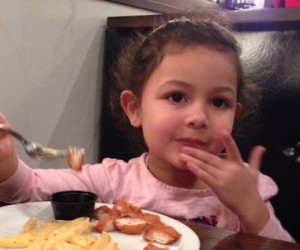 Family-Friendly Restaurants in Connecticut (Hartford County)
Going out to eat with kids can be a daunting task. No one wants to be the family with that child, the one who doesn't want to sit in a seat, makes loud noises or keeps asking, "When will the food be ready?" (In other words, a normal kid.) We've put together a list of restaurants in the Hartford area that feature fun themes, children's meals and activities sure to occupy your little one so you can relax and enjoy a night out with the family. We've also rounded up some of our favorite family-friendly restaurants in New Haven County here. Bon appétit!
Try going out to a Japanese style hibachi restaurant where the chefs cook in front of you and put on a show -- making fire explode from an onion "volcano", squirting water into your mouth, pulsating the fried rice so that it looks like a beating heart. Yume in Unionville has reasonable prices and delicious food. While your children are enjoying the entertainment, you can sit back to enjoy some sake!
45 South Main St., Unionville, CT 06085
East Side Restaurant in New Britain describes a visit there as like traveling to Germany without the passport. Authentic German food and beer steins requiring two hands to tip are served by waitstaff dressed in traditional German attire while an accordian player cranks out Old World tunes. The warm, Bavarian atmosphere makes for a unique dining experience that is entertaining for all ages. A children's menu offers both authentic German items like bratwurst over sauerkraut and more typical kids fare, such as chicken nuggets.
131 Dwight St., New Britain, CT 06051
Adventurous pizza lovers will enjoy the specialty pizzas with creative toppings at Randy's Wooster St. Pizza. You can try Skippy's Dare (a pizza covered in Peanut Butter and bacon) among myriad specialty pies. Rest assured, however, for those of you with kids like mine, there is also plain cheese. The hot wheels themed décor has life-size monster truck wheels covering the walls and related paraphernalia. There is also a game room in the back.
1000 Tolland Turnpike, Manchester, CT 06040
Butterfly in West Hartford is a traditional, sit-down Chinese restaurant that has a family-friendly atmosphere in the afternoon and evening hours. The bright, spacious dining area has large fish tanks and booths -- we requested a booth right next to one of the tanks, which kept my kids entertained for most of the meal. The menu offers a large selection of all the typical fare you would expect, followed by fortune cookies. The food is fresh and you can ask the chef to adjust spiciness based on your preferences.
831 Farmington Avenue, West Hartford, CT 06119
If you are looking for Mexican, On the Border is a good choice when you have kids in tow. There are both booths and large tables where you can easily pull up a high chair in the large dining space. Kids will be occupied by the cool decor and bottomless basket of chips; you will appreciate the tableside guacamole and made to order margaritas. A colorful kids menu with printed activities (mazes, riddles, coloring) details the kids offerings, which include more adventurous fare alongside the requisite chicken tender and hamburger options.
1519 Silas Deane Highway, Rocky Hill, CT 06067
If you have a hankering for Indian, Bollywood Grill in Glastonbury is a good bet. The spiciness of the dishes can be customized as extra mild, mild, hot, or extra hot. There is a kids menu although, as a warning to parents of picky eaters, all of the items are still prepared Indian style (e.g., chicken tenders are spiced and dipped in chickpea batter). The naan, however, will be hard for anyone to resist. You should be prepared to bring your own activities to occupy young children while you wait for your food.
Main Street Office Center, 2333 Main Street, Glastonbury, CT 06033
Wood-n-Tap offers solidly American fare and is perhaps best known for its bar bites. The original restaurant opened in 2002 in Hartford but now has expanded to 7 locations, 5 in the greater Hartford area. I was sold on Wood-n-Tap when, instead of a generic activity menu, my kids were given packets of Wikki Stix (this is standard practice -- if you go with kids, make sure you get your Wikki Stix!). These ingenious, waxy little sticks can be molded and remolded into various random sculptures, letters...you name it. In fact they're still going strong at my house. Sometimes, it's the little things, like Wikki Stix, that transform a tense meal into a relaxed outing, where my husband and I could enjoy a beer while my kids had plenty to occupy them before their meals, selected from a Little Tapsters menu with enough choices to satisfy even the pickiest eater, arrived.
99 Sisson Avenue, Hartford, CT 06106
1274 Farmington Avenue, Farmington, CT 06032
420 Queen Street, Southington, CT 06489
12 Town Line Road, Rocky Hill, CT 06067
236 Hartford Turnpike, Vernon, CT 06066
Updated 3/19/15.