Easter Brunch or Dinner Delivery: Chicago Restaurants Offering Takeout Holiday Meals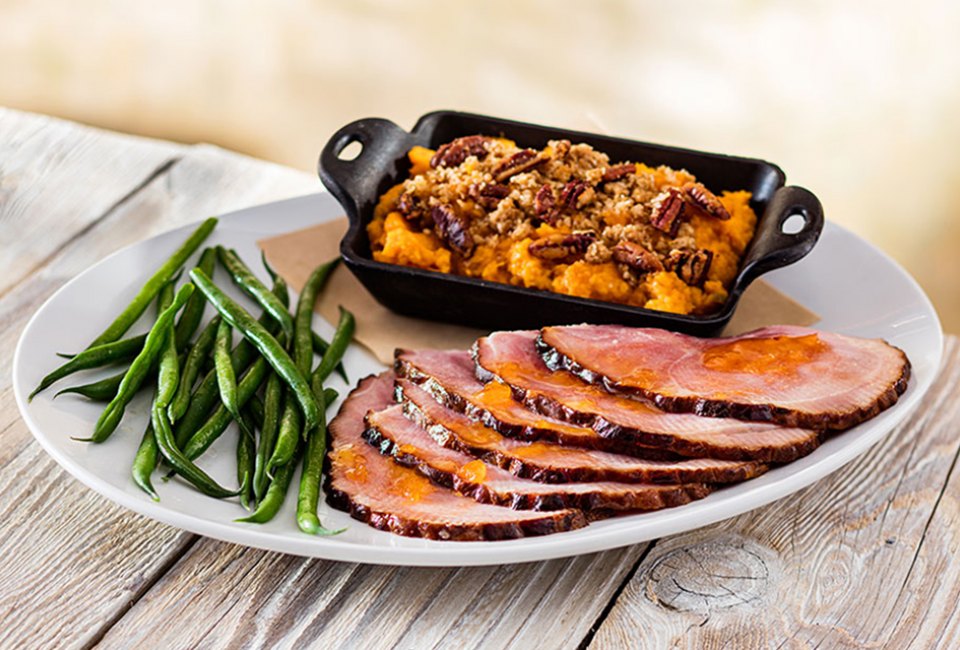 4/6/20
- By
Maureen Wilkey
Families may not be able to get together in person for Easter brunch or Easter dinner this year. However, Chicagoans can still enjoy a decadent meal from a variety of local restaurants. Outsourcing your Easter menu to one of these eateries to prepare the ham, prime rib, lamb, or even a moussaka can take the stress off quarantined parents and leave time for the Easter bunny to make his annual visit. Some venues also offer their wine and cocktail menu for takeout and delivery patrons.

Many restaurants require families to order in advance. Some meals are fully prepared while others require heating, so parents should plan ahead even if they're not preparing the whole meal.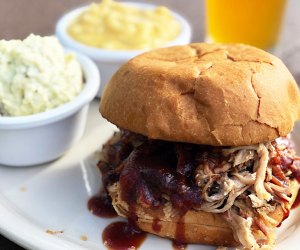 Pulled Pork and scrumptious sides make for family-friendly Easter dinner.

Kid-friendly pricing
Darien (331-431-4000) and Burbank (708-229-8700)
Chuck's will scale down its traditional catering menu into servings fit for five people. At $13.99 per person, families can enjoy smoked ham, smoked chicken, pulled pork, smashed red potatoes, mac and cheese, and a choice of veggies. Trays of salad, quarts of soup, cookies and brownies are also available. Chuck's will be open for curbside pick-up from 11 a.m. to 2 p.m. in both its Burbank and Darien locations.
Schiller Park
847-671-7171
At just $12.95 per person for a minimum of five people, families can enjoy turkey, sweet potatoes mashed potatoes, corn, cranberry sauce, bread and desserts. An additional $2.95 per person buys ham with pineapple sauce, polish sausage and sauerkraut, susage and peppers, meatballs, mustard crusted bass, or ribs. Pick up is available on Easter Sunday from 10:30 a.m. to 3 p.m.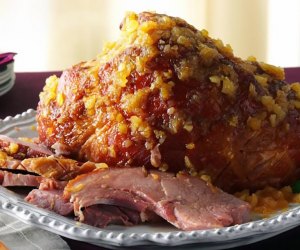 At Entree Kitchen eat meal feeds up to six!
Carol Stream
630-668-4450
A more brunch-y meal is available at west suburban Entrée Kitchen, where families can pick up a meal on April 10 or 11 in advance of Easter to heat up as the egg hunt ensues. Each meal feeds up to six for $57.99 and guests can choose between Amish breakfast casserole, Monte Cristo brunch casserole with raspberry sauce, Monterey quiche, or oven baked cinnamon French Toast with streusel topping. The meals also include season potatoes and breakfast sausage links. Ham, fruit and desserts are available ala carte.
Wheaton
650-868-3777
Families looking for a more extensive menu can enjoy everything from French toast bread pudding to chicken wild rice casserole to whole roasted beef tenderloin from this Wheaton caterer. Entrees range from $5.50 to $26 per person. Families must place an order by Wednesday, April 8, for pick up between 12 and 4 p.m. on April 11.
Northwest Side
773-736-9009
Families can select from brunch (egg, meat, potatoes, and side) or dinner (turkey, beef tenderloin, pork loin or honey ham with choice of salad, veggie and starch) for pick-up or delivery from this northwest side caterer. Throw in a six back of beer, bottle of wine, or liter of liquor for an extra fee.
Mid-range meals
Multiple locations throughout Chicagoland
Indulge with a prime ribeye steak dinner complete with salad, two sides, and a tiramisu dessert for curbside pickup at any of Francesca's 16 Chicago area locations for $36 per person. A four-bottle mix-and-match wine add-on is also available for $79.99.
Elmhurst (630-402-6195) or Geneva (630-402-6444)
Choose two entrees from ham, prime rib, roast lamb shoulder, or Alaskan halibut from these west suburban eateries. Meals also include one salad, two sides, and one dessert for $36 per person. Half-price bottles of wine are also available for pick-up only.
Oak Brook (630-571-4752) and Schaumburg (847-517-5252)
Glazed spiral ham ($100) or wood-grilled beef tenderloin ($140), along with sides that include salad, sweet potatoes, green beans and mini-indulgences desserts can feed families of 4-6 in the western or northwestern suburbs. Parents can also splurge on a bottles of champagne and OJ for DIY mimosas for an extra $25. Curbside pick-up for these heat-at-home meals starts on Good Friday.
Norridge
708-452-6040
Families of 4-6 can enjoy a full Easter dinner from this German American restaurant complete with sliced ham with Bing cherry sauce, soup, dinner rolls, mashed potatoes, vegetables, and a whole apple pie for $99.95. Individual ham or chicken schnitzel dinners will also be available for pick up. Edelweiss is accepting orders over the phone through Wednesday, April 8.
Naperville
630-780-6464
For $29 per adult and $14 per child, families can enjoy no-touch curbside pick-up for ham, prime rib, rolls, caramelized carrots, mac and cheese, mashed potatoes, roasted Brussels sprouts, and lemon blueberry Bundt cake. Ala carte items include cheese and charcuterie boards for $6.50 a person, as well as wine and beer.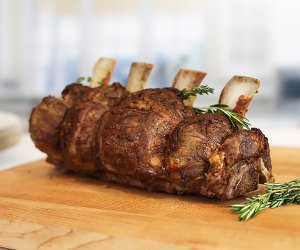 The Capital Grille has created a very special family-style Easter menu for customers to enjoy at home.
Indulgent Easter
Downtown (312-337-9400), Lombard (630-627-9800), Rosemont (847-671-8125) and Schaumburg (847-969-0290)
Capital Grille is offering a three-course family style dinner for $185, serving 4-6 guests. The meal includes a whole rack of bone-in filet, grilled asparagus, mashed potatoes and apple crostada. Meals can be ordered ready to serve or chilled for cooking at home. Parents can also indulge in the restaurant's wine, champagne, or Stoli Doli martinis in select locations.
River North
312-595-1114
Families can order a comforting family-style dinner featuring herb-roasted tenderloin, truffle macaroni and cheese, grilled asparagus, potatoes gratin and bananas foster butter cake for $185. Guests can also order uncooked steaks to prepare at home. Meals are chilled for reheating at home.
Indulge in a carrot cake from Prairie Grass Cafe.
Northbrook
847-205-4433
Go beyond the famous burgers at Prairie Grass with choices of entrees such as sliced ham, moussaka, parmesan-crusted halibut, or a vegetarian strudel. Packages range from $42 to $50 per person and include spring green salad, asparagus, and carrot cake. Curbside pick-up is scheduled for Sunday and guests are encouraged to phone in their orders by April 9.