5 Walkable Towns North of Boston to Explore with Kids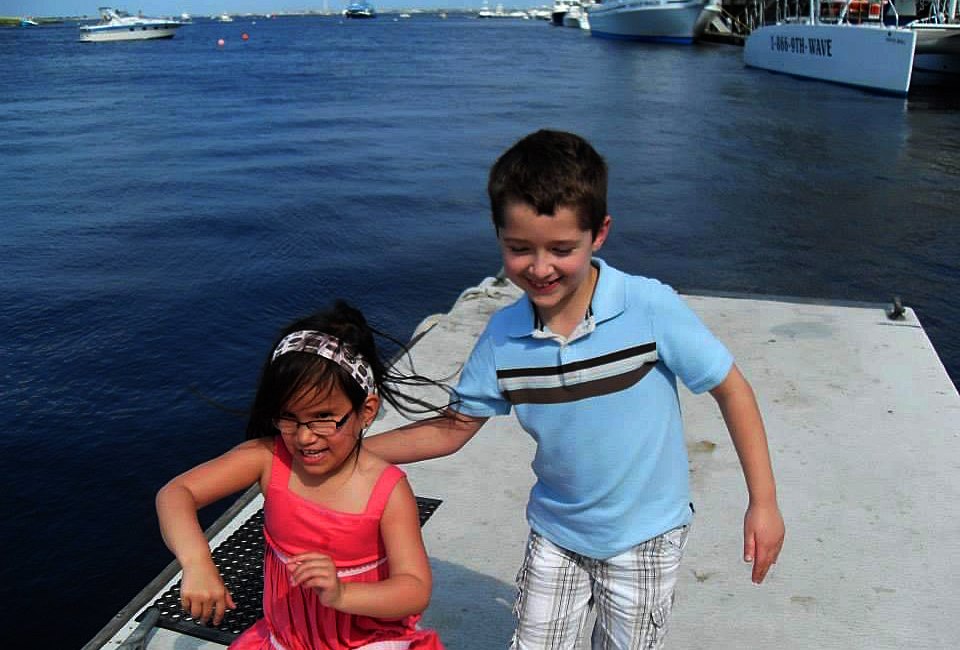 9/16/21
- By
Catherine Aillon
When the weather is mild, it's easy to explore cities north of Boston with walkable downtowns, plenty of activities, and waterfront vistas. For Boston families looking to fill a day enjoying the salty air, the North Shore has a lot to offer. Although summer is over, is the sea still calling? A low-cost destination, walkable towns are particularly attractive for spending a crisp autumn afternoon or a spring day. So take out that baby stroller, grab a few snacks for the kids and some bottled water, and head to one of these historic downtowns. These coastal communities on the North Shore are great to visit on a Saturday or Sunday.
For more adventures with kids, see our lists of fun New England fall day trips, best fall activities in Boston, and great hikes near Boston.
5 Walkable Cities in the North Shore By the Water

Walk down to Rockport Harbor to view one of the most photographed buildings, known as Motif No. 1, and watch the boats. Photo courtesy of Catherine Aillon
About 40 miles northeast of Boston lies the seacoast town of Rockport, which embraces a picturesque peninsula known as Bearskin Neck. Here in this charming enclave, visitors will find one-of-a-kind shops, eateries, and a breezy downtown to explore with endless views of the water.
Best Things to do With Kids in Downtown: On our list of the best things to do with kids in Rockport is taking your snap of the famous red fishing shack, known as Motif No. 1, which is reputed to be the most photographed site in New England. You can also watch fudge being made at the Rockport Fudgery on Saturdays from 2-5 p.m. and browse kid-friendly shops like Susie's Stories, Happy Whale Toys & Games, The Paper Mermaid, and Tuck's Candy and Gifts. There's also a calendar of events at the Shalin Liu Performance Center. For tired little feet, rest at the end of Bearskin Neck. There are benches to sit and watch the boats go by and great spots to take family pics.
Local Snacks or Eats in Downtown: If you need a pick-me-up and a pastry, try Brothers Brew Coffee Shop or for an Austrian twist, try Helmut's Strudel. There's also three ice cream shops on Bearskin Neck: The Ice Cream Store, Sundays, and Rockin' Cupcakes.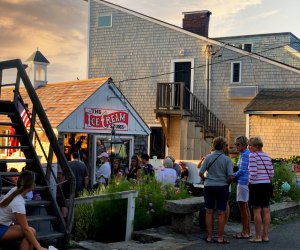 A stroll by Rockport's shops is more fun with ice cream. Photo courtesy of Catherine Aillon.
For visitors that love river and marsh views, then Newburyport is for you. Situated along the Merrimack River, it's 35 miles northeast of Boston. Its downtown is packed full of charm with its brick front shops and restaurants, cobblestone streets, and street lamps. As you stroll along its downtown, the tangy, salty scent of sea air means you are near the water. It's a great place to enjoy the outdoors with the kids as you embrace fall.
Best Things to do With Kids in Downtown: Stroll along the Newburyport Boardwalk and admire the local wildlife. Relax at Waterfront Park and watch the kids get their exercise in. Browse the Tannery Marketplace for local arts, crafts, and gifts ideas. Until Thanksgiving, the marketplace hosts an outdoor Sunday farmers' market from 9 a.m. - 1 p.m.
Local Snacks or Eats in Downtown: For something sweet, grab a treat at Buttermilk Baking Company or for a lunch break, try Stone Crust Pizza, Abraham's Bagels & Pizza, or nearby, Port Pizza & Subs.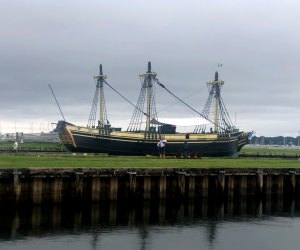 Go aboard The Friendship, a schooner anchored at Pickering Wharf in Salem. Photo courtesy of Catherine Aillon
Salem is great to visit in the fall, though crowds swarm when it's close to Halloween. If you're the type of visitor that enjoys walking along cobblestone streets and drinking in Mid-19th Century Revival, Colonial, Georgian, and Federal architecture, your cup will run over in Salem. If your child loves Harry Potter, then this is the place to go for all things magic in New England. Downtown Salem is bustling, and it's well worth the trip to experience fall in Salem with so much to see and do.
Best Things to do With Kids in Downtown: Walk along Chestnut Street on a fall day and take a glimpse of the historic homes in all their autumn glory. A standout historical home to visit is the House of the Seven Gables. For other great outdoor visits, stop by the Salem Maritime National Historic Site and Pickering Wharf Marina. For Harry Potter fans, Enchanted is a great place to start. There's also the Salem Witch Museum and The Witch House at Salem to learn some history. A great cultural experience for the kids is the Peabody Essex Museum. Though one of the oldest museums operating in the United States, PEM has undergone world-class renovations and a more recent gallery and garden expansion.
Local Snacks or Eats in Downtown: A great place to sip and relax for families is Jaho Coffee & Tea. A great place to grab a snack is Popped! Gourmet Popcorn & Ice Cream.

Discover history at the Cape Ann Museum in Gloucester. Photo courtesy of Catherine Aillon
Although Gloucester is known as a fishing town, and was made even more popular by the movie "The Perfect Storm," based on the novel by Sebastian Junger, there's more to Gloucester than the fisherman statue that faintly resembles the logo from a box of Gorton's fish sticks. Even landlubbers enjoy its vast, hilly downtown. While you may not run into George Clooney from the movie (he was in Beverly over the summer), Gloucester is brimming with charming stores and eateries for families to browse and enjoy before they head to the waterfront.
Best Things to do With Kids in Downtown: Participate in the Gloucester Harborwalk. This is a free, self-guided walking tour of Gloucester's waterfront and maritime history. There are 42 granite story posts throughout that explain the significance of each stop. Visitors can get instructions to download the app on the website. Admire Georgian architecture such as the Cape Ann Museum and The Sargent House Museum. Both are open for touring. Drop by iconic sites such as the Gloucester Fishermen's Wives Memorial and Fisherman's Memorial Statue. These are great places for the kids to run around a little bit while you relax on a bench and soak in the views of the water, including at Sea Pocket Aquarium in Harbor Loop where they can play in a life-sized, outdoor lobster trap. Another great place that is walkable from downtown is Stage Fort Park, where there's a playground and an ice cream stand. Gemmellaro Ciaramitaro Playground is also close to downtown. Browse at these popular stores: Mermaid Tales of Glosta, ToodeLoos!, Floating Lotus, and The Bookstore of Gloucester.
Local Snacks or Eats in Downtown: Grab a snack or some good eats at Turtle Alley Chocolates, Holy Cow Ice Cream Café, Cafe BISHCO, and Sugar Magnolias.

Visit the iconic statue of the Gloucester Fisherman. Photo courtesy of the Gloucester Harborwalk
Although tucked away in Gloucester, Rocky Neck is a famous artists' community that is great for exploring. There is a free parking lot at the beginning of this art colony that offers a slower pace. This hidden gem is a peninsula, so water views are all around you as you walk along. It's dotted with some shops, eateries, including those specializing in seafood, and ice cream.
Best Things to do With Kids in Downtown: Stroll along the waterfront and enjoy the view. Browse at Gallery 53 on Rocky Neck and bring home a treasure or two. Shop for artisan clothes, hats, accessories, and more at The Cottage on Smith's Cove.
Local Snacks or Eats in Downtown: Grab some ice cream at The Ice Cream Gallery or have breakfast for lunch at Sailor Stan's, where on some days they offer live music. If you like to have lunch or dinner with water views, try The Studio. They also offer live music on certain days.

Panoramic views of Smith's Cove at Rocky Neck is full of both work and pleasure boats. Photo courtesy of Catherine Aillon